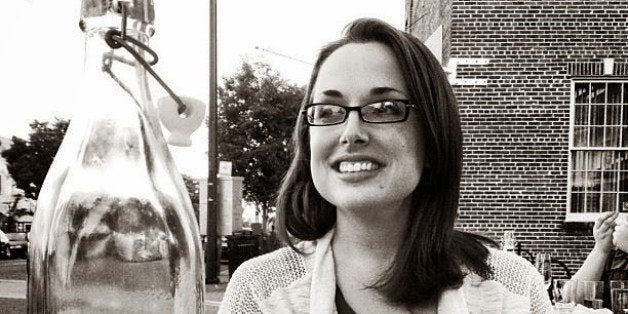 Regarding her decision to become a nun, she told The Huffington Post, "As I've been realizing more, it's really about falling in love. I love the idea of being able to live for Christ with an undivided heart."
Though her alma mater, Catholic liberal arts school Christendom College, has forgiven some of her debt, Baker still has $25,000 to pay off before she can begin the process of becoming a sister, eventually taking the vows of chastity, poverty, and obedience. She explained to The Huffington Post that when she initially took out the loan, the college made it clear that they could forgive a large portion of debt for any student entering into a religious order, but that it could be incurred again if the person were to leave religious life.
Baker has found a modern solution to help her embark on her traditional vocation by setting up a crowdfunding page on Fundly called "Help Mary Beth Enter the Convent." She wrote, "I have been accepted to the Dominican Sisters of St. Cecelia in Nashville, TN. Before I can enter, I must pay off my remaining student loans. Will you help me meet that goal?" She told HuffPost that her background in public relations had introduced her to crowdfunding as a way of fundraising.
So far, 45 supporters have raised over $8,000, with 57 days left to raise the remaining funds. .
If she raises enough money, Baker will be able to begin the journey from Washington D.C. to the convent in Nashville. "From there you have to get rid of everything you own, so I will slowly be giving away my library and my clothes and sell my car," she said to ABC News.
Baker told ABC that she reached a point in her life last year when she was no longer satisfied with her job or her love life, and turned to prayer for guidance. "After a certain point I started meeting regularly with a priest who was getting to know me, and then he put me in touch with the sisters," she said. "On my second visit, I was able to sit down and say, 'This is my story and I'd really like to enter.'" She received an invitation to join last week, after undergoing a physical and psychological evaluation, reports the Daily Mail.
Baker isn't the only aspiring nun to face this problem. Nicole Ferko had to wait ten years to become a nun because of the hefty cost of her student loans, which had left her $60,000 in debt. A 2012 study by the National Religious Vocation Conference found that 69% of religious institutes had turned away at least one person due to their student loans.
Baker said that she knows of at least three other potential nuns who have turned to social media in order to pay off student debt. She told The Huffington Post that if she could make her college decisions all over again, she would have chosen to attend a community college for two years before transferring to her alma mater to cut down on costs. "I'm lucky that I've been paying down my debts for six years already," she said.
A day in the life of a Dominican sister of St. Cecelia begins at 5:00 a.m. and ends with silence at 8:00 p.m., a far cry from her current life as a young professional in D.C., with days filled with work, friends, volunteering, and happy hours. Baker described the order as "charismatic, intellectual, and monastic." She told the Huffington Post, "I love that they are a very rooted order, with history going back hundreds of years. Their focus on Christ is a big draw for me."
When asked what would she say to other young women considering a vocation in a religious order, Baker immediately replied with a quote from Pope John Paul II: "Be not afraid."
Calling all HuffPost superfans!
Sign up for membership to become a founding member and help shape HuffPost's next chapter
BEFORE YOU GO