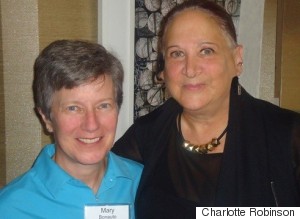 In the first installment of my exclusive two-part audio montage series, I talked with LGBT advocates, activists and allies at the Gay & Lesbian Advocates & Defenders (GLAD) Prelude Party at Sage Lounge in Provincetown, Massachusetts. It was an intimate celebration with GLAD Board members and leaders who worked tirelessly to achieve equality for our LGBT community, including Mary Bonauto, GLAD's Civil Rights Project Director. Bonauto represented April DeBoer and Jayne Rowse of Michigan on April 28th before the U.S. Supreme Court, which resulted in the United States becoming the 20th country in the world where gay and lesbian couples can legally marry nationally.
LISTEN:
First I talked with Janson Wu, Executive Director of GLAD about the Supreme Court victory and all of the progress GLAD has accomplished for our LGBT community. Janson also discussed the Equality Act, a comprehensive federal LGBT non-discrimination bill that was recently introduced in Congress. Then I chatted with Chuck Latovich who has worked with GLAD for decades about what he would like to see happen for LGBT equality in the next few years. Next, I talked to Molly Girton who previously worked for GLAD as Accounting Manager about how excited she is to see where GLAD goes from here. Molly hopes that we become a more inclusive LGBT community in the future representing more people of color and our transgender community. Then I spoke with Gabby Hanna and her wife Marcy Feller who is also a Board Member of GLAD. Gabby and Marcy are fierce supporters of GLAD and sponsors of the GLAD Summer Party in Provincetown. Both women would like to see more advancements for women, lesbians and trans people in the next few years and hope that our community realizes that there is still a lot of work to be done to achieve full equality. Next I talked with Maralyn Wheeler and Amy Charamba who actually married in 2004 when GLAD won the groundbreaking Goodridge case making Massachusetts the first state in the U.S. where gay and lesbian couples could legally marry.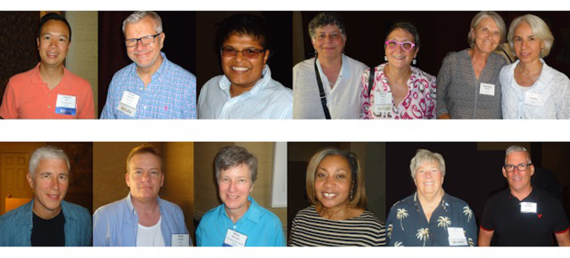 Then Jennifer Levi, GLAD's Transgender Rights Project Director talked about her work and hopes to achieve transgender rights at the same level as our LGB community. Next I talked with GLAD Board Member Beck Bailey who is also the Deputy Director of Employee Engagement at the Human Rights Campaign Foundation's "Workplace Equality Program." Beck talked about some of GLAD's important cases including their current lawsuit Jacqueline Cote, et al. v. Wal-Mart Stores, Inc. which is the first class action filed on behalf of gay workers since the U.S. Supreme Court ruled in favor of marriage equality in Obergefell v. Hodges and alleges that Walmart violated the federal Civil Rights Act by discriminating against Jaqueline Cote based on her sex. Then I had the honor to chat with Mary Bonauto GLAD's Civil Rights Project Director who is the architect of marriage equality in this country by first winning the Goodridge case in 2004 and recently argued and proved before the U.S. Supreme Court that the Fourteenth Amendment requires a state to license a marriage between two people of the same sex. Mary is currently working to ensure that LGBT youth, LGBT seniors and our transgender community receive all the freedoms and opportunities that other people have. Next I chatted with GLAD Board Member Jo Davis, MSW who works as a senior vocational counselor at the Massachusetts Rehabilitation Commission in Roxbury and will be celebrating her 10th anniversary with GLAD in 2016. Jo tells us she was always interested in social justice especially for our LGBT community. Then I talked to GLAD Board member Alix Ritchie who is an independent media strategy consultant and a longtime supporter of numerous arts, feminist, political and LGBT organizations. Alix is concerned about the way our LGBT community is challenged by rightwing religious groups and believes that you do not settle for what should not be settled for. I concluded with past GLAD Board President Rick McCarthy who believes we should enjoy where we are now and is excited to see where our LGBT community goes from here.
Next week in the second installment of my two part series I talk with the legendary marriage activist Edie Windsor, Massachusetts Attorney General Maura Healey, comedian Kate Clinton and Gary Buseck GLAD's Executive Director among others at the GLAD Summer Party in Provincetown, Massachusetts. (Photos by Marilyn Rosen)
For More Info: glad.org
Calling all HuffPost superfans!
Sign up for membership to become a founding member and help shape HuffPost's next chapter