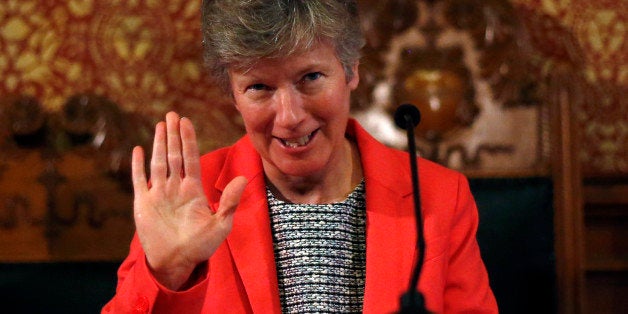 WASHINGTON, March 31 (Reuters) - Lawyers advocating for a right to gay marriage at the U.S. Supreme Court announced on Tuesday they had chosen Mary Bonauto, a longtime champion of gay legal rights, to argue the landmark case on April 28.
The choice of Bonauto, a litigator with the Boston-based Gay & Lesbian Advocates & Defenders and an architect of legal strategy for gay unions since the early 1990s, was made after weeks of jockeying by lawyers and negotiations among challengers to bans on gay marriage in four states.
Although the nine justices typically rely on written briefs in such cases, a lawyer's performance during oral arguments can sometimes tip the scales. It can also bring a lawyer in a big case public attention and professional prestige.
From the battery of lawyers representing gay couples in Michigan, Ohio, Tennessee and Kentucky, only two could have spots at the lectern before the justices for the two legal issues in the case.
Those are: whether the Constitution's guarantee of equal protection under the law protects a nationwide right to same-sex marriage; and, if it does not, whether states banning such unions must recognize gay marriages performed in states that permit them.
Currently, 37 of the 50 states and the District of Columbia allow gay marriage. To argue the second question, related to state recognition, the challengers chose Douglas Hallward-Driemeier, a former assistant U.S. solicitor general now with a private law firm.
Arguing for the states defending bans will be John Bursch, a former Michigan solicitor general, and Joseph Whalen, a Tennessee associate solicitor general.
Hallward-Driemeier, working on the Tennessee appeal, is an appellate specialist who has argued 14 times before the justices.
Bonauto, who has not previously appeared before the high court, has argued extensively in lower courts for gay marriage including in the case that made Massachusetts the first state to allow same-sex couples to marry in 2004.
As gay advocates noted in announcing the news, Bonauto was dubbed "our Thurgood Marshall" by Barney Frank, a gay former U.S. House of Representatives member, referring to the civil rights legend who helped end school segregation before becoming the first African American justice.
Negotiations among the lawyers involved had gone beyond an informal March 17 deadline set by the court and culminated with mock oral arguments among contenders on Sunday in Ann Arbor, Michigan.
Initial reaction from gay rights attorneys to Bonauto's selection was positive. Bonauto said in a statement she was "humbled to be standing up" in the case.
The justices will hear arguments over 2-1/2 hours on April 28. A ruling is expected by the end of June. (Editing by Will Dunham)
Calling all HuffPost superfans!
Sign up for membership to become a founding member and help shape HuffPost's next chapter