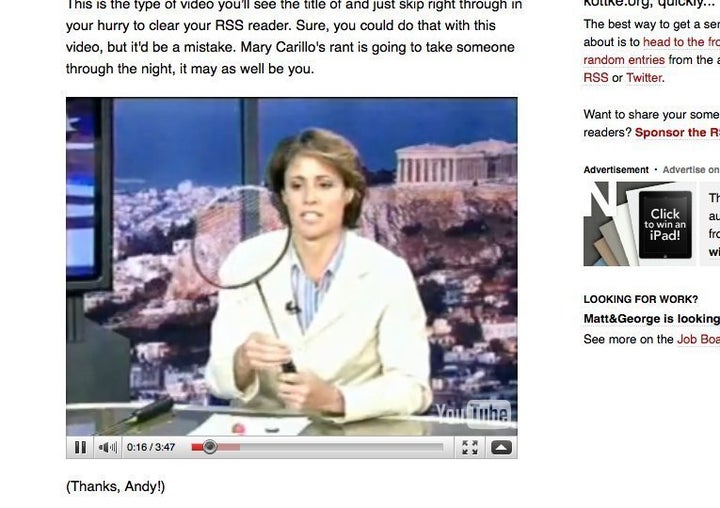 In 2004, while anchoring the Summer Olympics in Athens, sportscaster Mary Carillo began explaining to the audience, during a break in the action, the differences between the badminton that families play in their backyard and the sport that the "bad boys of badminton play" at the professional level.
It's all rather innocuous until Carillo reaches the differences between the shuttlecocks that the two groups use. It's then that she experiences some kind of nightmarish shuttlecock flashback and the whole broadcast starts to unravel very quickly.
For Carillo, playing badminton with your family is not a fun summer activity in the yard. It's a horror show.
Someone's turned on the hose. Suddenly, badminton's a water sport. They're trying to get this thing down with the hose. And somehow, mothers from all over the neighborhood hear that badminton is being played at Mary's house; they're dropping off their kids -- they know it's an all day affair! They know it's going to involve 17 other sports. They're dropping off their other kids; they're leaving skid marks! Ok? You've got Colleen Clark in the tree, trying to get down a Sponge Bob Square Pants beach ball with a hockey stick. There's pool sticks flying through the air like javelins and you hear yourself saying somebody's going to poke an eye out. It just never ends!
The best thing about this is that the producers just let her ramble on and on as she loses her grip on reality. This is a rant for the ages.
Calling all HuffPost superfans!
Sign up for membership to become a founding member and help shape HuffPost's next chapter