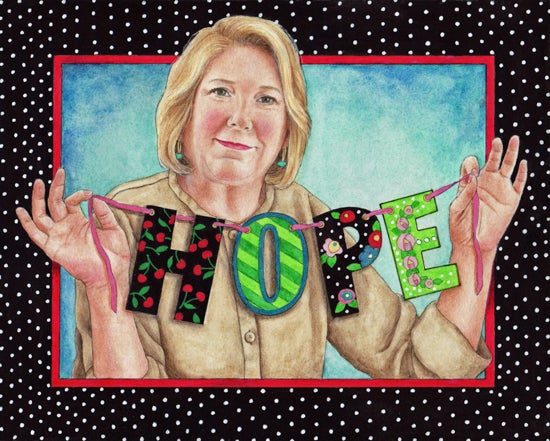 Porch Light People: Individuals who are fully themselves. They are not influenced by "shoulds" from the culture or other people. They instead live from their inner light.
For my mother, who always told me anything was possible. – Inscription from, Mary Engelbreit: The Art and the Artist
My subject for this Porch Light Profile is illustrator, Mary Engelbreit. Hailing from St. Louis, Missouri, she is best known for her endearing greetings cards, children's books, calendars and journals. Her drawings are described as nostalgic and cute ("Nothing wrong with cute," says Mary.). She is one of my all time favorite artists. I've been a fan of her wry humor since I first came upon her art as a young mother. Not only was I attracted to her illustrations, but I connected to the thought provoking quotations she incorporated into them. Oftentimes, those hopeful words where a beacon of light to me. Mary felt like a wise friend pointing me in the right direction. To this day, I have a print she signed for me hanging in my studio.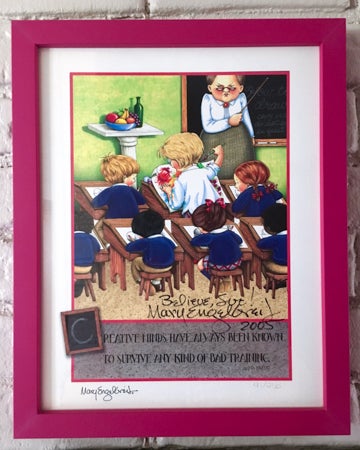 Mary's childhood was the perfect launchpad for her to make a living illustrating the world as she sees it. She grew up under the loving gaze of parents who believed in her talent. Her light was allowed to shine from day one. Her mom and dad never questioned her plan to become an artist or what that actually meant. All they knew was that Mary's dreams were sufficient to earn their respect. She had a passion for drawing and was encouraged to create and develop her artistic ability in whatever way she saw fit.
Mary believes that because she was self-taught it was easier to stay true to her vision. Never having anyone trying to shape her talent left her wide open to explore.
"Because I didn't go to art school I didn't have any influences except the beautifully illustrated fairytale books that belonged to my mother and grandmother. I poured over them and taught myself to draw by copying their pages. The way I draw now was influenced by those books. There was often a quote under the pictures to explain what it illustrated in the story. That's where I got the idea to incorporate quotations into my drawings. Because I was the only one doing that at the time, it set my work apart. It wasn't my mission to get noticed or anything. It just worked out that way. My goal was to create images that expressed myself."
After Mary graduated from high school, she immediately moved into her career as an artist. She worked at an art supply store, a newspaper, and an advertising agency. While trying to get freelance work from another ad agency the art director told her she had to settle on a single style to attract clients. After that suggestion Mary knew she didn't want to work in advertising, "I tossed his advice aside and kept on going."
At 22, Mary met her future husband, Phil Delano. They were married three years later. Even in the early stages of her career, Phil recognized her talent. He saw how people reacted to her art and was certain it was going someplace. Mary counts her lucky stars that he came into her life, "He always believed in me and encouraged me to keep at it. Even when we were broke." In 1986, they formed their own licensing company, Mary Engelbreit Studios. This year they're celebrating Mary's 40th anniversary of being in business.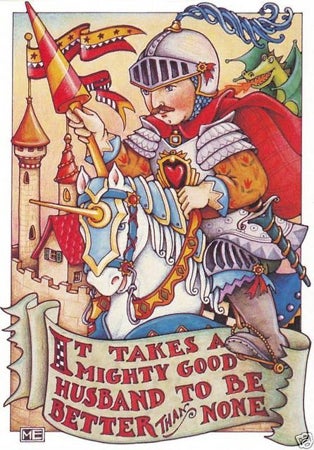 Up until 2000, it looked like Mary Engelbreit was leading a charmed life. On June 21st of that year, everything changed. Their 19-year-old son Evan was killed by a gunshot wound. The details are blurry as to whether it was self-inflicted or murder. After 17 years, Mary is still recovering from that loss. She believes it shifted her focus to what's really important in life. She and Phil adopted Evan's child after he died. Mikayla was only three months old at the time. Mary credits her granddaughter for helping their family to move forward after Evan's death, "She is great. She basically saved our lives."
After her son passed on, Mary found herself shifting artistically. She explains it like this:
"I was always open to what came my way as an inspiration for my art. That loss opened a door that nobody wants to open. But there it is and I had to deal with it. I'm lucky to have this artistic outlet to express my feelings. I don't know what I would have done without it. I've felt that all my life, even for small things and for fun things. It's really important to get your emotions outside of yourself so you can move on."
Previous to Evan's death, Mary was a quiet activist. She created drawings about subjects that mattered to her but nothing too controversial. In 2014, that all changed when she made a drawing titled In the USA protesting gun violence and posted it on Facebook. Her illustration was inspired by her outrage over the police killing of teenager Michael Brown in Ferguson, Missouri. To Mary, the shooting death of Michael felt personal. Her heart broke for his mother and the community.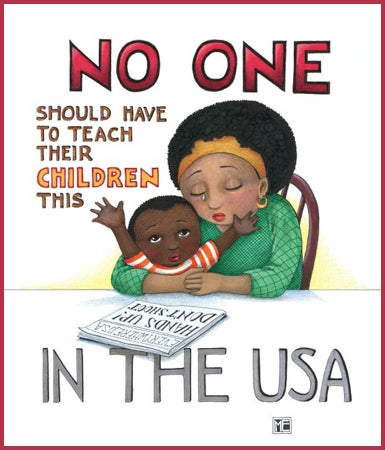 Speaking her truth created a backlash Mary wasn't prepared for. She confided that when she put In the USA on Facebook, "Some people responded to it by posting ugly, ugly things." She has come to terms with that though. Being herself is something she won't compromise. She may have lost some followers, but in the end, they were replaced by others who support her views. Mary now sells prints of that image on her website. 50 percent of the proceeds go to the Southern Poverty Law Center. And without as much as a backward glance, she goes on her "Mary" way.
"So I just went on my merry way and produced the kind of art I wanted to see." –Mary Engelbreit
*************************************************************************************
*Coming up next: Profile of #1 New York Times best-selling author, Pam Grout
Support HuffPost
The Stakes Have Never Been Higher
Related
Popular in the Community