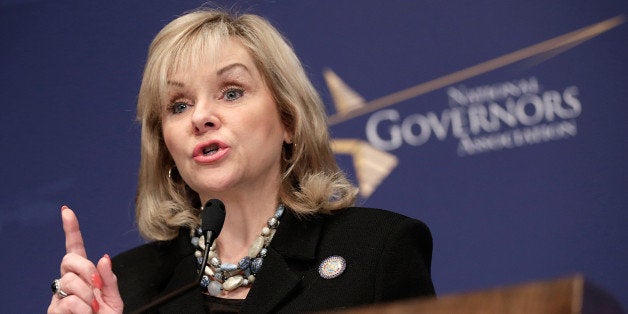 It's not every day that an American politician has to do battle with Minions Of Darkness, but this week, that responsibility seems to have fallen to Oklahoma Gov. Mary Fallin (R). There apparently is some sort of Satanic "Black Mass" planned in Oklahoma City this September, and Fallin -- despite the fact that she's thought of as a dark horse presidential contender and thus has every incentive to remain a serious person -- has come out against it, in a statement. You know, as one does when one's state is threatened by cartoon people.
"This 'Black Mass' is a disgusting mockery of the Catholic faith, and it should be equally repellent to Catholics and non-Catholics alike," said Fallin. "It may be protected by the First Amendment, but that doesn't mean we can't condemn it in the strongest terms possible for the moral outrage which it is. It is shocking and disgusting that a group of New York City 'satanists' would travel all the way to Oklahoma to peddle their filth here. I pray they realize how hurtful their actions are and cancel this event."
Fallin has apparently never heard of "The Streisand Effect," in which publicly condemning something nobody otherwise would have noticed just brings it more publicity. Or, as I like to say, "If a tree has a Black Mass in the forest and no one's going to be around to hear it, just call the governor of Oklahoma."
You have to be a seasoned watcher of Satanism to spot it, but apparently Fallin made a "gaffe" (as the kids call them) in that statement. As Jason Vaughn reports at Gawker, this "Black Mass" is not being planned by a "group of New York City satanists," but rather by a local group of Lucifer's servants. Per Vaughn:
On Tuesday the Satanic Temple of New York City demanded that Fallin apologize for her statement, saying that they have nothing to do with the planned Oklahoma City Black Mass.

In fact, they say they aren't endorsing the event at all because the event's actual organizers aren't "acting responsibly."

"We have nothing to do with this event whatsoever," Satanic Temple spokesperson Lucien Greaves told Oklahoma City's KFOR-TV.
So there you have it: even Satanists have coastal elites (named Lucien). The confusion is perhaps understandable, because the New York City Satanists were the ones behind an effort to get a monument to Satanism displayed at the Oklahoma State Capitol's grounds -- something they've claimed the right to do after a state representative named Mike Ritze donated a Ten Commandments monument to the Capitol.
"Better to reign in Hell than serve in Heaven," says Lucifer in "Paradise Lost." Somewhere in the middle of that spectrum is "trolling the state of Oklahoma."
REAL LIFE. REAL NEWS. REAL VOICES.
Help us tell more of the stories that matter from voices that too often remain unheard.
BEFORE YOU GO
PHOTO GALLERY
Top 10 Most and Least Religious States