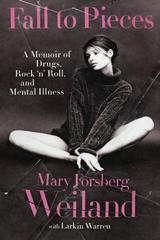 When news broke earlier this week that a reformed Soundgarden will headline this year's Lollapalooza, it only enforced what we've known for months: 1990s alt-rock is ready to come back in a big way. Whether it's the reformation of that Seattle staple, Stone Temple Pilots, Alice in Chains or Courtney Love's Hole self, it's quite evident that current alt-rock acts like Vampire Weekend, Broken Bells, and perennial survivors of the decade - Pearl Jam - are about to get some company running the genre.
The nostalgic '90's trip is currently on display on book shelves as well. Last winter, Mary Forsberg Weiland - the ex- of Stone Temple Pilots and Velvet Revolver frontman Scott Weiland - released her autobiography entitled Fall to Pieces: A Memoir of Drugs, Rock 'n Roll and Mental Illness. The book explores the model's years on the road and on drugs with Weiland (you've read about his massage while she gave birth, right?), and her battles with bipolar disorder, motherhood, booze, and drugs.
I spoke with Weiland recently on her highs and lows, and how she feels about the 1990s alt-scene coming back on the scene.
When did you first realize your story might be worthy of a book?
Probably when I started writing. It's been interesting. Writing is a great healing mechanism. What I wasn't prepared for was that the most personal stories, the ones that were the most embarrassing to write, were exactly the ones that people related to the most. The most painful moments also turned out to be some of the funniest. My husband getting a massage while I was giving birth was a strange thing at the time - now it's just plain funny.

How difficult was it to get the book published?
In retrospect, shockingly easy. I always wanted to do more than just "tell a rock and roll story." I mean, that was part of it, but... I've always liked books, stories and songs about survival, ones that could hopefully be inspiring and exciting and maybe leave you with a tip or two on how to make it through yourself. I wrote a book proposal and it was accepted. Then I was lucky enough to find a great collaborator, Larkin Warren. We took the ride together.

Was it difficult to relive the past or revisit the past via writing or was it therapeutic? Perhaps both?
Both. Sometimes you open that long-closed door, and it all comes out. I'd print up a big hunk of pages, and read them and think - maybe there was some order to all that after all. My life has definitely been a roller-coaster ride, fueled by a lot of highs and tortured with many lows. But I was lucky, I found my way back. I think I just love the strange poetry in life - maybe that's why I love music so much. You can find a melody in the oddest places.
The greatest pleasure has been to hear from people later who read the book. The letters have been amazing. It's a very nourishing thing to know that everything has a purpose, and by reading about some of my own struggles others have gotten stronger.

Did Scott give his blessing for this book to be written? If so, if he didn't, would you still have written the same book?
He read some sections and gave me his blessing. It meant the world to me. I wrote with love for Scott and the kids, so yes I would have written the same book. I'm looking forward to his book too. I think we both have a commitment to honesty, and he has a lot of fans who expect nothing less.

Was there ever a time you thought perhaps you shouldn't write this book?
No, and it's too late now! Sometimes I forget how detailed it all is, and I'll run into somebody who casually references something extremely personal or intense... and I'll think, "Oh man. My next book will absolutely be fiction."
Hmmm... What's next for you? Will you continue to write? So, there a fiction book in you?
I do want to keep writing. I love a blog as much as anybody, but nothing beats the journey you can take with a book. Same with a good movie - you get lost in a world and hopefully that journey changes you a little bit when it's over. I'd like to do that again. Fall to Pieces keeps giving me little gifts, mostly in the form of communication I get from people just now discovering it. I also just went back to school last month to complete my drug-and-alcohol counseling certification. So there's that, too.
What's your take on the 1990's alt-rock scene being revised with bands like STP and Alice in Chains reforming?
Don't forget about Soundgarden. When times are tough, people want classics. And yay for Pearl Jam staying together the whole time. My son would kill me if I left out Nirvana.
If one album was the soundtrack of your life, what would it be?
I can think of ten albums that are the soundtrack to my past. But if I had to pick one for today - it would be The Ease of Being: Guided Meditations for Centering and Healing. It's a little weak on the beat, but it definitely sets a mood. Okay, the truth is that I've never fully listened to it. I'm a single mother and I don't have enough time to relax but I love that title.

REAL LIFE. REAL NEWS. REAL VOICES.
Help us tell more of the stories that matter from voices that too often remain unheard.