Here at HuffPost Arts, we like to think of abstract art as the sushi of the art world, an acquired taste that at first encounter is a bit odd and leaves you unsure as to what you think. Consider Mary Heilmann your gateway roll.
Heilmann works with shapes and colors as if they were elements, the most primary materials the world could offer. They alone are enough to focus on, to think on, to fill you with a heated emotion. Her works are light and fun but not naive. They are purposely driven but leave room for slippage.
Born in San Francisco and having attended Berkeley in the 1960s, Heilmann was familiar with California sunshine and its psychedelic effect on bohemian youth. She grew up surfing, a sport which critics have associated with her ballsy aesthetic; she even has a piece entitled "Surfing on Acid," which may suggest another pastime that influenced her style. Her works do have the acidic burst of color similar to a mixed box of popsicles, although Heilmann's are always already melting.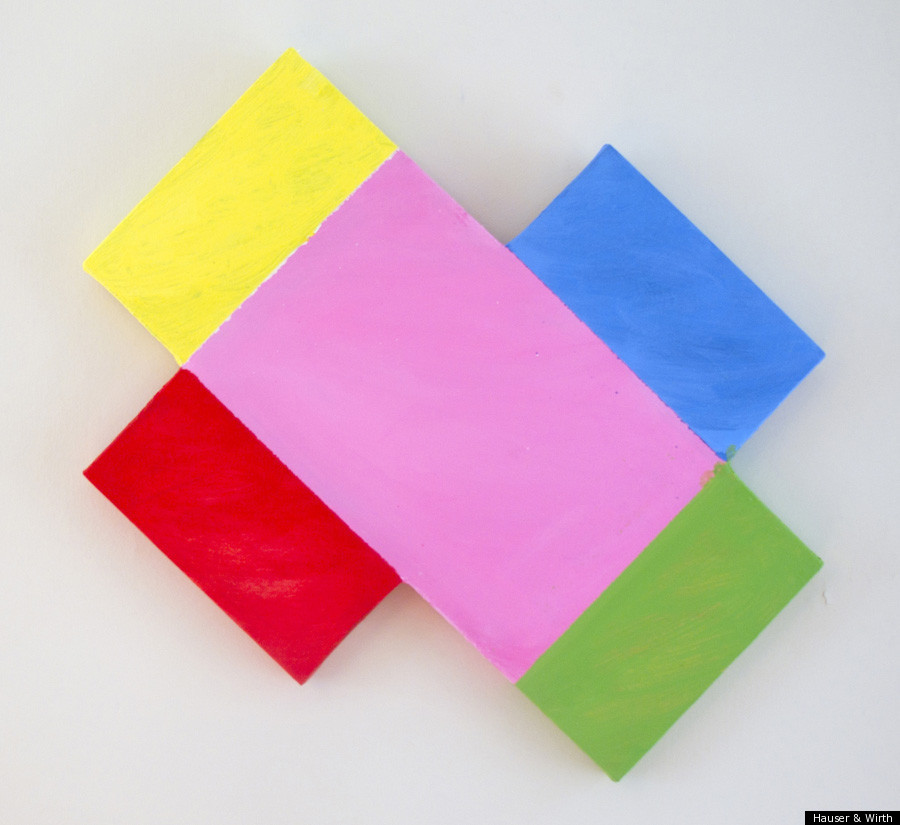 As a flower child of movements like the Beat Generation, Pop Art and minimalism, Heilmann surfs the crest of all of them with bohemian nonchalance. Her images are crisp and simple yet layered with mishmashed histories and artistic legacies. A "postmodern scavenger," she surfs atop the shoulders of giants, from Ellsworth Kelly to Allen Ginsberg to Andy Warhol.
Heilmann's paintings focus on a simple idea or feeling and dwell on it, obsess over it, capture its contradictions and reverberations. A painting can feel like joy or jealousy or yellow or claustrophobia. Heinmann calls them the "icons of ideas." Each one depicts a strong message without representation, getting straight to the heart of the matter. Passionate and complex yet light and inviting, Heilmann's paintings are accessible gems of abstract art.
Heilmann's upcoming exhibition 'Visions, Waves and Roads' features new paintings as well as furniture and ceramics. It will show at Hauser & Wirth in London from February 23 to April 5.
PHOTO GALLERY
Mary Heilmann
Hear Heilmann discuss her life and art here:
Calling all HuffPost superfans!
Sign up for membership to become a founding member and help shape HuffPost's next chapter