The box was a universe, a poem, frozen on the boundaries of human experience. -- William Gibson
In William Gibson's 2007 novel Spook Country, a hi-tech, cloak-and-dagger narrative revolves around an elusive shipping container which is both totally central and basically irrelevant to the storyline and its meaning. A perfect device, it carries the plot along as a box might its contents, oblivious and smooth -- except to the three or four people for whom it is an all-consuming obsession. Mary Iverson's paintings are a little bit like that -- they use the device of the commercial freight container to contain and carry sweeping, salient stories and allegories of human experience in society and nature. The box and the grids along which it moves are for Iverson both the muse and the method for her paintings, both implements and emblems of pathological progress.
Iverson lives in the Seattle/Tacoma area of the Pacific Northwest. By and large, this is a pristine landscape of verdant wilderness, deciduous and coniferous old growth, lush valleys, rough-hewn mountain ridges, and the rugged contours of a majestic coastline. It is also a busy urban center, technology hub, and it hosts one of the more bustling industrial ports in the country -- along with the related infrastructures of smoke and iron which that entails. Shipping lines and tech wires, motherboards and railroad tracks -- these and other kinds of grids are what Iverson grafts onto the natural landscapes that ground her compositions, representing the hybrid lifestyle of an environmentally active artist equally inhabiting wild nature and industrial commerce.
"A long time ago I was a plein air painter," says Iverson. "Traipsing through landscapes carrying easels. Then I started coming to the Port of Seattle; I was drawn to it. There was something about those container cranes. I got closer. A stevedore gave me access to the container terminals, and I immersed myself in the port's inner workings for, well, really for a couple of years." During this time, she made a great many mixed media drawings and paintings in which she delved into this compelling, confounding setting, operating on several levels at once -- overtly narrative, formally abstract, materially hybrid, and ultimately, meaningfully significant. "And then one day I was like, What the hell! I'm supposed to be an environmentalist! I had to regroup to resolve that conundrum."
Part of that regrouping was about the conceptual foundations and implications of how she was spending her time. Part of it was negotiating how better to express her intentions in her materials. "I tend to use collage as a form of sketching, externalizing ideas using visual stand-ins, experimenting with color and texture quickly -- it's like drawing for me. Anyway I was collaging with found landscape photographs, thinking, What if I could combine these elements outside of the boundaries and parameters of painting...?" Hence in her smaller works, she continues to use photographs culled from travel and nature magazines and glossy brochures and wall calendars as the grounds. Appropriating these images and intervening in them -- she sometimes calls it "ruining" -- she introduces the extended lines of her container-based "grid system" onto these epic vistas. In her larger oil paintings, she uses her own photographs as source material -- photographs made by, as she says, traipsing through national parks and nature reserves, camping, documenting -- very much in the classical plein air tradition of her old-timey heroes, yet in the service of quite different ideas. She's doing to both these kinds of foundational images what the shipping lines do the real world in manners both seen and invisible.
"I immensely love painting over found photographs, entering the world they represent like an armchair tourist. But that is breaking a rule I have about not appropriating images just because they are available." That aspect of what she does nags at her. "Bierstadt, Moran, Church -- my heroes all trekked out into the wilderness and made everything from scratch on location. There's a purity to that. And I want to avoid breaking that rule -- but I also need to respond to the modern world, and found photographs can be a part of that conversation." And remember, she does go into the wild and come back with photographs to work with. "In the end, going out and bringing back evidence for myself has an authenticity that painting over found images of course does not have -- well, it does other things for me. I can't really let either one go, so I always end up doing both."
This idea of doing both expresses in literal and figurative ways. Her thickets of perspectival lines extending the grid, their accumulation of metastatic vectors darkening the world like shadows, infiltrating, defining, overwhelming, generating and miring the containers along their routes -- this imposition should be destroying the landscape but instead gives it character. A sense of something urbane that resonates with art history even while it subverts the classically Euro-American landscape tradition it emulates. It's all very complicated and emotional and cerebral and technical and a bit political -- like life. The lines seem to emulate from the landscape, taut, and the containers hover on them like circus performers or flies in a web. At times the lines seem like they radiate from the containers themselves. The visual contradiction heightens all its elements -- bringing the fact of its paradox to the fore, revealing these problematics as the real subject of the pictures. Whether it's flooded cities, frozen waterfalls, or verdant mounds, there is always the rendered grid. Making the invisible or ignored visible, making the taken-for-granted and endangered heroic and compelling -- but does this rise to the level of the political?
"I like to work at all levels of meaning," says Iverson, from the formal to the political and art history, the conscious and subconscious, places where worlds collide. "Folks always say, your paintings are so pretty, don't scratch those lines in! You'll ruin it! And I say, Yeah that's the point! I'm violating my own beauty exactly like we are violating the planet's. Ultimately, the message is, don't wreck it -- but really these images are about reconciling contradictory impulses -- my own and society's." And the grid does have an emotional character, serving as a metaphor for human thought as well as activity; for the impressive yet transitory quality of industry; for the growth and decline of its sprawl and machinery.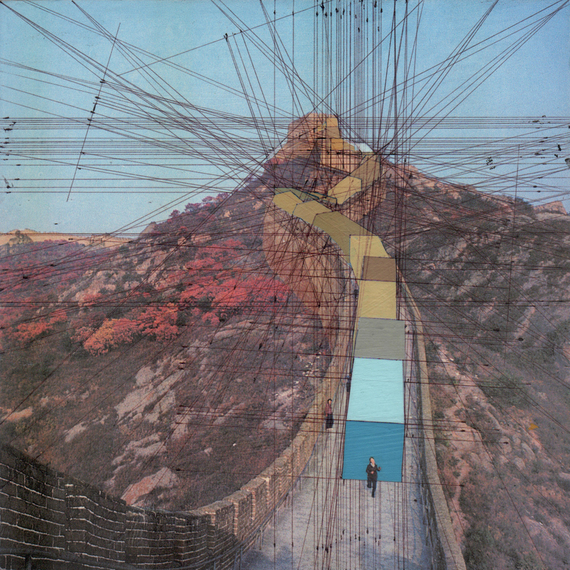 Mary Iverson: China Wall Animation, Scene 7 (2015, acrylic, ink, found photograph on panel, 10 x 10 in.)
Eventually, just as in Gibson's novel, the container disappears -- into receding space, out of the pictorial frame, or into translucent geometry. "Sometimes I delve way into the super-abstract grid, to the deep armature, where you can't even really recognize the subject any longer." While still very much immersed in this discourse, one major new direction for Iverson has been the making of short animations. Frame by frame, a train, a boxcar, is drawn and redrawn as it moves through the image, destroying it compositionally and materially as it goes, shredding the paper with the wet weight of paint, shredding the landscape with the laying of tracks. The image in her first foray was executed on a page from a calendar of the Great Wall of China. An orange container slides along the wall on snaking tracks; a blue one follows suit. They chase other along the wall until they both exit the other side, a moment which coincides with the near-total destruction of the paper image itself. It's a harmonious, exciting, poetic, expressive, complicated presentation of ruination at the hands of harsh beauty. It's perfect.
Related
Popular in the Community