There's no questioning that the Olsen twins are style experts, having successfully transformed their careers from child actresses into high fashion designers with The Row and Elizabeth and James.
However, Ashley and Mary-Kate Olsen's personal styles are quite different from one another. While Ashley tends to stick to modern basics and classic cuts, Mary-Kate is the eccentric. She has gone through quite a few phases in her 27 years, most notably the "homeless chic" era circa 2005-2006. People magazine generously labeled it "boho chic,", and The New York Times wrote that she boasted "bag lady" style. Many observed that the millionaire looked straight-up homeless.
And we'll never let her forget it. In honor of her 27th birthday today, we are tracking the evolution of Mary-Kate's signature slobby-chic style. That crazy layering started a lot earlier than you think...
Early 1990s: It all starts with sunglasses.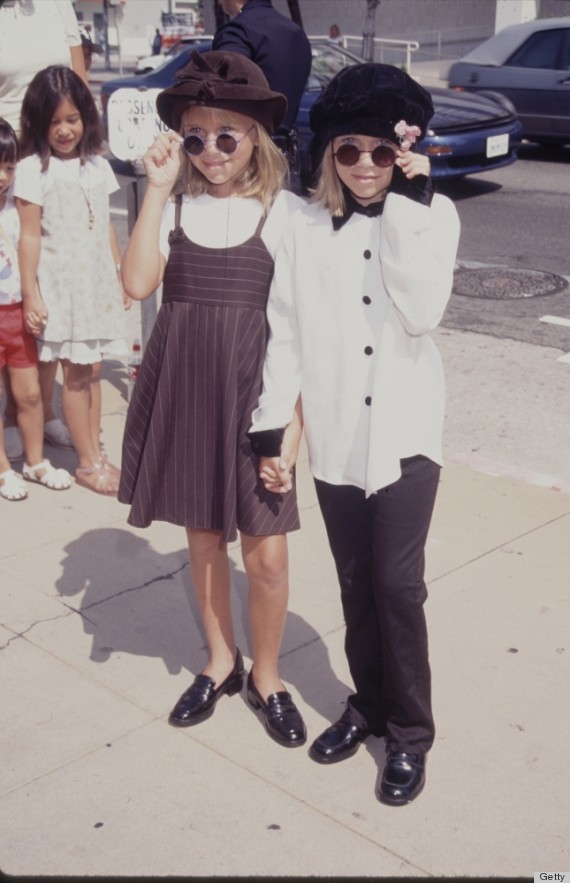 Even when Mary-Kate and Ashley first stepped on the scene, Mary-Kate (on the left) was rocking the shades. This would later become one of her style staples.
1994: The flowy layers begin.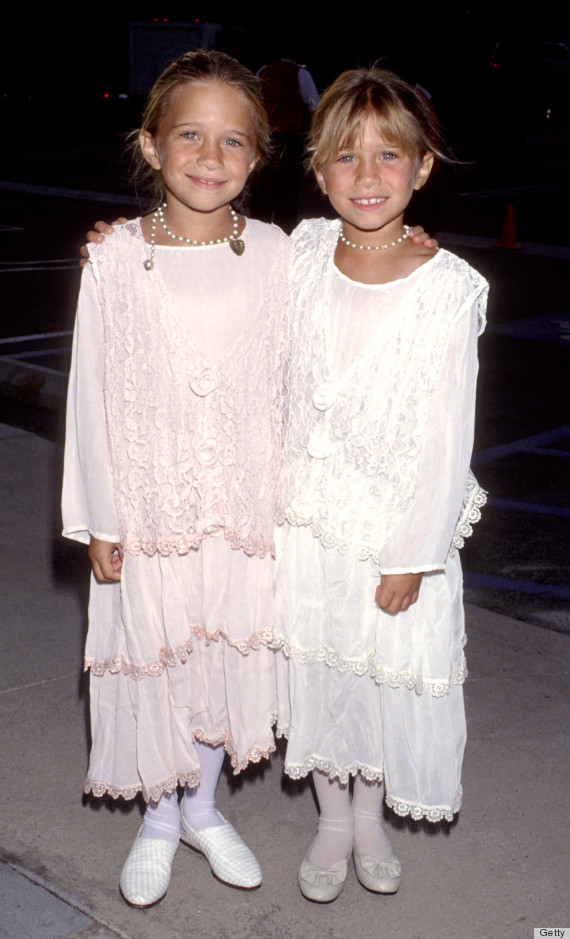 In '94, Mary-Kate started subtly changing her style to look different from Ashley's. She decided to wear bangs. Here, one can also see how her love for flowy clothing started at a young age.
1998: Maxi skirt with a loose top? Yep, that started here.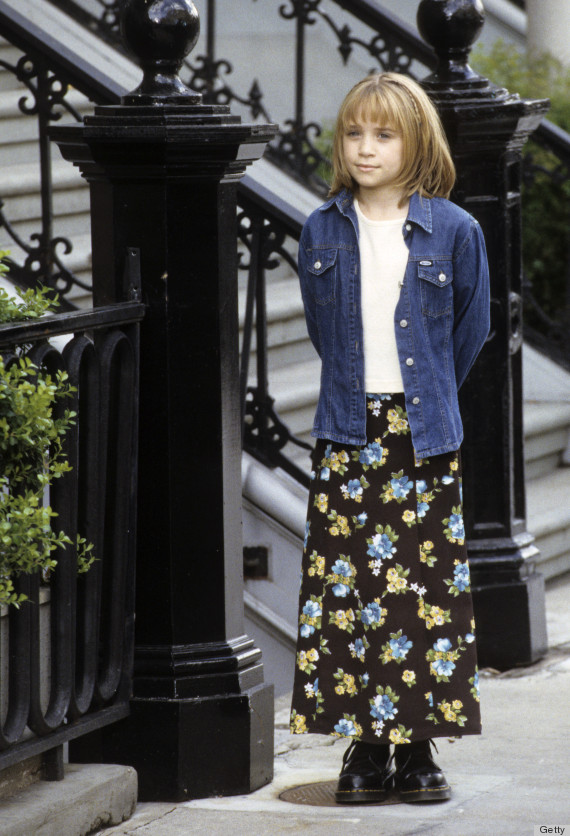 A long skirt, interesting combat boots and a jean jacket draped over her ensemble... we could imagine MK wearing this outfit today!
2002: Hello, scarves and fringes!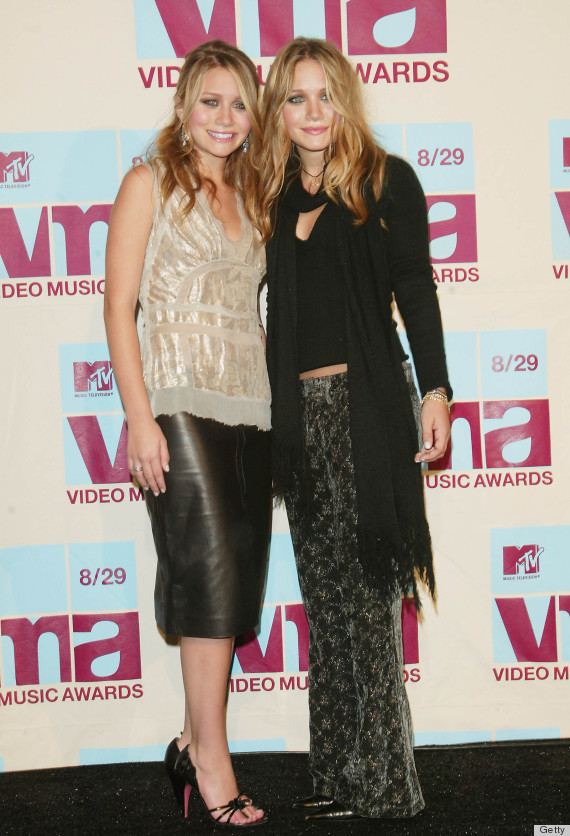 This is when Mary-Kate (on the right) started developing her look. She looks markedly different than Ashley at this event. Thus began her love affair with scarves and bohemian prints and cuts.
2004: The accessories start piling on.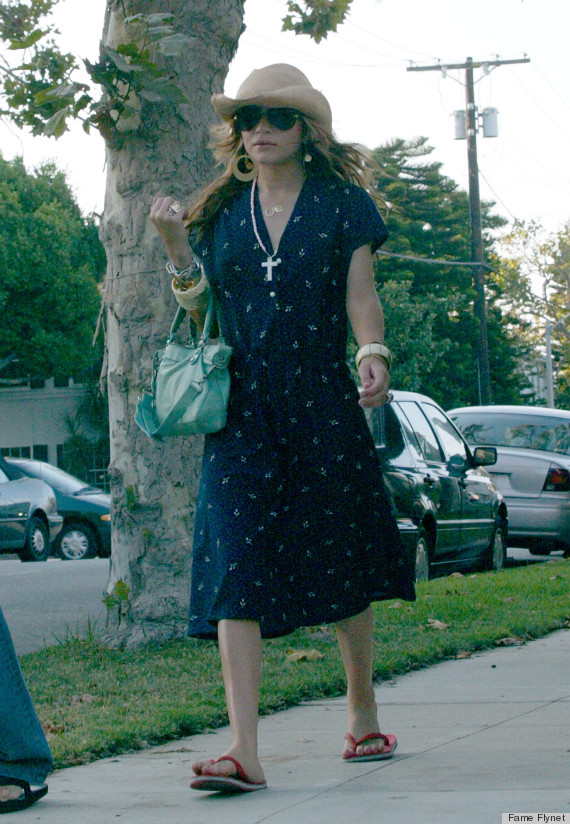 Unfortunately, Mary-Kate had a stint in rehab this year for an eating disorder. Yet, she still looks great here in a loose floral dress, a big floppy hat and lots and lots of bracelets.
2005: Enter the oversized purse.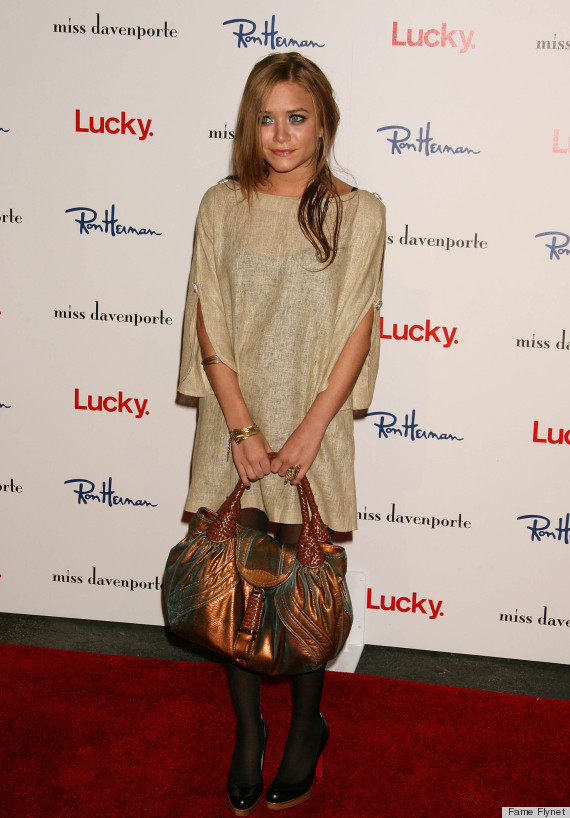 Mary-Kate dyed her hair a chestnut brown in 2005, while Ashley kept hers bleach blonde. MK wore an oversized dress, dark tights and black pumps to an event for Lucky magazine. The large bag is, as always, in effect.
2005: MK's "homeless chic" transformation is official.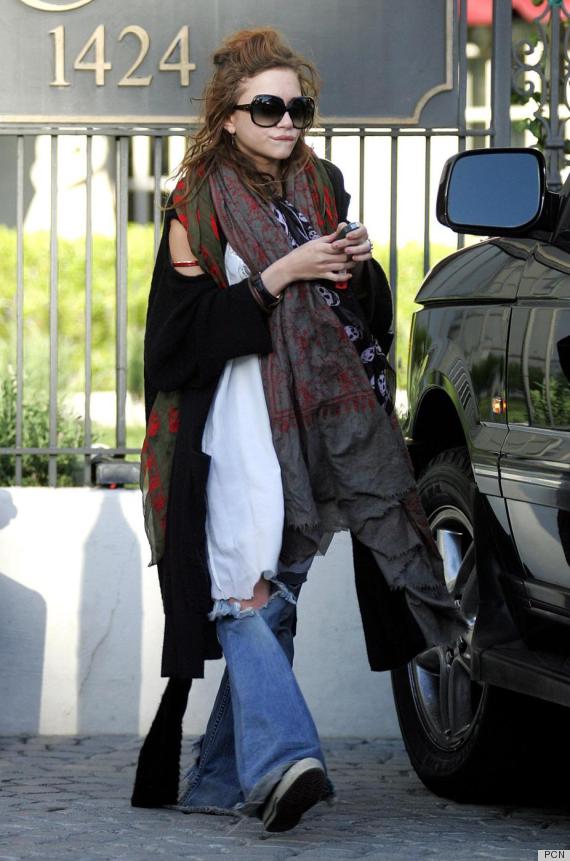 How long do you think it took MK to pile on all those layers? It's also around this time that she starts either forgetting to comb her hair or purposefully making it look super-knotty.
2006: Mary-Kate's "bag lady" look peaks.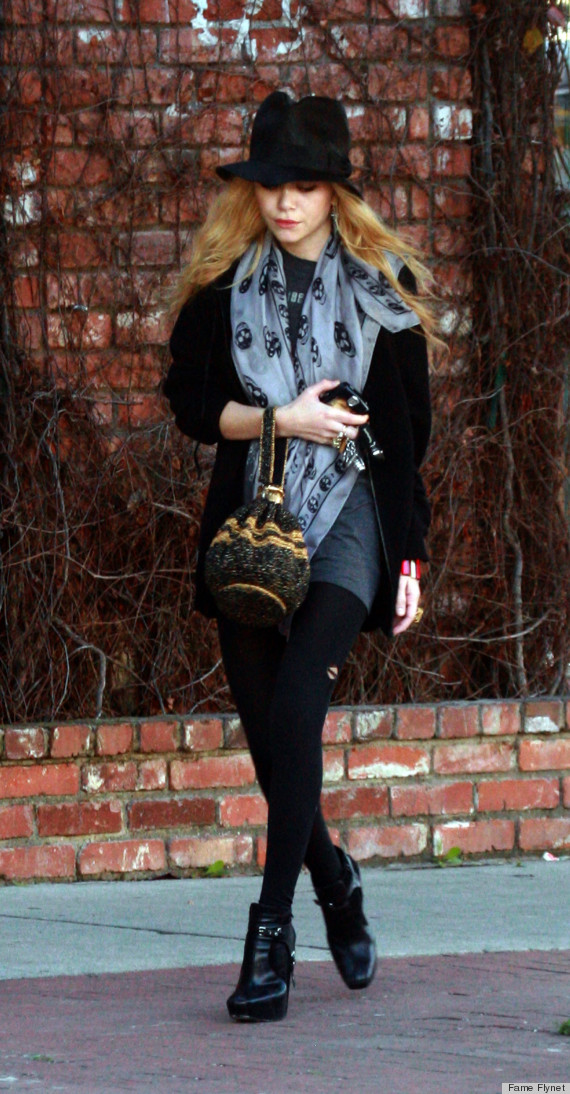 This is a quintessential Mary-Kate look from '06. Ripped-up tights, high black boots, a unique bag, a patterned scarf and a hat complete her "rocker-boho-chic" vibe.
2007: Everything looks better ripped.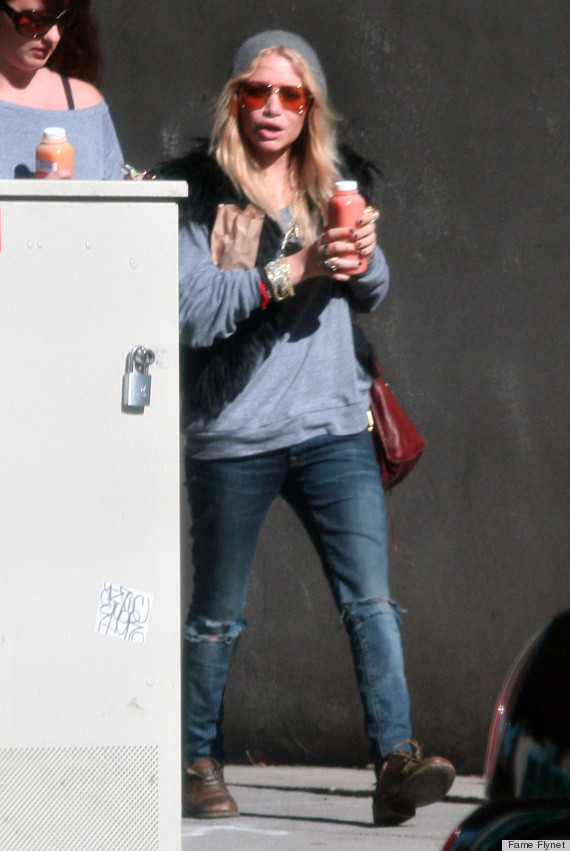 How could we forget MK's penchant for fur? Here, she casually dons a fur vest over a loose-fitting sweater, and of course, heavily accessorizes the look with bangles, aviators and a beanie.
2008: Mary-Kate brings back some glamour into her wardrobe.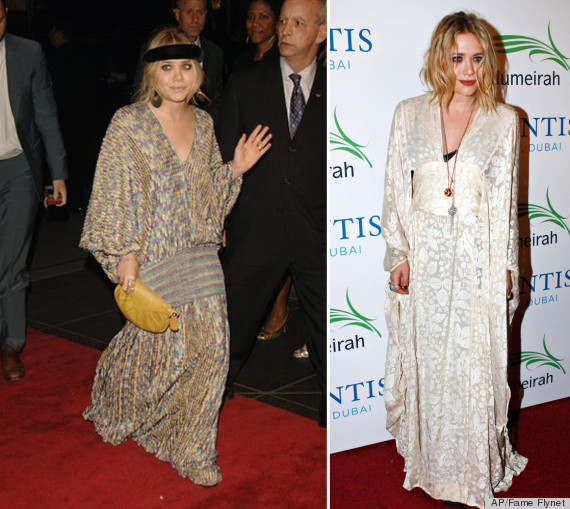 In these two red carpet looks, Mary-Kate shows just how much she is into long bohemian dresses. She looks like she belongs back in the '70s and we love it.
2008: But she doesn't stray from the "homeless" look off the red carpet...
We just might mistake Mary-Kate for a homeless lady if we saw her on the street this day... but we're sure that coat and scarf are two things we couldn't possibly afford.
2009: MK starts taking Fashion with a capital F seriously.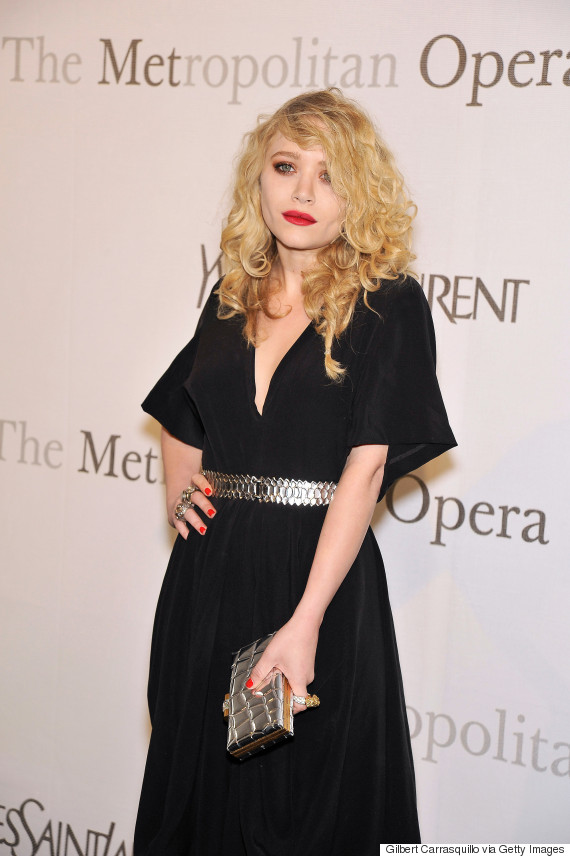 Black was her color in '09 -- she brings back her love for loafers that we previously saw in the first photo, and exudes a serious rocker look (reminding us of Courtney Love a little) at an event. Even the black carpet matches with her!
2010: Same accessories, but no more voluminous layers.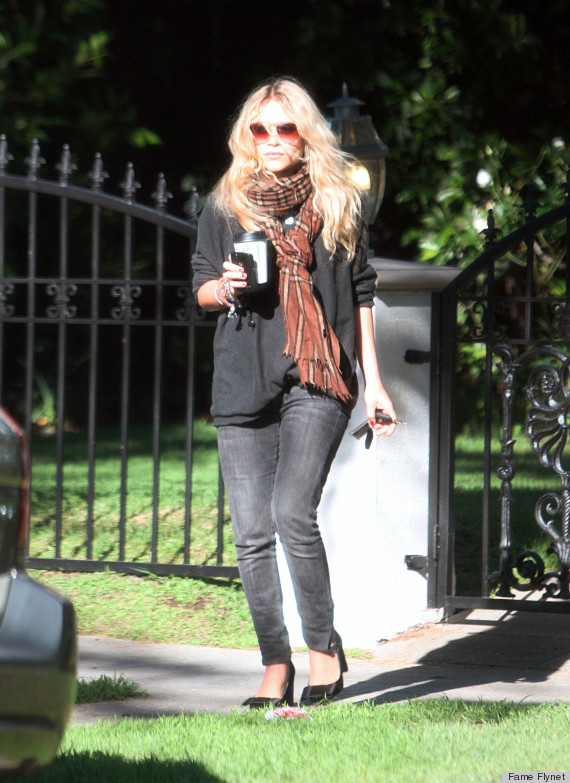 More scarves, more baggy clothing and her usual coffee in hand! We do like how this year she wore some tighter pants -- they accentuated her petite curves.
2012: Casual clothes... with very expensive bags.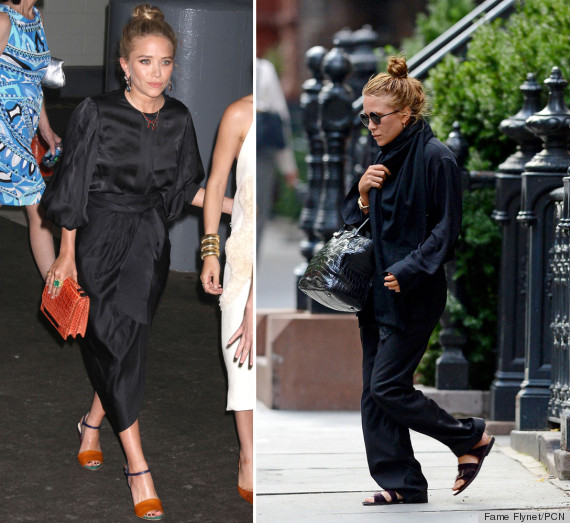 Mary-Kate's obsession was buns in '12. She dressed the hairstyle up at an event with some killer sandals and (thankfully) a fitted dress. On more casual days, she stuck to her baggy ways and wore her hair in a messy bun with loose pants and a very large bag (we really wonder what she keeps in her purse).
2013: MK stays tried and true.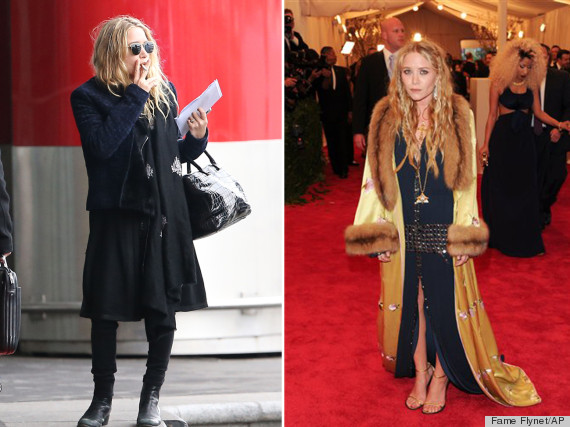 Even today, MK sticks true to what she knows best: eccentric style that piles on the accessories. Her street-style look remains her signature all-black with boots, a scarf and a big bag (we're not digging the cigarette, though). And at this year's Met Gala, she compiled all her favorite things from the past years: a long and loose black dress, a fur-lined cape, strappy sandals and messy hair.
Happy birthday, Mary-Kate! Don't ever change -- you are and will always be our favorite "bag lady."
Click through to see Mary-Kate and Ashley's joint fashion evolution: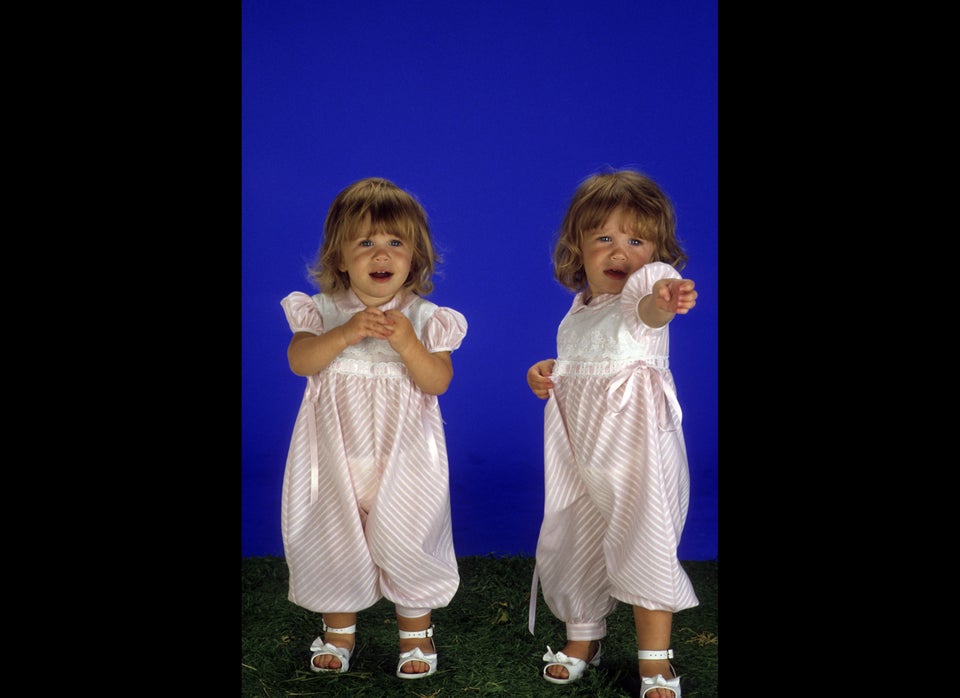 Olsen Twins' Style Evolution
CORRECTION: This article previously misidentified Ashley as Mary-Kate in photos dated to 2009 and 2011; the incorrect photos have been removed.