An 18-year-old girl is helping police hunt for the man who shot her in the head and murdered her girlfriend at a Texas park last month.
Mary Kristene Chapa is still recovering in a hospital bed from brain injuries sustained in the shooting, but she's managed to help police refine their sketch of the suspect who killed her girlfriend, 19-year-old Mollie Judith Olgin, ABC News reports.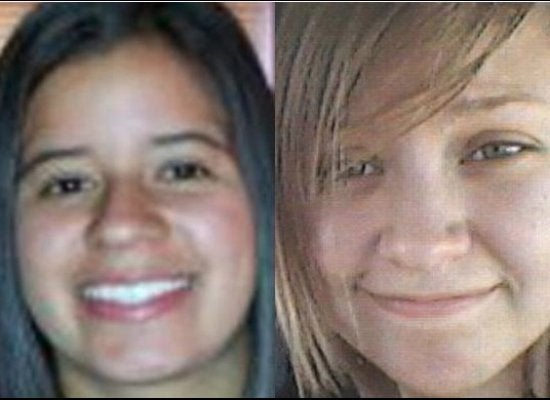 Mary Kristene Chapa/Mollie Olgin Shooting
"She wants very badly to help us identify Mollie's murderer," Portland, Texas, Police Department Chief Randy Wright told ABC News. "Our eyewitness sustained a brain injury that initially affected her ability to communicate effectively. The good news is she has made exceptional progress. Her sight and speech have improved and she can now interact with the artist much better."
Chapa already provided the sketch artist with an initial physical description, but she requested a second meeting to clarify the rendering, Wright said. Her description did not change from the first version.
The suspect is described as a white male in his 20s, 5 foot 8 inches tall, thin build, 140 pounds, with brown hair and a scruffy beard.
A couple visiting the park found the girls -- who are believed to have been shot with a large-caliber handgun at around midnight the night before -- in knee-deep grass. Olgin was pronounced dead at the scene, as reported by local TV station KRIS-TV.com.
Whether the girls' sexuality had anything to do with the attack remains unkown, Wright told MSNBC.com.

"That's always something that we're looking for," he said. "But as of this point, we have not been able to establish that that had anything to do with the attack."
The shooting is not being investigated as a hate crime, according to ABC News.
Still, people close to Chapa and Olgin won't forget the brutality of this crime any time soon.
"It's something that I think all of us are going to carry with us for a while," Frank Reyna, a friend of both girls, said to MSNBC.com. "It's going to take a while to get past this, the idea that there is somebody still out there that did this to these two amazing, beautiful people, and that they're walking free right now."
CORRECTION:The previous caption for this story misidentified the two girls pictured. HuffPost regrets the error.
Popular in the Community