When Macklemore and Ryan Lewis released their song "Same Love" in 2012, it became a sort of unofficial anthem for same-sex marriage. The lyrics advocating for LGBT rights were both powerful and beautiful, and the chorus -- performed by Seattle artist Mary Lambert -- was equally intoxicating.
"Same Love" quickly climbed the Billboard charts and for a relatively unknown artist like Lambert, instant fame was a whirlwind. Especially considering that she calls herself the "last resort" option to sing on that track. 
As Lambert tells "Oprah: Where Are They Now -- Extra," Macklemore and Ryan Lewis had finished the song and were looking for someone to come up with the chorus when her name came up.
"They had asked pretty much every gay artist you can think of to sing on this song and everybody turned it down," Lambert says. "I was the last resort. I mean, I was playing venues to, like, 10 people!"
But a phone call from a friend was about to change that.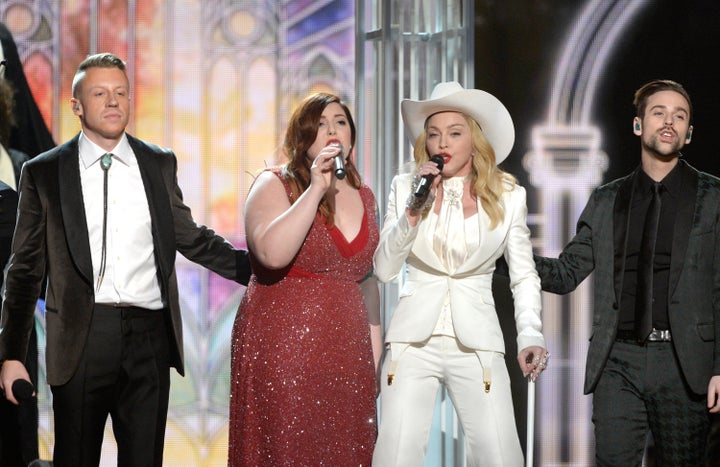 "She was like, 'Hey, my friends are working on this song and they need a chorus. Would you be interested in doing it?' I was like, 'Oh, yeah, Macklemore and Ryan Lewis? Sure, I'll fit you in my schedule,'" Lambert jokes.
The challenge was that Lambert wasn't given much time to create her part of the song.
"I wrote the chorus in two hours after taking a shot of tequila," Lambert says. "[I] got it right over to their studio and talked to them briefly, said, 'This is what I came up with.' They liked it, we tracked it and then it was released."
After its release, "Same Love" was nominated for a Grammy Award for Best Song, and Lambert was performing across the country on arena stages and on national television with Macklemore and Ryan Lewis (and, at one point, Madonna). Success was swift. 
"The train was moving so quickly at that time that I was just like, 'Hold on, hold on. Keep it together, try to figure it out. Don't become jaded, be really nice, work really hard,'" she says. "Honestly, those two years are a huge blur."
It's not about me or my song or anything. It's about facilitating something greater.
"Same Love" put Lambert on the map, but even in the midst of all those TV appearances, interviews, awards shows and performances, the 27-year-old says she made a conscious effort to focus on what was really important.
"This was not about ego. It was really about the greater good and social change," she says. "Anytime something exciting like that happened, I'd have to check my ego and be like, 'OK, this doesn't have anything to do with Mary as the artist... This has to do with being a conduit for something else.'"
Shortly after the Orlando massacre at a gay nightclub, Lambert performed "She Keeps Me Warm" as a part of Gay Pride in Louisville, Kentucky. It was the first time she sang the song since the Orlando shooting, and it was an incredibly emotional performance.
"I couldn't do it. I knew it was going to be difficult to sing, but I didn't know that my throat was going to close," Lambert says. "I couldn't get it out." 
The audience was equally affected.
"Everybody was holding each other. We were all crying. We were all singing together -- I had stopped playing piano and we were all just singing a cappella," Lambert says. "Again, it's not about me or my song or anything. It's about facilitating something greater, especially at a time that is so necessary and needed. I'm so glad to be in that position to facilitate something."
Today, Lambert is working on another meaningful album, which she's planning to release in December. It will be titled "Shame is an Ocean I Swim Across."
"It's pretty heavy," Lambert admits.
As for the sound, Lambert says it may be difficult to categorize, but that complexity is something she's embracing.
"I'm doing a lot of classical composition on the album, a lot of orchestral arranging. [Also] spoken word. And then pop songs," Lambert says with a laugh. "I'm trying to embrace the complex and embrace the fact that even if it's difficult to categorize yourself, it's OK, because hopefully people love you for who you are, even if they can't totally understand you."
Another LGBT singer opens up:
Calling all HuffPost superfans!
Sign up for membership to become a founding member and help shape HuffPost's next chapter
BEFORE YOU GO
PHOTO GALLERY
Joyful LGBT Wedding Photos