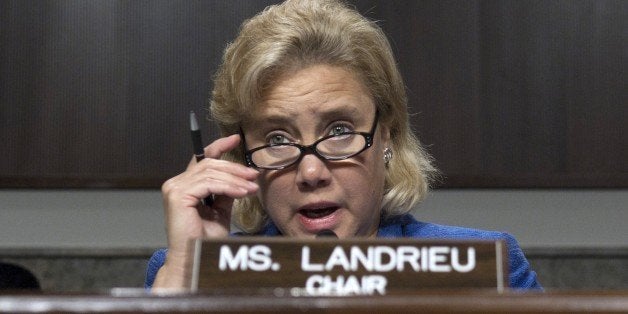 WASHINGTON -- For Louisiana, the fossil fuel industry is both a blessing and a curse.
This same double-edged sword hangs over the campaign of the state's senior senator, Mary Landrieu (D), as she seeks to hold on to office in a state that has dramatically shifted in support of Republicans since she came to the Senate in 1997.
The industry has paid it forward, as employees, executives and political action committees involved or in service to the fossil fuel sector have plowed $1.15 million into her campaign coffers since January 2013, according to The Huffington Post's review of Federal Election Commission records. The Landrieu campaign did not respond to a request for comment.
Employees of and PACs associated with the top five oil producers in the United States -- Exxon Mobil, Conocophillips, Chevron, Anadarko and Marathon Oil -- combined to give nearly $140,000. Other donors included smaller oil and gas companies, electric utilities and many service providers to the oil and gas industry, including $42,100 from top executives of the Louisiana company Edison Chouest Offshore and its subsidiaries.
Upon Landrieu's ascension to the energy chair, American Petroleum Institute president Jack Gerard, the head of the nation's largest oil lobby, praised her work, saying, "With her strong support, the people of Louisiana have played a major role in America's energy revolution." She has received contributions from both the former and current top Washington lobbyist at API for this election.
None of this is necessarily bad politically in Landrieu's oil-rich state. In fact, fossil fuel donors from Texas -- the other oil giant on the Gulf of Mexico -- have given more to her latest campaign than industry donors in any other state, including Louisiana, which ranks second in industry funds.
And it makes for good television advertisements.
While these stances have helped to fund her campaign and increase her stature in the state, they have not played well on the expanded field of unlimited money that has opened up in the years since the Supreme Court's 2010 Citizens United decision.
In this election cycle, Democrats have leaned heavily on environmental groups and wealthy donors that are dedicated to averting a climate change disaster. These groups have helped to fund large advertising campaigns in the party's fight to maintain its majority in the Senate, and according to the Center for Responsive Politics, have already spent nearly $24 million to boost Democrats.
But Landrieu has been entirely ignored by these groups. Big spenders like the League of Conservation Voters and Tom Steyer's NextGen Climate Action have spent nothing to support her campaign. To date, the Louisiana Senate race has attracted less than $10 million in independent spending, despite the fact that it is among the few hotly contested races that could result in a Democratic loss.
"This race isn't on our radar," League of Conservation Voters spokesman Jeff Gohringer said in an email. He also pointed to Landrieu's 51 percent lifetime score on the group's National Environmental Scorecard, which is the second-lowest rating for any current Senate Democrat.
A spokesman from NextGen Climate Action declined to comment.
But these groups aren't withholding their support from other endangered Democratic senators with mixed records who are campaigning in other fossil fuel-dependent states.
The League of Conservation Voters has put $765,000 into a super PAC run by its Alaska affiliate to back Sen. Mark Begich (D-Alaska) in his race against Republican Dan Sullivan. Begich is a proud supporter of his state's oil and gas industry and his campaign has touted his work to open more land in his state to drilling.
Like Landrieu, he backs the Keystone XL pipeline, but differs from her in other ways. Begich openly talks about addressing climate change immediately and how he has already seen its effects across Alaska. He has also opposed the opening of Pebble Mine, a controversial proposed project in the Bristol Bay watershed that is opposed by the fishing industry and environmental groups.
Landrieu, meanwhile, has appeared to back the fossil fuel industry reflexively in all respects in her state. She appeared at the state's most-polluting coal plant to protest the Obama administration's carbon emission rules, even though the CEO of the plant operator, NRG Energy, has expressed support for those rules.
This unflagging support, matched with her prominent perch atop the energy committee, has helped her to monopolize oil and gas industry money in her race. Her closest opponent, Rep. Bill Cassidy (R-La.), trails her in fundraising, and has received little from the large fossil fuel companies and trade associations. Save for just four contributions, these companies and associations have even declined to provide Cassidy's campaign with PAC contributions.
The fossil fuel industry's desire to keep Landrieu in office also extends to its few other Democratic allies in Congress.
On Wednesday, Sen. Joe Manchin (D-W.V.), the only Democratic senator whose League of Conservation Voters score is worse than Landrieu's, warned that if Landrieu loses in November -- or in the distinct possibility of a December runoff -- and Democrats can retain control of the chamber, then Sen. Maria Cantwell (D-Wash.), a supporter of environmental regulations, would likely ascend to the energy chair.
REAL LIFE. REAL NEWS. REAL VOICES.
Help us tell more of the stories that matter from voices that too often remain unheard.
BEFORE YOU GO
PHOTO GALLERY
U.S. Capitol Photos