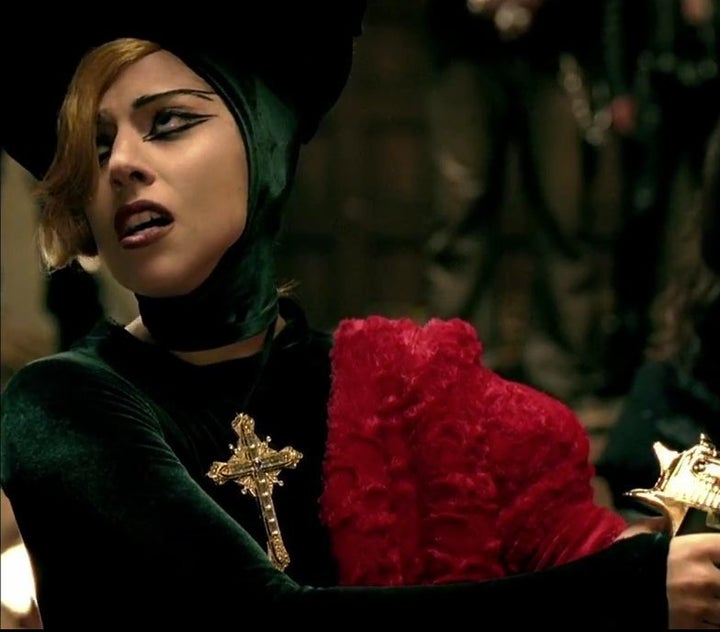 UPDATE: Catholic League President Bill Donohue released a statement after watching the video, and was somewhat less critical of the religious aspects of the Gaga's work.
In her "Judas" video, Lady Gaga plays fast and loose with Catholic iconography, and generates several untoward statements, but she typically dances on the line without going over it. Perhaps that is because the video is a mess. Incoherent, it leaves the viewer more perplexed than moved. The faux-baptismal scene is a curious inclusion, as is her apparent fondness for the Jesus character. But if anyone thinks the Catholic League is going to go ballistic over Lady Gaga's latest contribution, they haven't a clue about what really constitutes anti-Catholicism.
After weeks of buildup and pre-emptive criticism, Lady Gaga finally (spurred by leaks) released the controversial music video for her new single "Judas." And to be sure, it delivers on its promise of controversy.
In the video, Gaga plays a modern-day Mary Magdalene, riding in with motorcycle gang Jesus and his apostles. Sleekly sexualized, it places her, among other things, writing in a bath with both Jesus and Judas, who share intimate moments, as well.
Before the video was even released, the Catholic League struck out at Gaga -- who grew up and is still a practicing Catholic -- for what they deemed as inappropriate and offensive.
"This is a stunt... Lady Gaga tries to continue to shock Catholics and Christians in general: she dresses as a nun... she swallows the rosary. She has now morphed into a caricature of herself," Catholic League President Bill Donohue said in a statement.
Her take, of course, was a bit different; in an interview with MSN in late April, Gaga said, "'Judas' is a metaphor and an analogy about forgiveness and betrayal and things that haunt you in your life and how I believe that it's the darkness in your life that ultimately shines and illuminates the greater light that you have upon you."
On Wednesday and then Thursday, Gaga sent out provocative messages over Twitter, saying, "THE JUDAS KISS: a betrayal of a prophecy fulfilled?" and "The Cultural Baptism cannot be stopped."
WATCH
:
Calling all HuffPost superfans!
Sign up for membership to become a founding member and help shape HuffPost's next chapter