Intermittently for the past 25 years, the NRA has run a series of ads under the headline "I'm the NRA." Included are celebrities (like Washington Redskins legend John Riggins, cowboy entertainer Roy Rogers, and actor Tom Selleck), politicians, and ordinary members. Each ad profiles the NRA member, quoting the reasons why they joined the organization.
Mary McFate will never be in an NRA ad. But she is the NRA. And reveals more about the NRA's leadership than any glossy magazine ad ever will.
Last week Mother Jones revealed in an investigative piece (remember investigative journalism?) that long-time gun control activist Mary McFate was in fact, Mary Lou Sapone, a long-time undercover operative who was working on behalf of, as the NRA likes to call itself, "America's oldest civil rights organization" as a gun control mole.
So what would the text read beneath Mary McFate's ad?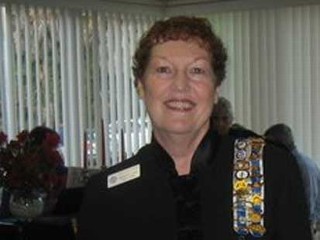 I'm Mary McFate. For the past 10 years, I've led a double life as a pro-gun spy and gun control activist. I've even brought my family, daughter-in-law Montgomery McFate and son Sean McFate, into our family "business." For 10 years, I've met the victims of gun violence, people who have lost loved ones, had their lives destroyed, by guns. Many of them were unpaid volunteers, driven only by their loss and the subsequent goal of working to make our nation safer. That's why it was so easy to infiltrate their movement and take advantage of them. I've slept in their homes. Eaten meals with them. And I was paid for it. Sweet.
The Mother Jones revelation of Mary McFate's soulless undercover mission--think of the many raw, emotional victim's stories she heard as she was deciding in the back of her mind how to use the latest acquaintance brought to her by tragedy for her gun lobby employers--is a stark reminder of what the NRA has become. This revelation should have a long-term impact on how Americans--gun owners and non-gun owners alike--view the NRA. Yet because of our nation's longstanding inability to face and address our unique level of gun violence, the NRA always manages to rehabilitate itself as time passes and issues fade. Former NRA member Timothy McVeigh blows up the Alfred P. Murrah Federal Building in Oklahoma City, bringing to light the NRA's adoption of the paranoid language of, and nascent outreach to, the militia movement. George H.W. Bush and others turn in their life memberships. Charlton Heston is brought in to counter the charge that they've become too extreme, but merely recasts the "Final War" that motivated McVeigh as a broader "Culture War" of which gun owners have a unique place on the front lines. After the 1999 Columbine massacre, the NRA holds it annual meeting less than two weeks later in Denver, ignoring the pleas of families and civic leaders to cancel the event. This, like prior outrages, is soon forgotten except by those directly affected. And now, the true face of the NRA, currently basking in a safe harbor of political expedience--protected on the one side by politicians who see no political gain in advancing gun control policies and on the other by some progressives whose "win at any cost" worldview has no room for the victims of gun violence--is once again revealed.
In the wake of mass shootings, the NRA routinely refuses to answer press inquiries. On the occasions when, because of ongoing press coverage of a shooting, the organization is forced to respond, it routinely chides in a pious voice of false concern different variations on the theme of `now is not the time to talk about gun control, now is the time to grieve.' Its leadership then criticizes survivors and advocates who dare talk about gun control in the wake of gun violence. Yes, the very survivors and advocates they're spying on.
So it's not surprising that in the wake of the Mother Jones article that the NRA is employing a proven tactic. They're not returning phone calls.
Popular in the Community