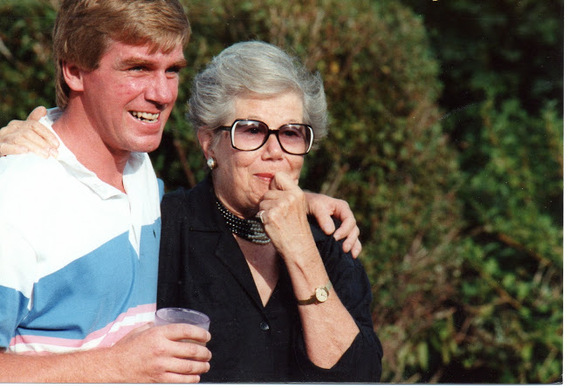 Which would she have loved more -- the recent Pulitzer Prize announcements or the cherry blossoms in springtime?
There's no doubt that Mary McGrory, the Pulitzer Prize-winning columnist, late of the Washington Post, would have loved this past weekend in Washington. She lived for the spring and the blooming of the flowers. Indeed, the cherry blossoms throughout Washington this past weekend were one of the most spectacular shows we're seen in a while. And to be sure, they were a welcome change from the cocktail conversation of recent snow falls and political dysfunction.
And of course, the Pulitzer Prizes were awarded this week -- bestowing journalism's top award (an award Mary won in 1975) -- on Members of the 4th Estate, whose industry has been undervalued for too long.
It will be 10 years ago next week that Mary passed away. Ten years -- and it feels like yesterday. She left behind a Washington that was strikingly different than that of today. And she left behind a legacy of friends and family who continue to cherish her friendship, her insights and her lasagna. (Okay, maybe not the lasagna...)
She likely would have cringed at Twitter and I suspect she would have hated Facebook. (Yet now there's a Mary McGrory Facebook page to "like"!) But she still would have loved this springtime and the give-and-take of the chattering class that she often directed from her living room on Macomb Street in the Cleveland Park neighborhood of Washington.
I could write pages about what Mary McGrory taught me and how deeply I value her friendship from the week I first arrived in DC in 1985 as a freshman college student at American University -- all the way through her death in 2004. Indeed, there's an entire cadre of us who could write pages and pages about Mary McGrory. And I have no doubt that each of us are, in some small way, a living testament to her life.
Of course, Tom Beatty, Mary's nephew says it the best. I'll let his word speak for all of us:

On the few occasions that I was lucky enough to hear Maureen Dowd speak about Mary McGrory publicly she always seemed to make a reference to entering Mary's "Sanctum Sanctorum" at The Washington Star. What I think she meant by the reference was that once you were granted entrance into this "exalted" space (a space which commoners would know simply as Mary's office) and you were included in the discussions about the issues of the day then you knew that as a journalist you finally mattered.

And although not all of us were fortunate enough to have experienced the
Washington Star's physical space, we all did have the inestimable good fortune of sharing Mary's "Sanctum Sanctorum" with her in our own unique ways. Some entered it genetically, some professionally, some accidentally, some curiously, some even unwittingly and myself nuptially. But whatever the degree of serendipity involved, I think we would all agree that upon entrance the journey that she took us on was one that was as glorious as anyone ever could have imagined.

My journey began in 1975 when I drove over to Aunt Kate's house in Roslindale after Thanksgiving Day dinner to pick up Anne to go skiing for the weekend. As Mary would phrase it, I was a "reader". In those days, as it does today, the Boston Globe would put the picture of the columnist next to their article. So when I walked in I recognized Mary immediately and the first thing she did was walk over to introduce herself and offer me a piece of apple pie with a slice of American cheese on it. I just went with it. It may not sound like anything extraordinary but for some reason I think of that moment often. As I found out years later I guess I was fortunate that she was not the one who had baked the pie. Speaking of her legendary cooking prowess, I think the first time I ever saw Mark Shields speechless was at a party at Mary's on Macomb Street when she asked him if he wanted a second helping of her lasagna.

My first Washington, DC introduction to Mary was in 1976 when Anne and I traveled cross country and on our way back we stayed at Mary's apartment. In anticipation of my first party at Mary's I remember that five minutes before guests were scheduled to arrive we were all ironing something or other and Mary was laughing about what would happen if the guests arrived and we were all half dressed. Rep. Peter Rodino (NJ) was one of the first to arrive. He was under consideration for Vice President at the time. Again you're all probably wondering what was so exciting about meeting a Representative from New Jersey. Well for me having followed the Watergate hearings as closely as I did it was like seeing history come alive in front of me for the first time.

Mary provided me with some of the most amazing experiences of my life. How else would a high school math teacher from Boston have the opportunity to meet President Clinton in the Oval Office, be the "date" of a Pulitzer Prize winner for The St. Patrick's Day party at the White House and meet both John Hume and Gerry Adams at the same occasion, celebrate Easter Mass and have breakfast at Hickory Hill with Ethel Kennedy and Tim Russert or have my Golden Retriever, Danny Boy, have his name mentioned in a nationally syndicated column, push George Stephanopoulos out of a snow bank after a St. Patrick's Day party at her apartment (the same party that the attaché from Great Britain arrived at on cross country skis), play golf at Hyannis Port Golf Course with Ethel Kennedy with Mary following us in a golf cart (let that one sink in), have Peter Jennings send me flowers for my fortieth birthday, be seated next to David McCullough at The Massachusetts Historical Society where Mary and David McCullough were the honored guests speaking on John and Abigail Adams, be invited to a book signing party on Beacon Hill to celebrate Katherine Graham's newly released book, "Personal History", have my name mentioned by her on "Meet The Press" as one of the people she had talked to about the Clinton situation (I nearly fell off the chair) or play touch football on the lawn at The Kennedy Compound in Hyannis Port and actually scoring three touchdowns for the Shriver team.

I loved to write Mary letters. It was both fun and challenging knowing that your letter would be read by a Pulitzer Prize winner with more than a slightly critical eye. But I knew the ground rules. At the very least it had to contain a little politics, some gossip and as much humor as possible. And to have her ask me one day to write more often because of how much she enjoyed reading them was as unlikely a moment for me as it was cherished. And later I found out that she actually kept many of those letters in a drawer designated for special correspondence.

As ESPN's Top 10 has certainly proven, a highlight reel is the fastest way to grab the spotlight but that bright glare inevitably recedes over time. And although I would not trade a minute of any of my Top 11 moments, Mary understood that although highlights are essential (she loved winning The Pulitzer Prize in 1975) it is truly the body of one's work that stands the test of time.

It's no secret that in everyone's life good things happen and bad things happen. And after every one of these events, time passes. The bad thing about time is that it sometimes reduces the glow of the good things and the good thing about time is that sometimes it reduces the sting of the bad things. The one bad thing for me that time refuses to make the least bit palatable for even a single day over the last ten years is the feeling I get when I walk down stairs in the morning and open the newspaper. It never gets any easier not seeing the byline: Mary McGrory.

November 22, 2013, who else could tell us how we should feel fifty years later? Would she still think that "We'll never laugh again"?

Who could better explain the parallels between Sen. Joseph McCarthy (WI) and
Sen. Ted Cruz (TX)?

How could an African-American be elected President of the United States only 40 years after George Wallace received 10 million votes as a third party presidential candidate?

How would Mary have covered the 2004 Boston Red Sox when they pulled off their first World Series win in 86 years (the first since the year she was born in 1918)?

And how would she have felt about the Red Sox beards in 2013 (somehow I think her description would not have been as glowing as when she described the
chestnut hair of JFK)?

What about Putin versus Khrushchev?

What adjectives would she use to describe the deeds of Dick Cheney, Donald Rumsfeld, Jack Abramoff and the like?

What kind of comparisons would she make between The Affordable Care Act and Medicare or Social Security? How about Obama versus LBJ?

And how would she eviscerate Facebook and Twitter devotees?

And of course, has there been any reconciliation between the impatiens, the ageratums and the squirrels at the Macomb Street garden?

After Mary's funeral she specified in her will that there was to be a gathering for family and friends back at her apartment at 2710 Macomb Street. Mark Gearan played the piano as he had so many joyous times at her apartment and people sang and laughed. It wasn't exactly the same as when Mary stood front and center but it was pretty damn good. She would've been proud.

The final toast at the occasion was given by her friend Phil Gailey who proclaimed "I hereby declare that the last meeting of The Lower Macomb Street Choral Society is adjourned." Perfect.

And although Mary would object profusely, I just felt like maybe it was time to take a peek back after ten years.

Mary McGrory
August 22, 1918 - April 21, 2004.
Newspaper Woman and Volunteer
RIP

REAL LIFE. REAL NEWS. REAL VOICES.
Help us tell more of the stories that matter from voices that too often remain unheard.