 As any good Mary Poppins fan will tell you, when the wind shifts from the East to the West, it's then time for that practically perfect nanny to pack up her carpet bag and fly off for parts unknown.
Well, I'm not sure which way the wind is blowing in New York City these days. But since Disney and Cameron Mackintosh's Mary Poppins will be folding its giant, revolving umbrella this Sunday afternoon to make room for Aladdin (which is expected to fly into the New Amsterdam for Spring of 2014), I thought that it might be interesting to talk with someone who'd long been associated with this acclaimed production. Which is why I reached out to Anthony Lyn, the associate director of this Broadway show as well as director of its national tour. Who -- along with music supervisor David Caddick -- has been part of the Poppins creative team ever since this stage show was first conceived back in the early 2000s.
"People these days forget about all of the behind-the-scenes effort it took to actually make the stage version of Mary Poppins happen. I mean, The Walt Disney Company had its Academy Award-winning movie version of the P.L. Travers books. And since that film had all of those great Sherman Brothers songs, that movie seemed like a natural to transfer to the stage," Lyn explained. "The only problem was -- when Disney's lawyers were negotiating with Ms. Travers to get the movie rights to the books -- they neglected to secure the stage rights at the same time."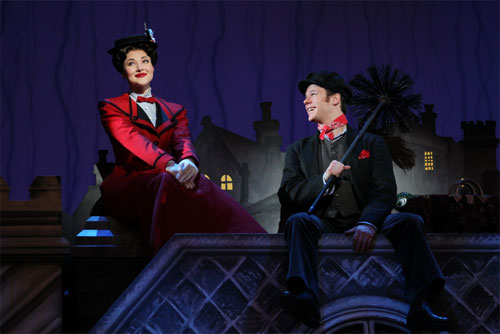 And when Disney representatives approached Pamela in the late 1980s / early 1990s with the hope of then securing the stage rights to Mary Poppins after the fact, Ms. Travers (who wasn't exactly subtle when it came to expressing her dislike of Disney's movie version of her stories) repeatedly rejected their requests. She insisted that when Mary Poppins was finally done for the stage, it would be by an English creative team this time around. Not a bunch of Americans.
"That's what gave Sir Cameron the inside track when it came to securing the stage rights for Mary Poppins in 1993. He agreed to Ms. Travers' terms. That whenever a stage version of her books was ultimately produced, Mackintosh promised to assemble an all-English creative team," Anthony said. "More importantly, the version of Mary Poppins which appeared in this play would be much more like this character appeared in the books, rather than the way that Julie Andrews played this character in the movie."
Mind you, after Pamela passed away in April of 1996 at the ripe old age of 96, Cameron found himself in kind of a conundrum. He had the stage rights to Mary Poppins. But without those Sherman Brothers songs from the movie that theater-goers knew and loved so well, it was highly doubtful that the ticket-buying public would ever enthusiastically embrace a stage version of Travers' stories. Meanwhile, The Walt Disney Company had the rights to this music all locked up (not to mention a new theatrical division that had already proven it could produce and promote highly successful musicals for the stage) but no legal way to proceed with a Broadway production of Poppins.
This creative stalemate continued for five years until December of 2001. Which was when Thomas Schumacher (i.e. President of Disney Theatrical Productions) -- without letting his bosses at the Mouse House know what he was up to -- flew over to the U.K. to meet with Mackintosh. And it was during this clandestine meeting, away from all of the attorneys who had tripped up all previous attempts to make this show happen, that Sir Cameron and Tom were finally able to strike a deal.
"I don't know if Ms. Travers would have entirely approved of all of the compromises that Disney Theatrical and Sir Cameron Mackintosh eventually came to. After all, she was quite vocal when it came to her dislike of those Sherman Brothers songs," Lyn laughed.
But the deal that Tom and Sir Cameron hammered out did address her biggest concern -- that any stage version of Mary Poppins, in order to be done correctly, would have to be assembled by an all-English creative team -- while at the same time insuring the commercial viability of this project by making it possible to incorporate all of those Disney-owned Sherman Brothers songs into the show.
Development of the stage version of Mary Poppins began in earnest in 2002. With Julian Fellowes (who would win an Oscar for Gosford Park and then go on to create Downton Abbey) writing this show's book and Richard Eyre and Matthew Bourne working as co-directors to try and find ways to make memorable musical numbers from the movie like "Jolly Holiday" & "Chim-Chim Cheree" viable for the stage.
"It was a genuinely collaborative effort," Anthony recalled.
I remember one day when we were puzzling about how to properly stage 'Supercalifragilisticexplialidocious' in the show, Sir Cameron came bounding up the stairs into the rehearsal space and said 'We should spell it out.' Which is an idea that Mackintosh eventually admitted that he borrowed from the movie version of The Sound of Music. But that spelling-it-out concept still worked like gangbusters within the creative confines of our show.
The stage version of Mary Poppins was launched in the UK in the Fall of 2004 with a two month-long tryout at the Bristol Hippodrome. This production then transferred to the West End in December of that same year where it eventually met with great acclaim. Next came the Broadway production, which opened at the New Amsterdam in November of 2006. Which was then followed by the U.K. tour in 2008, the North American tour in 2009 and the Holland & Australian productions in 2010.
"And back in November, we actually opened a production in Mexico City. Now you wouldn't think that a show built around a British family and their nanny would work with an audience from this part of the world. But the Mexico City production of Mary Poppins has been our most popular one yet," Lyn enthused. "There has been such a high demand for tickets to that production that producers from Central & South America have taken notice. Which is why there are now plans in the works to produce the stage version of 'Mary Poppins' in Brazil."
Which shouldn't be all that surprising. After all, no matter what language you speak, a story about family always has universal appeal. And as far as Anthony is concerned, the stage version of Mary Poppins is all about family.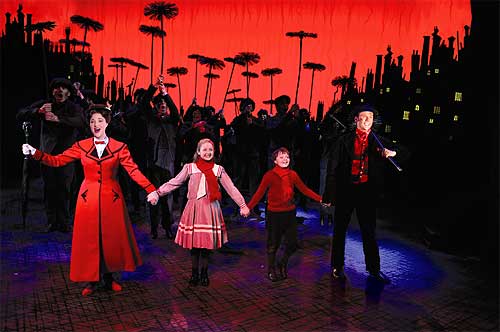 "I've never been associated with a show like this before. Where the cast & crew gets this close and then stays in touch even after they've moved on to other roles," Lyn continued.
Take -- for example -- what happened the week after it was officially announced that the Broadway production of Mary Poppins would be closing. The six kids who had originally played Jane & Michael in the NYC version of this show decided -- all on their own -- to come by the New Amsterdam and give the cast some love. They just showed up at the stage door unannounced one night. One of them had to drive in from Boston to do this. It was a very sweet thing to do.
Now you'd think -- what with the Broadway production of Mary Poppins closing in just a few days -- Anthony would be a bit blue. But truth be told, Lyn is more philosophical about this whole matter.
In this era of super-long runs on Broadway, people sometimes forget that shows like Phantom of the Opera, Chicago or even Disney's The Lion King really aren't the norm. Mary Poppins has been at the New Amsterdam for over six years now. When we close up shop on Sunday, we'll be the 22nd longest running show in Broadway history. And that's something to really be proud of.
"More to the point, I know that Mary is going to live on through its regional productions. The first of which begins previews in Ontario at the >Dunfield Theatre Cambridge just three days after Broadway production closes," Lyn said. "The Muny in St. Louis will also be mounting a production of 'Mary' later this summer. And if I'm remembering correctly, 50 other theatres around North American now plan to produce 'Mary Poppins' over the next year or two."
So though the winds of change seem to be blowing through the New Amsterdam Theatre, moving Mary Poppins out so that Disney's Aladdin can fly in, it's not like this show will be far from sight. If anything, thanks to all of the regional productions that are now in the works, you should probably expect to see the stage version of Mary Poppins pop up in a city or town near you sometime very soon.
Jim Hill is an award-winning entertainment writer who lives in New Boston, NH. Over the past 30 years, he has interviewed hundreds of veterans of the animation & themed entertainment industry and written extensively about The Walt Disney Company.
Jim is currently working on a behind-the-scene history of the development & construction of Disneyland. For his more immediate musings on movies, TV shows, books and theme parks, please check out his blog, jimhillmedia.com.
Calling all HuffPost superfans!
Sign up for membership to become a founding member and help shape HuffPost's next chapter