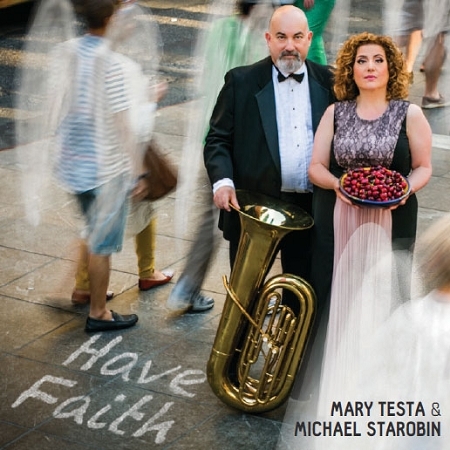 Mary Testa is a pro: a belter, a diva and a clown, in the most beloved Broadway sense. She is a star talent who has rarely gotten star billing. You could write a musical about her.
Now, after decades as a trench soldier in the New York theatrical wars (we'll go into how many decades in a moment), Mary Testa has finally released her first CD.
Have Faith (on Sh-K-Boom records) is a wonder, but hardly a surprise. Created in collaboration with her longtime performing partner, the estimable orchestrator and composer, Michael Starobin, the disc showcases everything that the theater world already knew about Mary Testa's talent, while giving voice to so much more that Mary has always had to offer, but that very few of her many Broadway and Off-Broadway appearances ever gave her the chance to express.
It can seem as if she has been on the scene in New York forever, but for Mary it's all relative. As she remarked from the stage of The West Bank Café's Laurie Beechman Theatre last week during a scintillating performance celebrating her CD's release: "I have no memory. For me, everything happened seven years ago."
I first met Mary "seven years ago," let us say. She was already an onstage force of nature in the Ethel Merman mold with a Merman manner and Merman-caliber pipes. She was also, and remains, a woman of probing intelligence and an artist with an aesthetic far subtler than you might suspect.

"I came to New York with no ambition to work in musical theater," she maintains. "I had no background in musical theater, I did not study musical theater in college, we didn't even have a musical theater department at the University of Rhode Island. My intention was to be an actor and I also sang but that, for me, was separate. I had been in some musicals in college. One was called The Resurrection of Jackie Kramer. We came down to New York to perform it at New Dramatists. An agent saw me. I was playing a fifty-five-year-old woman; I was, like nineteen. This agent thought I was a fifty-five-year-old woman and came back to see me after the show. We had a conversation and straightened things out, but he said to me: 'You're terrific but if you want to have a career in this business, you're going to have to fix your eye. You have a lazy eye.' I thought he was an idiot and never dealt with him again.
"Another musical that I did in college was something called Scrambled Eggs, which happened to be one of Bill Finn's first musicals. Bill and I became friends. We eventually both moved to New York and I continued working with him. After three years also working as a cashier and a waitress on the side, I debuted in Bill's first show in New York, which was, of course, a musical. After that, everyone just assumed that musicals were what I did."
The William Finn musical that typecast Mary Testa as a musical theater performer was In Trousers in 1979 at Playwrights Horizons, the first step along Finn's path to Falsettoland and March of the Falsettos, his pathfinding musical trilogy about homosexuality, ultimately co-written with James Lapine, that earned Finn iconic status Off-Broadway and, finally, a Tony Award for Best Original Score in 1992, when the two Lapine/Finn one-acts, paired under the title Falsettos, at last stormed Broadway successfully.
"My first Broadway musical was Barnum in 1980," notes Mary, "which was a trip! I was in Marilyn: An American Fable in 1983, which was a flop. I was a standby for Liza Minnelli in The Rink in 1984."
Over the years, Mary has nabbed two Tony nominations -- for revivals of On the Town in 1998 and 42nd Street in 2001. She connected with the iconoclastic composer Michael John LaChiusa to such an extent that he cast her in at least four major new works, from Marie Christine in 1999 to Queen of the Mist in 2011, which Mary -- for a too rare instance -- starred in.
"I am fairly fearless," she admits, when asked to define what she brings to a show. "I like to think I am also fairly original. I feel I bring intelligence; I know I bring opinions. Except for Michael John, though, I've not been given material on Broadway that is very deep. Broadway usually asks me to be loud and -- how can I word this? -- 'colorful.' On the Town asked me to be drunk and 'colorful.' Last year I was in Wicked for ten months. They wanted 'colorful' too. "
The track list for Have Faith captures Mary Testa's breadth and depth as well as any role she has ever played. A netherworldly "Life is Just a Bowl of Cherries" opens the disc, lustrously orchestrated by Starobin for cello and electronic overdubs. A gripping LaChiusa opus follows: "What If," an uptempo insomniac catalogue of middle of the night paranoid ruminations, written for a show Mary did with him called Sleepless Variations. A sumptuous setting of Shakespeare's "Sonnet 29" by Starobin leads to a rollicking celebration of clay-footed "Heroes" by pop songsters Jill Sobule and Robin Eaton. Aerosmith's "Pink" offers Mary a chance to flaunt her soprano Steve Tyler chops. Prince (a particular Testa fave) is represented by "Sometimes it Snows in April," which Mary inhabits as a theatrical tour de force. And, of course, there is something by William Finn: "Change," from his musical, A New Brain.

There are two more first-rate LaChiusa songs on the CD ("On the Other Side" and Heaven"); a second sardonic pop song ("Soldiers of Christ") by Sobule and Eaton; and one ("Sister Clarissa") by the veteran Chicago-based singer/songwriter Michael Smith. Each tune, in its way, tackles religion, faith and the great beyond. Annie Lenox's "Lost" and Bjork's "Unravel" become similar explorations for Mary, the latter paired with a more-than-slightly-psycho version of Rodgers and Hammerstein's "If I Loved You." Another off-the-wall R&H mash up of "Oh, What a Beautiful Morning" with Neil Young's "The Needle and the Damage Done" somehow makes shattering sense. Alanis Morissete's "Thank U" and Leonard Cohen's "Hallelujah" are both trumpeted by Mary shorn of any sentimental residue from their relative over-exposure of late. And Mary embraces one of my personal choices for the most beautiful song ever written, Brian Wilson's "God Only Knows What I'd Be Without You," delivered with Testa steel in a velvet glove.
The fact is, Mary Testa is so much more than an Ethel Merman for a post-Merman age. It must be galling to be reduced to even such a show-stopping stereotype. Of course, a girl has to eat. Still, this girl has managed to keep on pushing, venturing far beyond her industry's standard bill of fare. As for the future: "I have no idea what's next for me," Mary fairly hollers. "This CD is done and I love it. But I never know what the future holds."
Which, when you think about it, is what Have Faith is all about.
REAL LIFE. REAL NEWS. REAL VOICES.
Help us tell more of the stories that matter from voices that too often remain unheard.