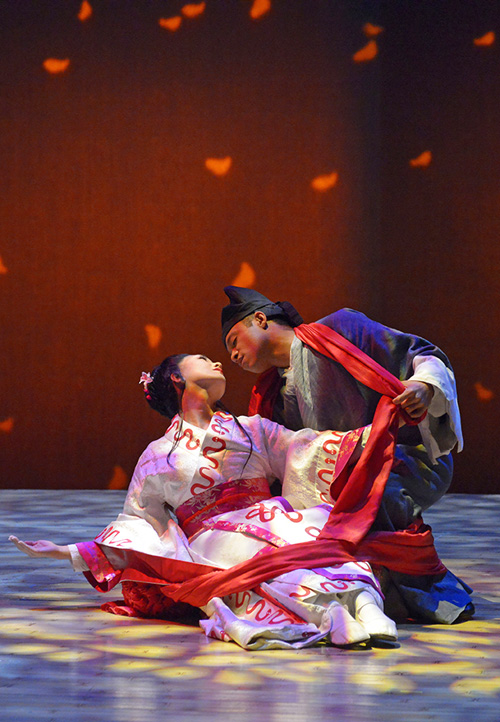 Love and visual splendor in White Snake: Amy Kim Waschke and Christopher Livingston
Photo courtesy of mellopix.com
"Believing is seeing," one of the characters in Mary Zimmerman's The White Snake proclaims. That may be true in some arenas, but in this case I prefer "seeing is believing."
Having seen this latest Zimmerman creation at Berkeley Rep, I've become even more of a believer in her genius than before.
Zimmerman doesn't simply fashion engrossing plays; she creates theatrical magic. Drawing upon legends and folk tales and fragments of history, and aided by superlative design teams, she turns ancient stories into grand spectacles that are as fresh as the 21st century.
The White Snake is her seventh production at Berkeley Rep, and all have been winners. Her Metamorphoses, adapted from Ovid's Roman tellings of Greek myths, may have been the most memorable, but her exotic Arabian Nights, spooky Secret in the Wings and the others all displayed theater as vibrant, inventive and enchanting.
In The White Snake, she has transformed a Chinese folk tale whose origins can be traced back well over 1,000 years into a gorgeous pageant, as well as a compelling love story. But it has to be seen to be appreciated: The visual elements -- costumes, props, lighting and projections -- outshine the story, which can be engrossing, frequently funny and sometimes tense, but less than persuasive in its conclusion.
The narrative revolves around a serpent (Amy Kim Waschke) who comes to live among humans, using supernatural powers to disguise herself as a beautiful woman. She falls in love with an assistant pharmacist, Xu Xian (Christopher Livingston), who reciprocates, reluctantly. Humble to a fault, he fears that he is unworthy of someone so ravishing and rich. But her allure and persuasive powers overcome doubts that afflict him from various directions, and love triumphs, at least for a while.
That account bears little resemblance to the original tale, in which the snake devours her human prey, but Zimmerman's free adaptation is consistent with the story's evolution in China. As described in scholarly yet readable program notes, the plot and especially the serpent have been re-imagined through the centuries in plays, operas and literary works, changing along lines that seemed appropriate to the authors and their eras.
A fairly consistent thread has involved religion. In Zimmerman's version, it is personified by the imperious Buddhist monk Fa Hai, who tolerates no deviation from his beliefs and functions dramatically as metaphor for ruthless fundamentalists of any stripe.
Rebuffing White Snake's dream of becoming a devoted wife and mother, Fa Hai (Jack Willis) is consumed by the need to drive her from the community of true believers and to separate her from Xu Xian by whatever ploy or deception that he can devise. A liar as well as a schemer, he embodies the worst of intolerance.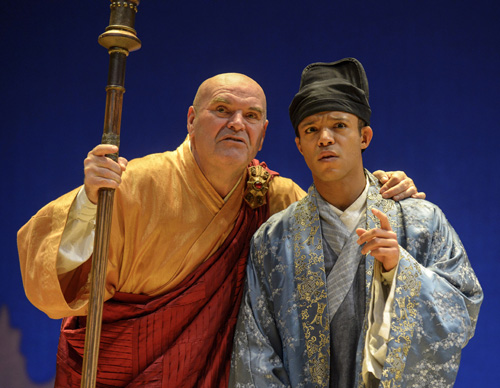 Connivance and naivete: Jack Willis as Fa Hai, Christopher Livingston as Xu Xian
Photo courtesy of Mellopix.com
The most delightful of the play's characters is White Snake's friend and companion in joining the human race, a mischievous slitherer called Green Snake. Tanya Thai McBride fills that role, seemingly having as much fun playing it as I had in watching her.
Cristofer Jean and Lisa Tejero are the most visible of the others in the 11-member cast, all of whom deliver clear and skillful characterizations in a variety of guises.
Still, the show's greatest charm comes from its visual elements: parasols undulating in patterns suggesting the movements of a snake or transformed into a glowing moon; a festival in which boats cross a lake, slowly and gracefully; projected backdrops inspired by traditional black-and-white landscape paintings; shimmering paper lanterns; radiant costumes; a set piece that rises from below the stage to become a table, an herbal medicine cabinet and a tiny room, as needed.
Daniel Estling designed the set, Mara Blumenfeld did the costumes, T. J. Gerkens did the lighting and Shawn Sagady created the projections. All have worked with Zimmerman before, and know how to mesh their efforts with hers.
The action and movement receive wonderful support from Andre Pluess's music, which blends Asian and western forms, performed to perfection by a three-piece ensemble composed of flutes, percussion and cello.
Brought together through Zimmerman's unique perspective, this collaborative White Snake is one more exhibition of a visionary's theatrical magic.
The White Snake runs through Dec. 30 in Berkeley Repertory Theatre's Roda Theatre, 2015 Addison St., Berkeley. Tickets cost $29-$99 (subject to change), from 510-647-2949 or www.berkeleyrep.org
Calling all HuffPost superfans!
Sign up for membership to become a founding member and help shape HuffPost's next chapter