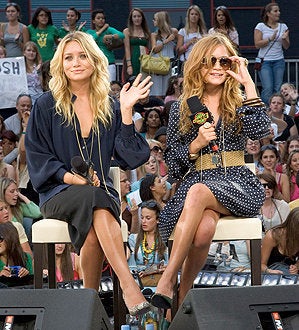 Writing the straight headline doubles as a punchline: Mary-Kate and Ashley Olsen have signed with Penguin Young Readers to write a new book, with the working title Influence, introducing them to the towering figures that have influenced the "Business Women, Designers and Global Style Icons." Don't look for Margaret Thatcher or Golda Meir here, though — these are more the folks you'd find on PatrickMcMullan:
Influence introduces readers to respected artists, seasoned designers and others who have influenced Mary-Kate Olsen and Ashley Olsen over the past decade. The book will feature influential figures including; Christian Louboutin, Lauren Hutton, Bob Colacello, Terry Richardson, Jack Pierson and Robert Lee Morris. A coffee table book, Influence includes exclusive photographs of Ashley and Mary-Kate from world renowned photographer Rankin, and a wide variety of other never-before-seen materials and interviews from Mary-Kate and Ashley's personal collections. This unique book is edited by fashion and arts writer Derek Blasberg and designed by eminent book designer Rodrigo Corral.
These, according to Ashley, are "the most interesting, challenging, creative people we know — the ones who helped pave the way for us and our generation." Adds Mary-Kate: "Ashley and I interviewed the people who have inspired us, with the hope that they will inspire and teach others."
There's no question that these two have influence themselves — they built a multi-million dollar business by the time they hit puberty and had possibly the most hotly anticipated 18th birthday in history (and maybe the shortest NYU tenure). They're now 21, moguls and fashion icons, and have lately been famous for all sorts of other things.
The book is due in fall 2008 and will be published with Penguin's hip YA Razorbill imprint; the deal was brokered by Razorbill president and publisher Ben Schrank and Jill Zimmerman, EVP of Dualstar Entertainment Group. Kudos to the Penguin PR department for providing completely separate and distinct bios for the twins, which we have provided after the jump.
Admired for founding the luxury brand The Row, Ashley Olsen is a designer, entrepreneur, actress and style icon, not to mention one of the most influential young women in the fashion and entertainment industries. The Row, launched in 2006, was quickly picked up by high end retailers globally. Following on the heels of its success, Ashley ventured with her sister Mary-Kate into the contemporary market with the Elizabeth and James brand. Ashley was recently named "Fashion's New It Girl" by Harper's Bazaar.
Revered for her eclectic style and old Hollywood soul, Mary-Kate Olsen is an actress, designer, style icon and entrepreneur. Her influence in fashion has been recognized around the world and she currently co-designs The Row and Elizabeth and James with her sister and business partner, Ashley. Most recently, she has completed a recurring role on the hit TV show "Weeds" and wrapped the film "The Wackness" with Sir Ben Kingsley. The Hollywood Reporter named Mary-Kate one of the "Most Powerful Women in Hollywood."
Popular in the Community