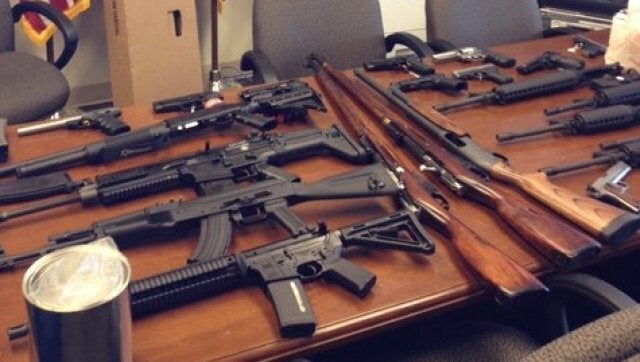 Law enforcement said they took a 28-year-old man into custody Thursday night and found an "arsenal" of weapons at his apartment in Crofton, about 25 miles east of the nation's capital.
Police said that when they made contact with the suspect, he was wearing a T-shirt reading "Guns don't kill people. I do."
The man, identified in media reports and in a search warrant as Neil Prescott, was in the process of being terminated from his job at mailroom supplier and document company Pitney Bowes in Prince George's County and "had made threats directed toward his employer," according to WJLA-TV.
Police would not confirm the name of the suspect, who is undergoing an emergency mental evaluation.
In last Friday's shooting in Colorado, 12 people were killed and nearly 60 were wounded. James Holmes, 24, the suspected shooter who allegedly opened fire on the unsuspecting movie theater audience, was arrested on the night of the shooting and is expected to be formally charged Monday.
An official with knowledge of the investigation told The Associated Press that Prescott phoned in a threat to Pitney Bowes that he was going to "shoot the place up." Investigators say a search of Prescott's home turned up more than 20 guns, including assault rifles and handguns, and more than 400 rounds of ammunition.
The official spoke on condition of anonymity because the investigation is unfolding.
The official says though the suspect referred to himself as "a joker," there is no other known connection to the deadly shooting last week at the Colorado movie theater during the latest Batman movie.
A law enforcement source told WJLA-TV that the foiled shooting plot "could have been another Aurora."
Pitney Bowes spokeswoman Carol Wallace said in an emailed statement that Prescott was an employee of a subcontractor to the company and had not been on any Pitney Bowes property in more than four months.
The suspect was being held Friday at Anne Arundel Medical Center in Annapolis, where he was undergoing a psychological evaluation.
During a Friday afternoon press conference, law enforcement officials from Prince George's County and Anne Arundel County provided some additional detail about the multi-jurisdictional response to the alleged threats by the suspect to his employer. The Bureau of Alcohol, Tobacco and Firearms has been involved in the investigation as well.
"If you call your business, if you call a loved one, if you call anybody and you threaten to do harm, kill people, we're going to believe you, and we did," said Prince George's County Police Deputy Chief Hank Stawinski said during the news conference.
It was not immediately clear if Prescott had a lawyer. His record in Maryland appeared to include only a 2007 speeding ticket.
A search for Neil Prescott on a website that tracks users' online activities led to a profile that appears to be him on mdshooters.com, a website for gun enthusiasts. On it, Prescott, who used an online tag of slog403 and identified himself as from Crofton, traded advice with other users about obtaining firearms.
During a conversation last week about acquiring a 30-round magazine, he indicated he would "never violate MD laws as I respect this site and state." But in a July 18 post, he also said he wished to "unleash 30 rounds of hell" and added a smiley face emoticon. It wasn't clear what he was referring to.
"The multiple threats and the nature of the threats and that action, together, led us to a place where we could get an emergency petition" for a psychiatric evaluation, said Prince George's County Deputy Police Chief Henry Stawinski.
According to the warrant, Prescott made the threat during a phone call on Monday morning when a supervisor contacted him on a work-related matter, then made similar statements in a separate conversation about 15 minutes later. During the call, Prescott acknowledged it was "kind of foolish of me" to say this over the phone, the supervisor told authorities.
This is a developing story. This post has been updated to reflect new information about the suspect and alleged shooting plot. Earlier reports referred to the suspect as Neil Trescott ...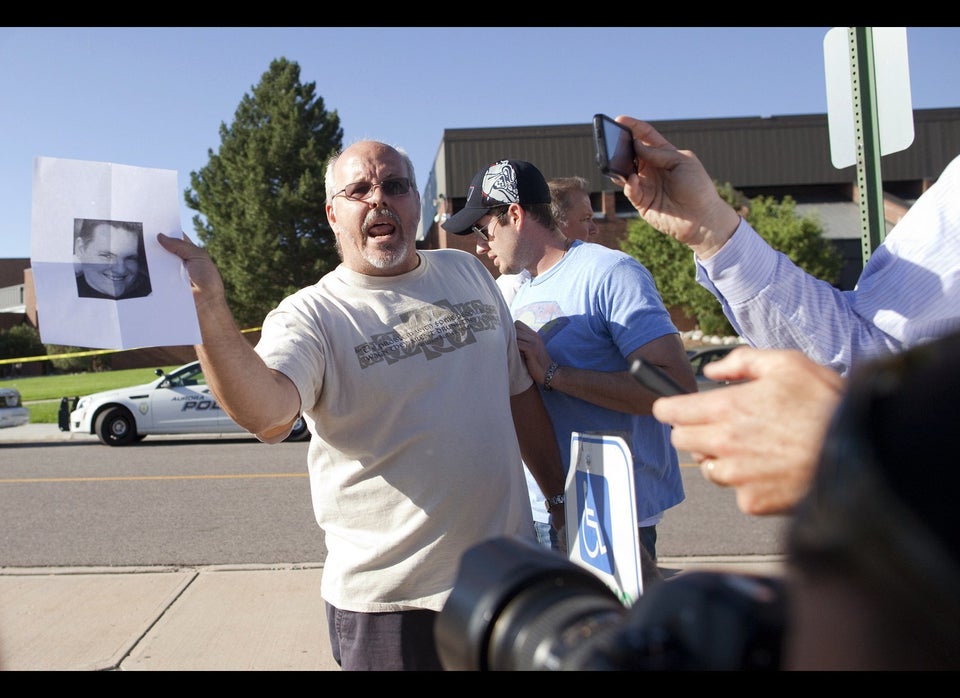 Batman Premiere Shooting At Century 16 Cinema
Popular in the Community