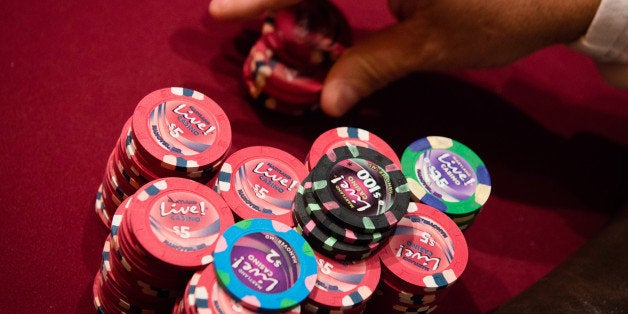 The Northern Virginia couple throwing down $100 tokens at Maryland Live! casino last month may have looked like aspiring high-rollers, but police say they were gambling with fake chips.
Maryland State Police have charged a husband and wife from Annandale, Va. with conspiracy and theftafter determining that they were using counterfeit chips at the Hanover gambling palace. Authorities are looking for two other suspects in an unrelated case.
According to police, Rosa A. Nguyen, 36, purchased $150,000 worth of counterfeit casino chips -- which had been altered to appear similar to Maryland Live! chips -- over the Internet for $12,000.
Police served search warrants with the help of Virginia State Police and Homeland Security Investigations on Feb. 19, one month after the counterfeit chips were reported to police by the casino. Investigators learned that many of the chips had been discarded in Lake Accotink in Springfield, Va., and were able to recover about $115,000 worth.
"Fortunately for police, the chips floated," police said in a statement.
Nguyen and her husband, Vuong Q. Truong, 37, were charged through a criminal summons requiring them to appear in court. They did not have attorneys listed in court records and could not be reached for comment.
Police said another couple, also from Northern Virginia, are being sought in an unrelated case of fraudulent chip use at the casino. Police said they obtained $1 chips from a West Virginia casino and altered them to appear to be $100 chips from Maryland Live!
Casino officials could not immediately be reached for comment.
In another case, a poker tournament in Atlantic City was canceled last month after a North Carolina man was caught flushing $2.7 million worth of counterfeit chips down the toilet at Harrah's Resort and Casino, according to reports. ___
(c)2014 The Baltimore Sun
Distributed by MCT Information Services
Popular in the Community