On April 14, 2014 in Annapolis, Md., Governor Martin O'Malley signed a bill to license naturopathic doctors (NDs), making it the 18th state to do so. In June, Governor John Hickenlooper did the same in Colorado. As licensure efforts across the country make headway, the general public will increasingly have access to doctor level practitioners of natural medicine. Passage of these regulatory laws reflects the public's growing confidence in naturopathic medicine as an effective and cost effective form of care.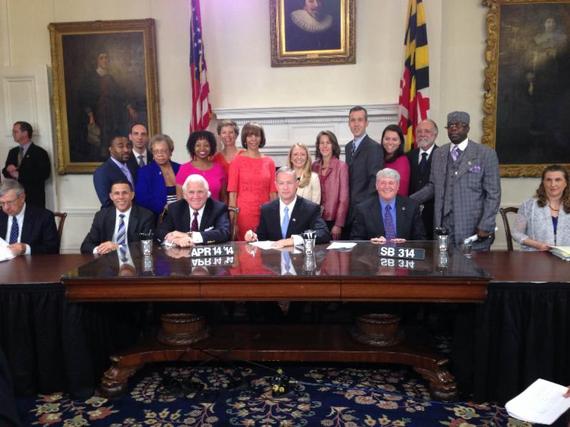 Photograph of Maryland Governor Martin O'Malley signing bill to license Naturopathic Doctors
According to Dr. Emily Telfair, president of the Maryland Association of Naturopathic Physicians:
The law will lead to greater access for Marylanders to doctors who emphasize disease prevention, healthy lifestyles, and natural therapies. It will also enable consumers to distinguish between licensed doctors who meet extensive education and training requirements and others who call themselves naturopaths but do not meet the state's rigorous licensing standards.
Jud Richland, CEO of the American Association of Naturopathic Physicians, commented:
The new law continues the movement to bring emerging professions such as naturopathic medicine into the medical mainstream ... Patients are increasingly demanding the kind of whole-person care delivered by naturopathic doctors. One by one, states are enacting laws to license highly skilled naturopathic doctors so that citizens have access to the kind of care that so many Americans are seeking.
To become licensed in Maryland, which is in step with all other states that license NDs and all the states seeking licensure, a naturopathic doctor must attend a four-year, in-residence naturopathic medical school that is accredited through the U.S. Department of Education. Accredited naturopathic medical schools train naturopathic doctors in the same basic sciences as MDs and DOs. They also provide training in holistic and nontoxic approaches to preventing disease, optimizing wellness, and treating various health conditions. The doctor must then pass a rigorous professional standardized licensing exam.
I personally live in Massachusetts but practice in Connecticut, where I enjoy the responsibilities and privileges of licensure, as Massachusetts does not yet license naturopathic doctors. Both houses of the Massachusetts legislature passed our bill last session, but Governor Patrick did not sign it; after consultation with the state Department of Public Health leaders, we made all changes recommended. The bill is currently under review, and we look forward to a positive outcome this session so that we may join the other New England States in welcoming NDs to the area. Vermont, New Hampshire, Maine and Connecticut all license NDs.
For a complete list of states that license NDs, see here.
To find a naturopathic doctor near you, see here.
For further information on the training and education of naturopathic doctors see here.
Many other states are also in legislative efforts to license NDs, which makes good sense from both a public health and an economic point of view. Americans deserve the right to choose the kind of doctor they want to see, and many would like the opportunity to work with a naturopathic doctor side by side with other state-of-the-art medical care providers.
Support HuffPost
A No-B.S. Guide To Life
Related
Popular in the Community