LEISURE WORLD, Md. ― On a Wednesday night earlier this month, Ben Jealous got an opportunity any Democratic gubernatorial candidate would kill for, and few get.
The former NAACP head had a 15-minute interview on MSNBC spotlighting his bid in Maryland. Alongside his family friend, comedian Dave Chappelle, Jealous had a priceless chance to deliver his message ― the legalization of marijuana, single-payer health care and a $15 dollar minimum wage ― to a national audience of progressives.
The spotlight wouldn't leave Jealous for the next week. Three different prospective 2020 Democratic presidential contenders would campaign for him ― Bernie Sanders, the Vermont senator for whom Jealous was a TV surrogate during the 2016 White House race, New Jersey Sen. Cory Booker and California Sen. Kamala Harris.
"Ben is somebody that inspires me," Booker said while stumping with the candidate. "His whole life has been organized around service, his whole life has been organized around fighting for justice. He knows we need to take on sacred cows, and fight inequities."
An hour or so after Jealous' MSNBC hit, his major rival in Tuesday's Democratic primary, Prince George's County Executive Rushern Baker, made an obligatory stop made by dozens of political candidates before him.
He headed to Leisure World, a gated community in the Washington suburb of Montgomery County populated mostly by retirees. Despite the hour ― the event began at 7:45 p.m. – the silver-haired crowd of about 30 peppered him with questions on the MS-13 gang, rising prescription drug costs and how he would beat Maryland's popular Republican governor, Larry Hogan, in November.
Baker rattled off his accomplishments at the helm in Prince George's County, which is majority-black: cleaning up county government after his predecessor was indicted in his final days in office, passing a $15 minimum wage, making it top spot for job growth in the D.C. region, bringing homicides to a 50-year-low.
"This isn't just rhetoric," he said. "We've done it."
And while no one of Chappelle or Booker's star power was in attendance, a devoted Maryland Democrat would find plenty of bold-faced names: Montgomery County Executive Ike Leggett, Attorney General Brian Frosh and former Gov. Martin O'Malley. Sen. Chris Van Hollen was scheduled to appear, but he couldn't make it. The next day, Rep. John Delaney endorsed Baker.
These men ― and plenty of women who hold elected office in the Old Line State ― are uniting to stop Jealous, who they dismiss as an inexperienced dilettante with fanciful proposals.
"We need someone with executive experience," O'Malley told HuffPost after the Leisure World event. "It's different than being an advocate. Congress and the Senate are good places for advocates. Governors need to actually get things done."
Baker was even less diplomatic in a phone interview: "It's easy to say stuff if you've never had to actually run a government."
Ricarra Jones, a political organizer with 1199SEIU, the union representing thousands of health care workers in the state and which has had volunteers knocking on doors for Jealous for months, predictably has a different view.
"He's one of our own. He's an organizer," she said of him in a phone interview. "Being a politician is being a politician. Organizers bring people together and get things done. It's going to take a very progressive agenda to get Democrats back to the polls."
The clash's fundamentals have repeated themselves again and again in Democratic gubernatorial primaries this election cycle.
National Democrats and organizations have backed progressive insurgents, who suggest bold ideas and an expanded electorate are the way to victory. Meanwhile, state party establishments have lined up behind politicians they consider safer bets with agendas seen as more palatable to middle-of-the-road voters.
Neither side has managed to dominate the clashes. Virginia's Democratic establishment rallied behind Lt. Gov. Ralph Northam, who toppled former Rep. Tom Perriello despite Sanders' backing and then went on to win the governorship last November.
In this year's batch of primaries, the singer Cher, Democracy for America and a host of other progressive organizations helped Paulette Jordan to a win over businessman A.J. Balukoff in Idaho. Stacey Abrams, with the support of Booker, Harris and the abortion rights group EMILY's List, triumphed in Georgia over Stacey Evans. But EMILY's List and Hillary Clinton weren't able to lift Chris Giunchigliani over Steve Sisolak ― who had the backing of former Senate Majority Leader Harry Reid ― in Nevada.
This makes the contest between Jealous, 45, and Baker, 59, something of a rubber match between activists and the establishment ― one that will go a long way toward defining how incremental or ambitious Democratic voters want a gubernatorial candidate to be during the Trump era, and one that will provide hints at the electoral strategy the party's voters favor when faced with a strong GOP incumbent: Do they want an activist who aims high? Or a pragmatist with a record of accomplishment?"
"It's the people who give the politicians courage."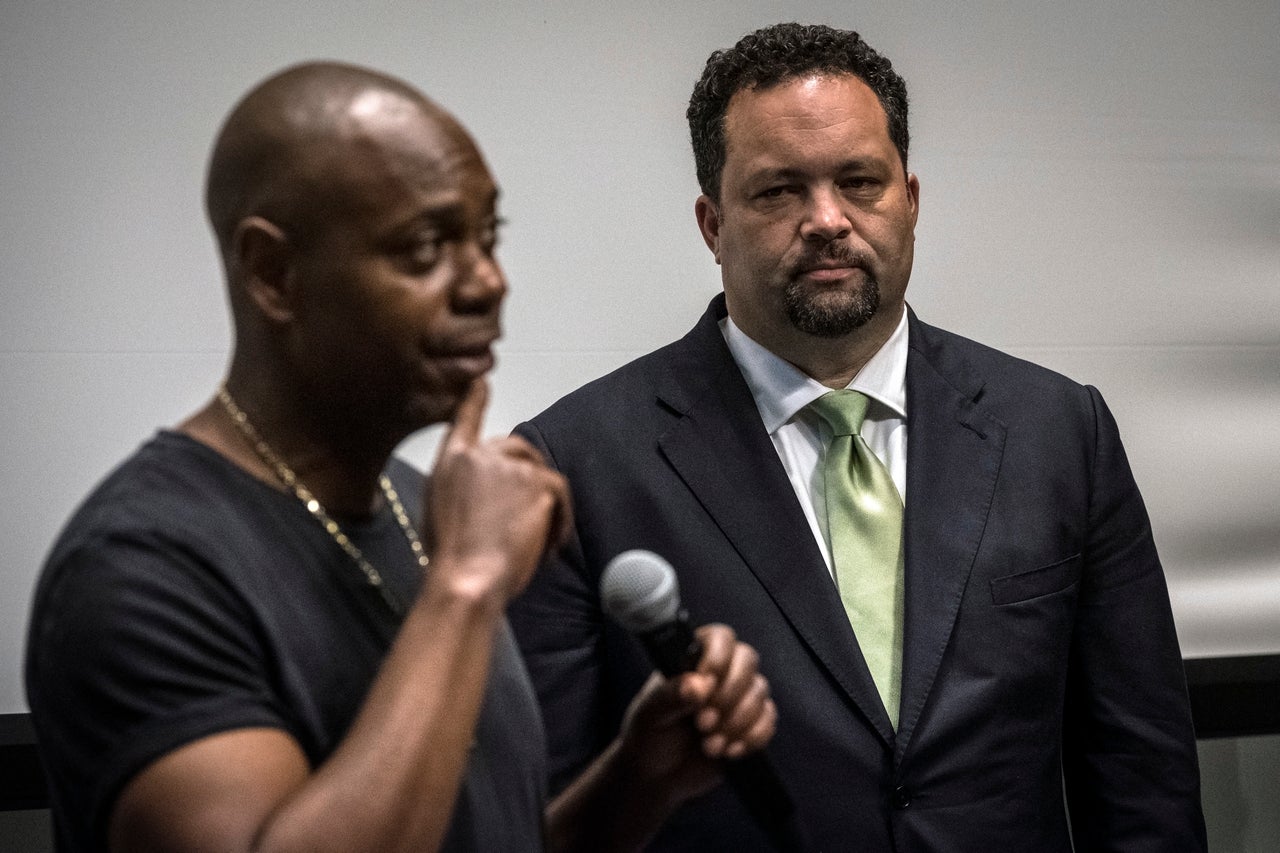 On the Saturday before the MSNBC appearance, Jealous and Chapelle showed up at historically black Morgan State University in Baltimore. They weren't introduced by a local elected official, but by a cadre of activists, teachers and lesser-known comedians. Chapelle emerged to a roar from the 100 supporters sitting in a large lecture hall.
The two men reminisced about when they first met ― Jealous was attending New York's Columbia University and was sent by Chapelle's parents to convince the young stand-up to drop out of comedy and go to college. He abandoned the plan after watching Chappelle earn $750 in 15 minutes telling jokes in Washington Square Park.
Their Morgan State appearance was remarkably free of policy talk, save for marijuana legalization. (Jealous acknowledged Chapelle was the first person to ever pitch him on legalizing the drug, to which Chapelle responded: "I am the pot lobby.")
A few days later, as he drank a Sam Adams at an Ethiopian restaurant in Silver Spring ahead of an appearance with Booker, Jealous fleshed out his plans for legalizing marijuana. Maryland would "end mass incarceration [for pot-related charges] to end the student debt crisis" by taxing the drug and using the proceeds to pay for free community college in the state, an idea that sounds like a GOP parody of liberal overreach. He said he would fully fund public education in the state, pass a state-level version of Medicare for All, and stand up to President Donald Trump in a way Hogan, who he calls "Trump's doormat," has failed to do.
"Defeating Hogan is about turning out Democrats," Jealous said, noting that party members outnumber Republicans by a two-to-one margin in the state. "If this was about persuading moderate Republicans to vote for a Democrat, I'd be the wrong choice."
And in a race that had seen zero negative TV ads and a limited amount of Twitter sparring, Jealous took direct aim at Baker's record, arguing a series of school scandals in Prince George's County made him unelectable. "It makes him incapable of beating a Republican incumbent," he said. (A super PAC backing Jealous has since turned these sentiments into digital ads and mailers declaring: "Rushern Baker is failing our children.")
He also rolled his eyes at Baker allies who questioned his executive experience, noting he was widely credited with revitalizing the NAACP during his five-year tenure. "Benjamin Jealous leaves the NAACP a far stronger place," he said, reciting word-for-word a Chronicle of Philanthropy headline from the time of his departure. "I have more executive experience than anyone in this race."
But it's his organizing experience he sees as setting him apart. He said he hopes to build a permanent political infrastructure, one that can persuade regular citizens to contact their representatives and push for progressive change. It's a model the NAACP deployed to help Maryland legalize gay marriage and end the death penalty.
"It's the people who give the politicians courage," he said. "The field infrastructure we're building now, we'll leave in the field."
But while the shorthand of progressive vs. establishment is easy to invoke, there are flies in the narrative ointment. Jealous isn't a plucky underdog: He's essentially tied with Baker in public polling, with eight others on the ballot ― including big law firm partner Jim Shea, who is self-funding his campaign, Clinton and Barack Obama tech guru Alec Ross, and state Sen. Rich Madaleno, a longtime progressive ― eating up smaller chunks of the vote.
His running mate is a former state party chair, and he has the backing of the state teachers' union ― hardly an insurgent group in Maryland.
Jealous has been boosted by small-dollar online donations; his campaign and an affiliated super PAC have spent $1.1 million on TV ads, including spots on pricey Washington broadcast networks. Baker has spent just $300,000 on TV ads.
"It's not whether you believe in things or not."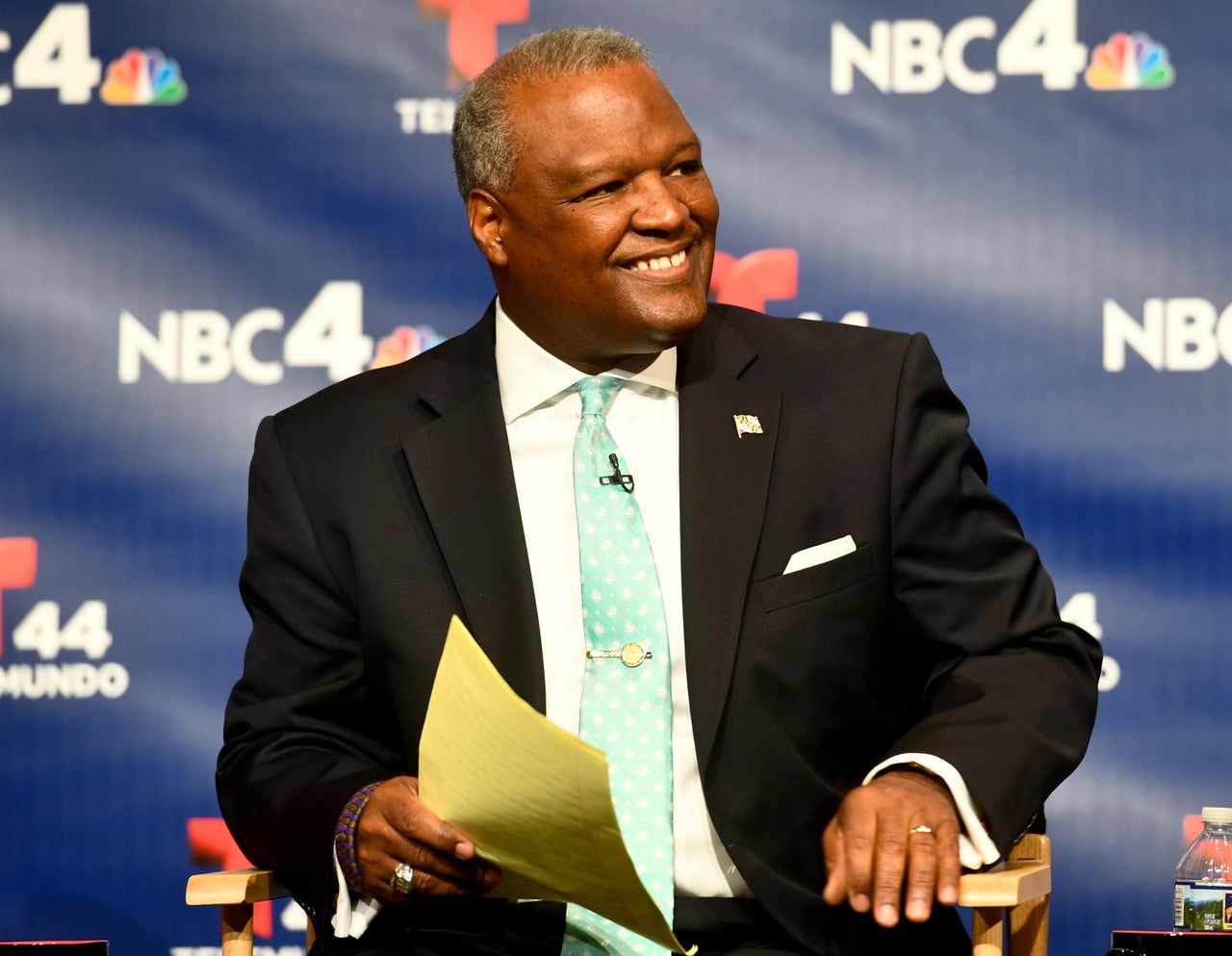 Before Baker headed to Leisure World, he made a stop at his campaign's freshly opened field office in Baltimore, where he was joined by the city's contingent of Maryland's Democratic political establishment. With Baker's strong base in Prince George's, both campaigns expect the race to be decided in the state's largest city and its surrounding communities.
The campaign office was covered in maps of Baltimore and its suburbs, divided into political subdivisions, but lacked air conditioning, leading more than one political heavyweight to sweat through their shirt.
Various speakers at the office noted they had known Baker, a former state delegate, for years, often naming the specific legislative committee ― Appropriations, Judiciary ― they had been serving on when they met him.
Adrienne Jones, a state delegate who serves as House speaker pro tem, summed up why so many of her colleagues were backing Baker: "He's one of us. He understands the various branches, unlike Jealous, who doesn't. [Jealous] has never had to be in the legislature."
Baker told HuffPost he and Jealous don't have different philosophies. But he also said many of Jealous' most progressive goals were impossible or poorly planned. Asked if he supported a single-payer health care plan, Baker responded with a simple "no."
"Ben just shows you he has no experience in actually running a government. How do you pay for that?" Baker said. "He's just throwing out a lot of stuff because he doesn't understand the budget."
He also dissected Jealous' plan to legalize marijuana. Yes, legalization would bring in revenue, he said. But the revenue wouldn't come right away, Baker added, citing Maryland's experiences with legalized gambling and medical marijuana. How would Jealous pay for the free community college in the meantime?
"It's not whether you believe in things or not," he said. "It's about what you can get done. There's nothing more progressive than providing jobs for people who didn't have jobs before. And that's what we did in Prince George's County."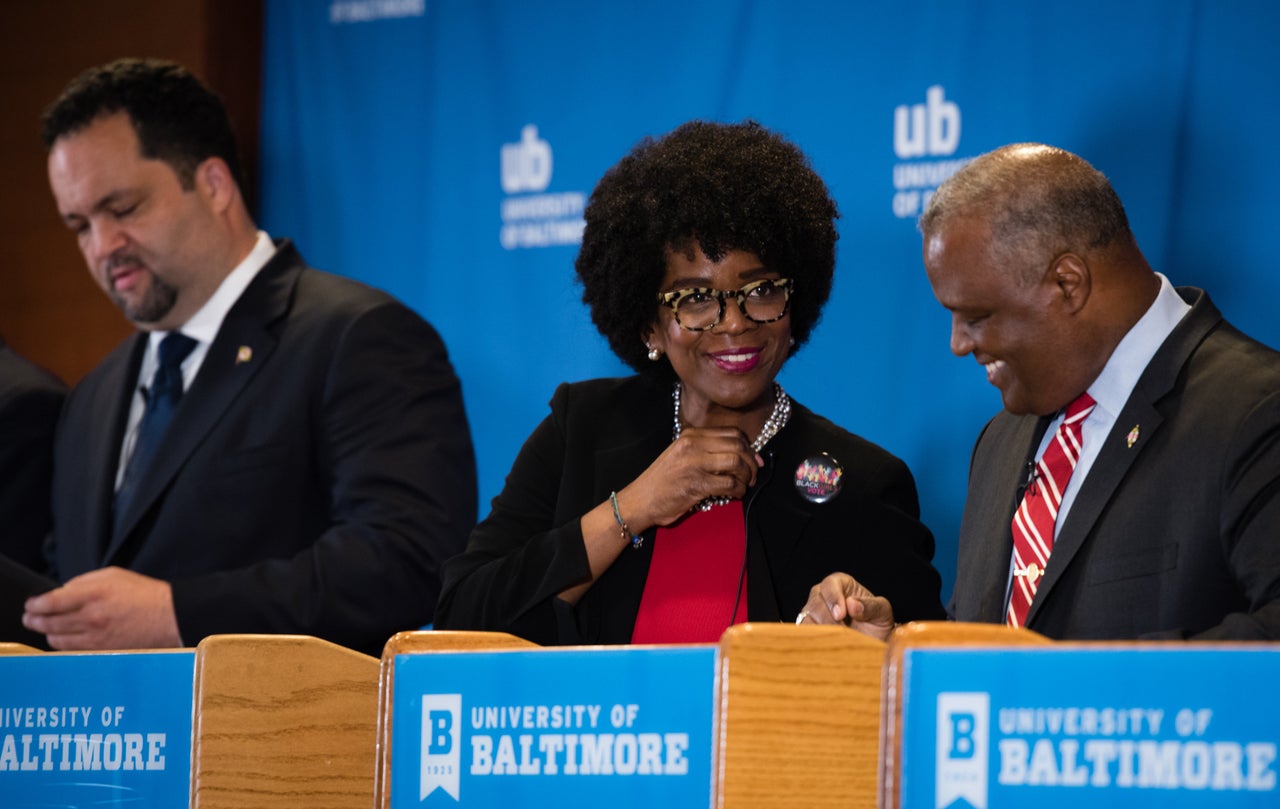 Weak fundraising ― he brought in just $180,000 in the last reporting period ―limits Baker's ability to respond to Jealous' attacks and high-profile endorsements. But one potential game-changer has rallied to his cause: Valerie Ervin.
Ervin, the former chair of the Montgomery County Council and a longtime progressive activist, was the running mate of Baltimore County Executive Kevin Kamenetz, a leading contender in the gubernatorial race who died of a heart attack in early May. Ervin moved up to take his place, and sued to try to replace his name on the ballot with hers. The lawsuit failed, and even though her campaign had generated excitement and most surveys put her in third place, she recently opted to end her candidacy ― and endorse Baker.
"We need to do something to make sure the person who wins this primary can beat Larry Hogan," she said in an interview. "When I have to choose someone's character, I chose the character of Rushern Baker over the character of Ben Jealous."
Ervin has accused Jealous of contacting the Working Families Party, where she worked as a senior adviser, to try to prevent her from joining Kamenetz's ticket. (The Working Families Party had endorsed Jealous months before.) Then, when Kamenetz died, she said Jealous campaign representatives offered to help her get her job back ― but only if she endorsed Jealous.
"They're going to lie," Ervin said. "But I got receipts" ― her term for proof.
Jealous denied both accusations. "It's just not true," he said.
Ervin's role in the race also highlights a remarkable, but mostly overlooked fact: At one point, the three leading candidates for the Democratic nomination were all black. Maryland has never elected a black candidate statewide in their own right, although the last three lieutenant governors have all been African-American.
"We feel like we won," Ervin said of her campaign. "We feel like we won for all the brown and black girls."
As the Jealous-Baker faceoff enters its final days, the contest has generated little discussion in the state. But the candidates also said they thought excitement was muted because Democrats had nominated a black candidate for governor in 2014, who in an upset lost to Hogan.
"Folks are eager to see us win the general," Jealous said.
CORRECTION: An earlier version of this story mentioned a super PAC backing Baker. The super PAC is backing Jealous. Additionally, it has been updated to indicate Valerie Ervin worked as a senior adviser and not executive director of the Working Families Party.
Popular in the Community