Maryland Gov. Larry Hogan (R) signed into law on Tuesday an array of bills ushering in one of the most comprehensive packages of gun-violence legislation passed by any state this year.
The legislation includes a ban on bump stocks and other similar devices that allow semi-automatic firearms to simulate automatic fire. Another bill expands law enforcement's ability to confiscate guns from individuals labeled an "extreme risk," a measure known as a "red flag" law.
Both of those measures have garnered support in a number of states following deadly mass shootings in Las Vegas last year and Parkland, Florida, in February, but Maryland is one of the first to put both on the books.
The Las Vegas gunman had outfitted bump stocks to a dozen semi-automatic rifles, allowing him to spray over 1,100 rounds into a crowd of concertgoers over the course of his 10-minute onslaught, killing 58 and injuring hundreds more.
The Parkland shooter was known to local police as a gun owner with violent tendencies, but because he hadn't been convicted or even charged with a crime, law enforcement had no authority to confiscate his weapons before the massacre at Marjory Stoneman Douglas High School, in which 17 people died.
Red flag laws, also known as gun violence restraining orders, allow family members or law enforcement personnel to petition a court to temporarily remove firearms from individuals deemed to be dangers to themselves or to others.
In the signing ceremony, Hogan hailed the new laws as "common sense bipartisan measures that will keep guns out of the hands of the mentally ill and those with criminal backgrounds."
Hogan also signed a bill to provide at least $5 million for public health and community-based gun-violence prevention programs. And other measures will strengthen an existing restriction on the purchase or possession of firearms by individuals convicted of domestic violence and revamp the appeals process for certain handgun permitting decisions.
In the Republican wave that marked the 2014 elections, Hogan was one of the surprise winners in a heavily Democratic state (Hillary Clinton carried Maryland in 2016 presidential race by more than 26 percentage points). He is seeking a second term this November.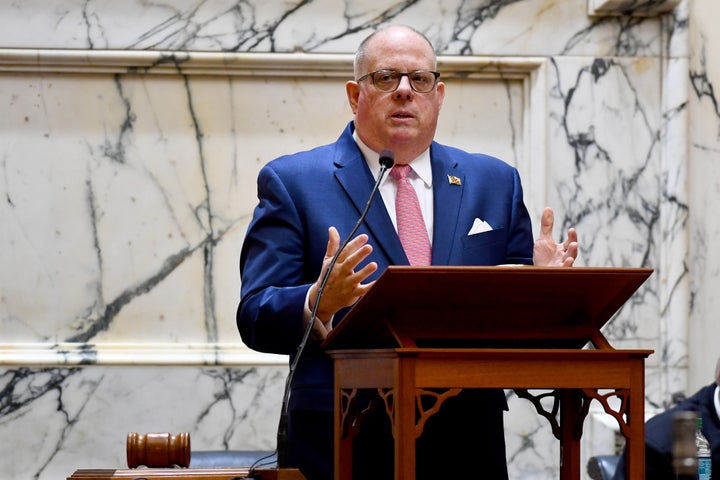 The new laws build upon previous legislation that had already made Maryland's gun statutes some of the nation's strongest. In 2013, the state enacted a ban on a number of semi-automatic rifles including certain types of AR-15s and AK-47s, often referred to as assault weapons, as well as high-capacity ammunition magazines.
The slate of laws will address gun violence in a variety of forms, said Jen Pauliukonis, president of Marylanders to Prevent Gun Violence.
Pauliukonis said a bump stock ban is necessary to try to prevent the type of mass slaughter seen in Las Vegas, but she acknowledged that such a measure would do little to address the sort of shootings that take place across Maryland each day. She said the "broad spectrum" nature of the gun bills suggests lawmakers were eager to look beyond the issue of mass shootings. And she said she believes the red flag law will be particularly valuable.
"It can stop those high-profile mass shootings, it can stop school shootings, it can stop interpersonal gun violence on the streets and it can stop gun suicides," she said of the legislative package.
She added that suicides using firearms account for "two-thirds of all gun deaths that occur in this country; there are over 22,000 gun suicides every year."
The investment in community-based organizations and public health initiatives that already exist to stem gun violence also marks a different direction for Maryland. Only five other states have established this sort of fund, which is designed to give a financial injection to evidence-based services that address the root causes of gun violence.
Some programs may work to identify at-risk youth and provide a path for them off the streets, or deploy mediators who can work to de-escalate violence before it erupts. Other programs are based in hospitals and provide continuing care to gun violence victims to prevent them from engaging in revenge violence or being re-victimized once they're discharged.
It can be hard to get official support for this sort of approach, even though the data suggests it can be effective, said Mike McLively, director of the Urban Gun Violence Initiative at the Giffords Law Center, a gun violence prevention group launched by former Rep. Gabrielle Giffords (D-Ariz.)
"When states are thinking about the problem of gun violence, they're usually thinking about law enforcement," he said. "They think of this as a crime problem and really the main solution that comes to policymakers' minds is investing more in law enforcement."
A recent study by Giffords' group calculated that about 1,672 shootings occur in Maryland each year, many of which are nonfatal. Together, they result in a direct measurable cost of over $1.3 billion.
This bloodshed disproportionately affects communities of color based in a few urban areas, Baltimore and Prince George's County. With those trends often ignored in the media or by policymakers claiming to be interested in putting forth solutions to gun violence, advocates say this sort of effort is long overdue.
"It speaks to the underlying issue of which lives matter and where we're going to put our resources," Pauliukonis said.
Support HuffPost
The Stakes Have Never Been Higher
Popular in the Community