A shooting at a high school in Great Mills, Maryland, on Tuesday left one student dead and two others injured, officials confirmed.
A 17-year-old male student opened fire using a handgun around 8 a.m. in a hallway at Great Mills High School, striking a 16-year-old female student and a 14-year-old male student, St. Mary's County Sheriff Tim Cameron said during a press conference.
The school's armed resource officer, identified by police as St. Mary's County sheriff's deputy Blaine Gaskill, exchanged fire with the shooter, Cameron said. Gaskill was not injured.
The three students were transported to local hospitals. The shooter, whom police identified as Austin Wyatt Rollins, died hours later. The female student remains in the ICU with life-threatening injuries and the male student is in stable condition, according to officials.
Investigators were working to determine whether the shooter died from a self-inflicted gunshot wound or if he was fatally shot by the school's resource officer.
Police believe the shooter had a prior relationship with the female victim, Cameron said. Investigators were mining through the shooter's electronic devices and social media as they work to determine a motive.
"The potential for other victims was very real," Cameron said during the press conference. "You can only theorize what would have happened ... if our school resource officer hadn't engaged immediately."
"This is what we prepare for," he added. "This is what we pray we never have to do. And on this day, we realize our worst nightmare ― that our greatest asset, our children, were attacked in ... a bastion of safety and security. ... The notion of it can't happen here is no longer a notion.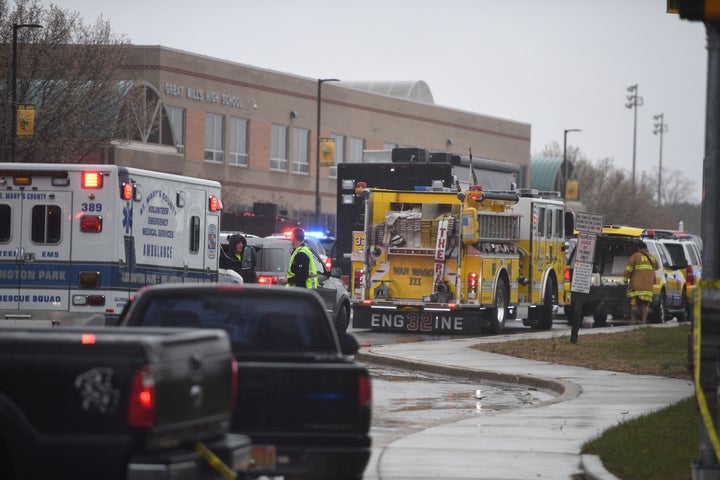 The school remained on lockdown as law enforcement officials continued to investigate the matter. All students were bused to nearby Leonardtown High School, where their parents were instructed to pick them up. 
Roughly 1,600 students attend Great Mills High School, which is located about 60 miles southeast of Washington, D.C.
FBI agents were on the scene to assist the sheriff's office.
"No parent should ever have to worry about when they send their kids off in the morning to school whether they are going to come home safely or not," Maryland Gov. Larry Hogan (R) said during a press conference Tuesday. "We need more than prayers ... We've got to take action."
The White House was "continuing to monitor the situation," press secretary Sarah Huckabee Sanders said during a daily news briefing Tuesday.
"Our thoughts and prayers are with the victims involved," Sanders said.
Terrence Rhames, a senior at Great Mills High School, told The Baltimore Sun that he was standing with friends outside their class around 8 a.m. when they heard a gunshot. He said he immediately sprinted toward an exit.
"I just thank God I'm safe," Rhames, 18, told the Sun. "I just want to know who did it and who got injured." 
REAL LIFE. REAL NEWS. REAL VOICES.
Help us tell more of the stories that matter from voices that too often remain unheard.