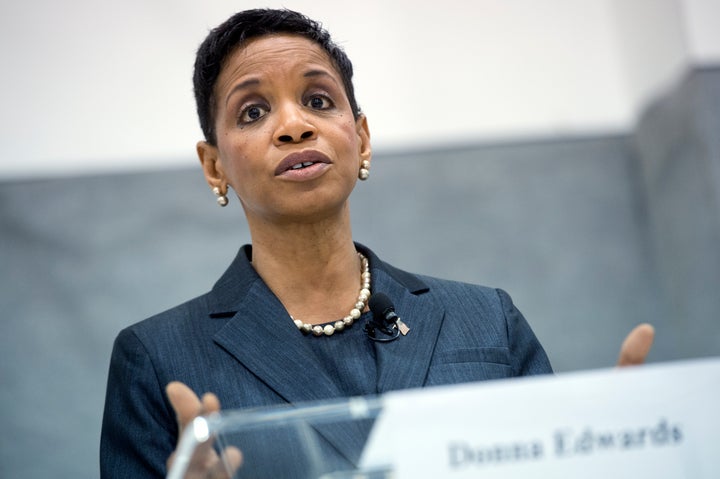 WASHINGTON -- Maryland's U.S. Senate Democratic primary between Reps. Chris Van Hollen and Donna Edwards, both strong proponents of campaign finance reform, is descending into a battle over who can be the biggest opponent of big money in politics.
Van Hollen sparked the latest clash began on July 16, when he proposed to Edwards that they both pledge to keep independent groups from spending on their behalf. Such pledges have been made in other races, such as Massachusetts' 2012 campaign between Elizabeth Warren (D) and Scott Brown (R), and the 2013 special primary election between Democrats Ed Markey and Stephen Lynch.
Edwards rejected Van Hollen's proposal, calling the offer an attempt to silence her supporters.
Edwards' rebuff sheds light on the state of the hotly contested Democratic primary in Maryland, but the ensuing sniping between the campaigns reveals how potent the issue of campaign finance has become to the Democratic Party since the Supreme Court's 2010 decision in Citizens United.
Both candidates are vocal opponents of Citizens United, which removed restrictions on corporate spending in politics. Van Hollen is the chief sponsor of disclosure legislation designed to eliminate undisclosed "dark money" that has flowed into campaigns since the Supreme Court decision. Edwards was the first member of Congress to introduce a constitutional amendment to overturn the Citizens United -- a position once deemed extreme, but now endorsed by the entire Democratic Party.
Since the candidates can't tell outside groups directly to not support them, the pledge would discourage such spending by requiring the campaigns to donate half of any outside expenditure to a charity of the candidate's choosing. 
Van Hollen leads the money race in Maryland so far, with $4.2 million. Edwards has raised just short of $1 million. But Edwards has received prominent endorsements from Emily's List, Progressive Change Campaign Committee and Democracy for America -- all groups that could help her fill that fundraising gap rapidly with appeals and independent spending.
It's no surprise that the Edwards campaign sees Van Hollen's pledge as a cynical attempt to freeze her allies out of the race.
"We're not going to give in to a gag order for women, progressives and working families," Edwards spokesman Benjamin Gerdes told The Huffington Post.
The Van Hollen campaign fired back that Edwards is the cynical one for not living up to her opposition to Citizens United and rejecting the path that Warren, the senator she has said she most wants to emulate, has taken.
"In 2012, Elizabeth Warren showed us all that grassroots progressives are excited by candidates who lead by example and stand by their convictions," Sheila O'Connell, Van Hollen campaign manager, said in a statement. "Sen. Warren demonstrated that by acting in good faith, we can choose to lift the toxic cloud of unlimited Super PAC spending that has hurt our democratic process in the wake of Citizens United. ... Frankly, we were surprised by our opponent's cynical dismissal of the Free State Pledge, especially given how progressives nationwide responded to Sen. Warren's act of political courage."
Edwards' allies have come to her defense, with statements decrying Van Hollen's pledge proposal.
"Chris Van Hollen is clearly running on defense and this move only draws attention to Donna's progressive values and record of standing up for women families," Rachel Thomas, press secretary for Emily's List, said in a statement. The group works to elect Democratic women.
Adam Green, co-founder of Progressive Change Campaign Committee, pointed out in a statement that super PACs and nonprofits that don't disclose donors are a "corrupting influence on our democracy." But the pledge offered by Van Hollen, he said, is "mis-written to prohibit grandmothers donating $3 from having an impact."
Green argued that groups like Progressive Change Campaign Committee and Democracy for America are traditional political action committees that raise limited contributions and should not be conflated with big-money or dark-money groups.
Some groups that the pledge would restrict weren't affected by the Citizens United ruling. The decision allowed corporations, unions and, ultimately, individuals to spend unlimited sums on elections so long as they were independent from the candidates they supported.
"It's fair to say there's a difference between the collected small contributions of some of the groups that would be spending in this race and what we usually think of post-Citizens United with these super PACs funded by a handful of really wealthy people," said Adam Smith, communications director for the campaign finance reform group Every Voice.
Edwards' allies said they also are concerned that the broad array of activities covered by the pledge could constrain membership communications and limit the ability to raise money for Edwards's actual campaign.
The Van Hollen campaign said the pledge was not designed to limit such communications and would be open to discussing modifications with the Edwards campaign.
Emily's List does operate a super PAC that receives funding from wealthy donors and unions. The super PAC is also funded in part by contributions from an affiliated traditional PAC, which receives limited contributions. Emily's List's super PAC has not intervened in the primary race yet.
Support from a super PAC does appear to contradict Edwards's prior statements decrying Democratic Party efforts to play in the super PAC game. In a committee hearing in 2012, she called efforts by Democrats to catch up in the big-money game "equal opportunity corrosion."
The candidates' records on campaign finance and the role of money in politics was already a salient issue in the campaign prior to the pledge flap. Edwards previously declined to accept contributions from the PACs of big banks. The Van Hollen campaign did not comment on Edwards' move at the time, but now says that they have not received any contributions from bank PACs and do not raise such contributions "as a matter of course."
In response to Van Hollen's pledge proposal, the Edwards campaign attacked him for including a special exemption for the National Rifle Association in the 2010 version of the Disclose Act, a bill Van Hollen sponsored that would have required nonprofits that spend money on elections to reveal donors. The NRA exemption was accepted as an amendment after more conservative Democrats threatened to pull their support for the bill unless it protected the NRA's membership. Edwards voted against the bill, citing the NRA provision specifically, and the legislation was ultimately killed by a Republican filibuster in the Senate.
Edwards allies also said Van Hollen loosened rules on party and candidate coordination in the Disclose Act, and accused him of hypocrisy for decrying a Republican amendment to the pending transportation spending bill that would have eliminated all limitations on party-candidate coordination. 
Democrats have almost universally lined up behind legislative attempts to fix the Citizens United ruling's effect on campaigns. That includes Van Hollen's Disclose Act as well as a proposed constitutional amendment that would overturn the court decision.
The party has found that email fundraising solicitations mentioning the billionaire Koch brothers or the Citizens United decision get grassroots Democrats to open their wallets unlike any other issues. Calls to overturn the court decision often get the loudest applause from presidential candidates, whether it's Sen. Bernie Sanders (I-Vt.) or Hillary Clinton.
Smith, of Every Voice, said he thinks that despite all the fighting in the Maryland Senate primary, the candidates showcase a party that is taking campaign finance reform seriously.
"The good thing about this primary is that voters will get to choose between two candidates who are deeply committed to fixing our broken campaign finance system," Smith said. "They have been champions in Congress and they know that there is a problem. And so I think that they are lucky in that way because you don't normally have that in these races."
Read the text of Van Hollen's proposed pledge:
This story has been updated with comment from the Van Hollen campaign about its stance on raising money from PACs representing large banks.
CORRECTION: This article initially stated that the Edwards campaign had pledged to decline contributions from bank executives. The campaign pledged only to decline contributions from PACS representing large banks. The article also initially misidentified Sheila O'Connell as Sheila Campbell.
Calling all HuffPost superfans!
Sign up for membership to become a founding member and help shape HuffPost's next chapter