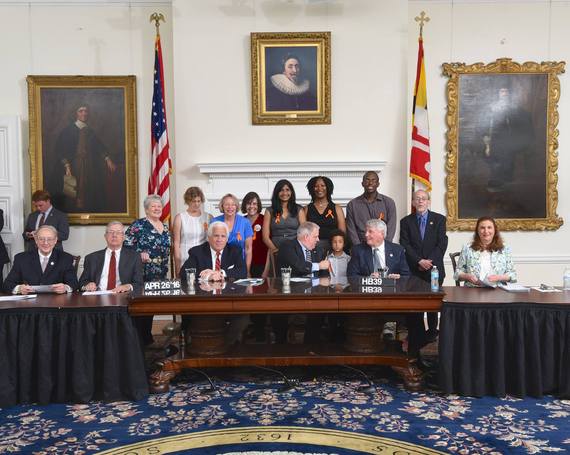 Maryland's governor made history last week by enacting the Orange Ribbon Bill for Healthy School Hours, the nation's first legislation to help schools implement later, safer, healthier class times.
Hundreds of thousands of Maryland students stand to benefit from this incentive program, which encourages school districts to work with their communities to find feasible ways to run schools at times that allow for healthy sleep. The requirements for recognition are based on the recommendations of the American Academy of Pediatrics, the Centers for Disease Control, and the Maryland Department of Health and Mental Hygiene.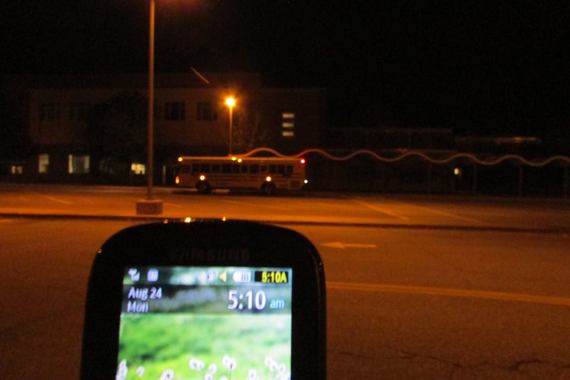 An Innovative Approach to a Longstanding Problem
This bill is an innovative way to address a longstanding public health problem: extremely early, unhealthy, and counterproductive school hours that many communities haven't been able to address on their own.
While health professionals have been calling for later start times since the early 1990s, many Maryland public high schools still begin before 7:30 a.m., some waiting at bus stops before 5:30 a.m. These hours conflict with 40 years of scientific research and the recent recommendations of the American Academy of Pediatrics (AAP) and Centers for Disease Control (CDC) that no middle or high school start before 8:30 a.m. for reasons of health, safety, and learning.
The only two other school start time bills passed by states involved studying the issue, the first one in the Maryland (2014) and the second in New Jersey (2015). New Jersey's study is currently underway, with hearings being held this week. The Orange Ribbon incentive program picks up on recommendations made in Maryland's study, which was completed in December 2014.
"I am pleased that Maryland continues to set the standard for academic excellence," said Danielle Brooks, an Annapolis mother of three who leads Start School Later's legislative efforts in Maryland. "I am proud to have my children in Maryland public schools."
No-Cost, Voluntary, Incentive Program
Proponents of later school start times throughout Maryland are optimistic that this no-cost, voluntary, incentive program will finally break the logjam that has obstructed districts from delaying bell times for two decades.
What this program will do," Paul Katula of the Maryland State Department of Education's Department of Assessment, Accountability, and Data Systems observed, "is to give school leaders something to work toward, a small token, that tells their students and communities that they have brought their fortitude, creativity, and leadership to bear in creating a better school climate."
Katula added that this recognition program would encourage school systems to "do the right thing for kids" in a way that would cut costs and minimize impact on the community.
Deb Jung, a Howard County, MD attorney and a Start School Later chapter leader, is hopeful that this incentive program will help turn years of well-meaning studies and efforts - including last week's decision in her district to delay bell times by 2017-18 - into actual bell time change. "Parents want this change. Almost 80% of the parents surveyed last year in Howard County stated they wanted to see school start times for high school students begin after 8:00 a.m."
Andra Williams Broadwater, chapter leader of Start School Later Baltimore County, agreed. "This legislation gives Baltimore County Public Schools a firm goal and recognition for moving its school start times to ones that are healthier for our students," she said.
Three Levels of Recognition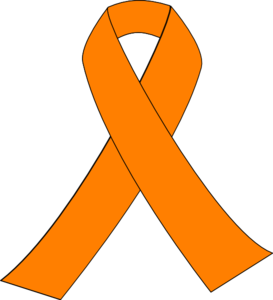 Rather than requiring districts to change bell times, the Orange Ribbon Program establishes three levels of recognition, with the top level of award reserved for districts where middle or high schools start class no earlier than 8:30 a.m. and elementary schools no earlier than 8 a.m. unless bus runs start after 7 a.m. At least four school systems in Maryland are tentatively eligible for recognition should they choose to seek it: Anne Arundel, Garrett, Howard, and Montgomery Counties.
According to Lisa VanBuskirk, leader of Anne Arundel County, MD's Start School Later chapter, her district is currently eligible for the lowest level of recognition, which is awarded to districts studying the issue and conducting outreach efforts to community stakeholders. "We look forward to working with the Board of Education to progressively acquire additional recognition levels as the school system successfully implements healthier and safer school hours over the next few years," she said.
Districts like Montgomery County, which moved its high school bell time by 20 minutes last year (from 7:25 to 7:45 a.m.) may be eligible for the next level of recognition. Ann Gallagher, a founding member of Montgomery County's Start School Later chapter, said that parents hoping for continued progress there and around the state are pleased that state legislators understood the need for state-level support for county school systems struggling to address this issue.
"Montgomery County's multi-year, full-county effort to change start times, supported by over 80% of county parents, resulted in only a small step toward healthful start times," she said. "Our supporters of healthy school hours hope the Orange Ribbon legislation will make it easier for other Maryland counties to establish appropriate start times for students' health."
Related