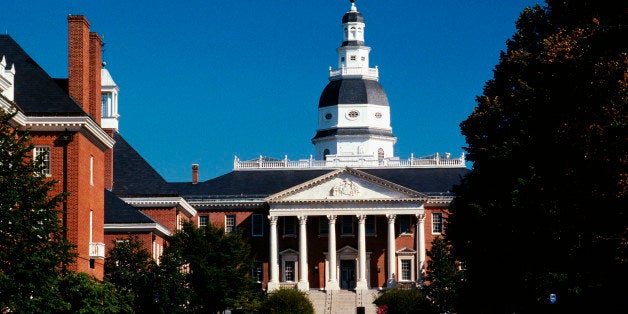 ANNAPOLIS -- Maryland delegates Thursday voted to pass a bill barring discriminatory practices against transgender individuals after striking down multiple attempts to change the proposal.
Because the bill has already cleared the Senate, it only needs the governor's signature to pass into law.
Galen Clagett was the only Frederick County delegate to support the proposal, which focuses on the rights of transgender people in employment, housing and public accommodations.
"It's civil rights legislation," Clagett, D-District 3A, said after the vote. "I think we are sent down here to enhance, protect and expand civil rights."
The bill's opponents homed in on a provision that would protect transgender people who use restrooms that conform to their gender identity when in public places such as restaurants or stores. The proposal's critics also voiced concern about how the bill would apply to locker rooms.
Delegate Kathy Afzali asked whether the proposal would enable a transgender woman to enter the female shower area at community swimming pools.
"What we may see is a naked man in a girls' locker room in a public pool," said Afzali, R-District 4A. "This is a bad bill. This does not protect women. This does not protect children."
But Delegate Joseline Pena-Melnyk said so long as public establishments could provide a separate private space, they would not have to give a transgender person access to facilities where people undress in view of others. Afzali said this exemption would not apply if the gym or pool didn't have such a separate space.
"It could be something as simple as a shower curtain and a rod," said Pena-Melnyk, D-Prince George's, who defended the bill during the floor debate.
Delegate Michael Hough argued that the legislation's language was too lax.
The bill "doesn't say you have to dress like a woman. It doesn't say you have to have the anatomy of a woman. It says that you can walk in and use the bathroom that you want to use," said Hough, R-District 3B.
Pena-Melnyk responded that the proposal would only protect transgender people who use restrooms consistent with their gender identity.
State analysts have reported that at least 17 other states and the District of Columbia have outlawed discrimination based on gender identity. Several Maryland jurisdictions, such as Howard and Montgomery counties, have similar laws and have not experienced the problems envisioned by GOP delegates, the bill's proponents said.
Delegate Maggie McIntosh, D-Baltimore city, reviewed past actions by the Legislature to extend civil rights protections and legalize same-sex marriage. She said the state had passed over transgender individuals when making some of these forward strides.
"They're beat up. They're ridiculed. They are suffering. And they need to hold their head up high. Just like I do today. Just like me," said McIntosh, an openly gay lawmaker.
Republican delegates offered seven amendments to the bill, attempting among other things to remove legal protections covering restroom use. House lawmakers shot down all of the proposed changes and approved the legislation by a vote of 82 to 57. Gov. Martin O'Malley lauded the measure's passage and said he "looked forward to signing this bill."
Follow Bethany Rodgers on Twitter: @BethRodgersFNP. ___
(c)2014 The Frederick News-Post (Frederick, Md.)
Distributed by MCT Information Services