One dedicated man is helping to make sure that impoverished children won't go hungry during the school day.
Mary's Meals, a charitable organization founded in 2002 by former Scottish salmon farmer Magnus MacFarlane-Barrow, provides needy kids in 12 countries across Africa, Asia, South America and the Caribbean with free meals at school each weekday. The group's aim is to ensure that students have food in their stomachs so they can better concentrate and learn in the classroom.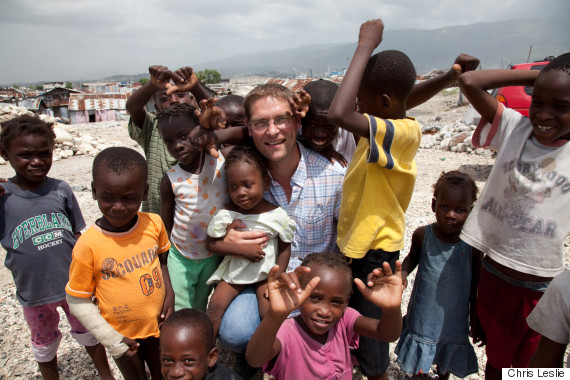 MacFarlane-Barrow with kids in Haiti who receive food from the Mary's Meals program.
In its first year, the group fed 200 children in need. Since that time, it has grown steadily, and last month, Mary's Meals reached a significant milestone -- they began providing more than 1 million kids with a meal every school day, according to the charity's website.
So far, the program has had positive results. In Malawi, schools that implemented the Mary's Meals program saw an average 24 percent increase in enrollment within the first six months, according to the group's website. Some schools in Liberia that participated in the program had more than a 50 percent increase in enrollment.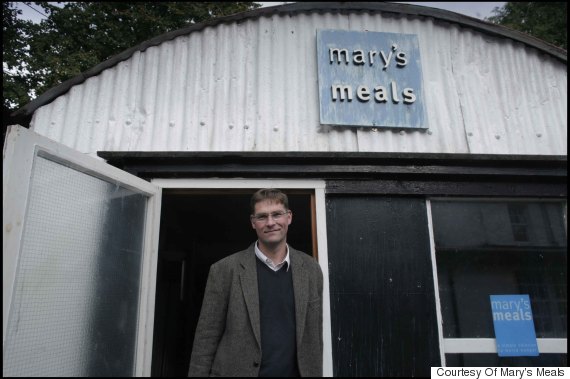 MacFarlane-Barrow outside the Mary's Meals global headquarters.
And the students receiving the aid can attest to the difference it makes.
"It makes me feel strong and I am able to understand what my teachers are telling me," said Marita Wyson, a 14-year-old student, according to the organization's website. "My grandmother doesn't have to worry so much about how she will provide food for me and my sister."
Community volunteers in countries including Malawi, South Sudan and Thailand help prepare, cook and serve the meals to kids at the schools. Monitors from the organization also work with school feeding committees made up of parents, teachers and volunteers to make sure proper food is being given to kids.
MacFarlane-Barrow, who runs Mary's Meals from a tin shed on his father's farm, told CNN that the entire operation started with a conversation he had with a teen living in poverty.
"In 2002, I was in Malawi during a year of terrible famine, and I met this family -- the father had died, and the mother was dying, surrounded by her six children," the Mary's Meals founder told the outlet. "I began talking to her oldest child, Edward, who was about 14, and asked him, 'What are your hopes?' And he said, 'I'd like to have enough food to eat, and I'd like to go to school one day.'"
MacFarlane-Barrow has received several accolades for his charity's work: He was named one of the 100 most influential people by Time magazine in 2014, and was a top 10 CNN Hero in 2010. But though the group has a lot to celebrate with the new milestone, the former fish farmer says there's much more work to do.
"The million is this amazing landmark, but it really isn't mission accomplished," he told CNN. "Our work's just beginning. We've proven that this works, and now we're just thinking about the next child."
To learn more, visit the Mary's Meals website here.
To take action on pressing food aid issues, check out the Global Citizen's widget below.
REAL LIFE. REAL NEWS. REAL VOICES.
Help us tell more of the stories that matter from voices that too often remain unheard.
BEFORE YOU GO
PHOTO GALLERY
10 Charity Apps That Make Giving Part of Living