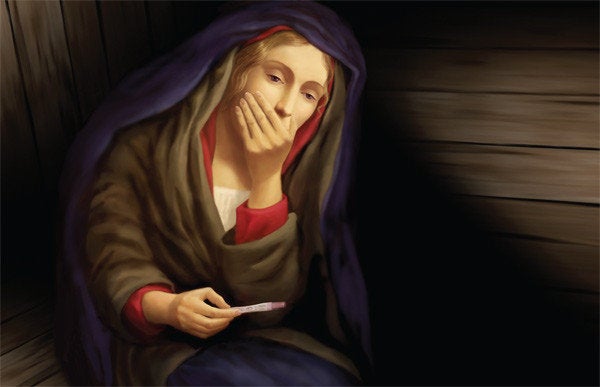 A billboard featuring an image of Virgin Mary's reaction to a positive home pregnancy test is raising eyebrows in New Zealand, with some critics deeming the sign inappropriate. The billboard was erected in Auckland, New Zealand on Tuesday by St. Matthew-in-the-City, a progressive Anglican church well-known for its provocative advertisements.
Reactions to the sign gathered by local television station 3 News included comments from locals that the sign was "really weird" and that it was "inappropriate to have outside a church."
"Regardless of any premonition, that discovery would have been shocking. Mary was unmarried, young, and poor. This pregnancy would shape her future," the two men said in a joint statement.
Although the make-believe of Christmas is enjoyable - with tinsel, Santa, reindeer, and carols - there are also some realities. Many in our society are suffering: some through the lack of money, some through poor health, some through violence, and some through other hardships. The joy of Christmas is muted by anxiety.
"I think anything that provokes discussion about what the meaning of the Christian faith is, I mean that's our goal, is to provoke people to think about meaning," Cardy told Auckland Now.
In an effort to engage people beyond their initial reaction to the sign, the church's website invites readers to write their own captions for the image.
Some suggestions include:
"God give me strength to accept the things i cannot change."
"HOLY MOTHER of GOD........oh...that's right...it's me..."
"Yay, I hope it's a girl"
This year's billboard isn't the church's first attempt at sparking conversation with the use of controversial imagery.
That sign sparked outrage among many in the religious community and was vandalized several times.

Popular in the Community