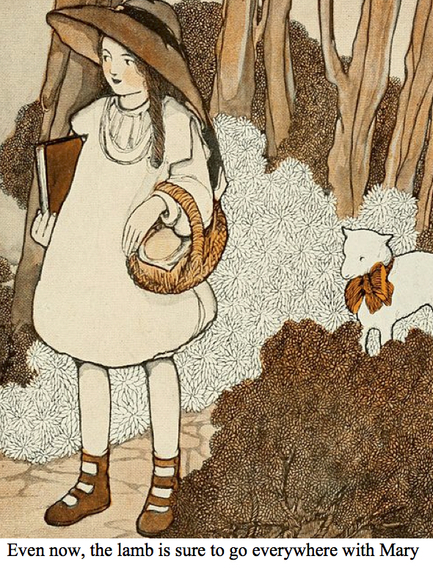 Sources have come forward stating Mary's relationship with the little lamb is "getting kinda creepy."
Most felt sheepish sharing publicly , but two friends did agree under conditions of anonymity, "I don't want to bust her chops," one said. "After all, it was cute when we were kids. But a grown woman being followed by a lamb is a tad strange."
"A tad strange?" the other interjected. "Don't want to fleece you of your benefit-of-the-doubt nature, but Mary's pulling the wool over your eyes. She holds up in that cottage with that not-so-little lamb doing god knows what. It's downright depraved!"
"We tried to shepherd her in a healthy direction?" she continued. "Online dating, a class at a community center--once we even arranged a sitter for the lamb so we could have a girls' night out. But when we came 'round to pick up Mary--Mary was buggin', and we didn't have to ask why. Little Bo Peep lost her sheep and she was perfectly fine. Mary couldn't handle being separated for an hour."
"At this point it's beyond weird and all I can say is 'ewe.'"
Popular in the Community