Being responsible for turning the face of Indian fashion industry with unconventional prints, along with womanish drapes and silhouettes, blending modernity with tradition and defining the new style of modern Indian women is every fashion designers wildest dream. Meet Masaba Gupta, a fearless young designer never shy to experiment, who has redefined the shape of Indian fashion industry with her flamboyant quirky prints and designs appealing to classes as well as masses.
She presented her first collection at the very young age of 19 in India's most esteemed fashion platform, the Lakme Fashion Week in 2008. From there on, she never looked back. At 20, her entrepreneurial journey began with the launch of her own eponymous brand.
Today she is among the most influential and dynamic youth fashion icon in India.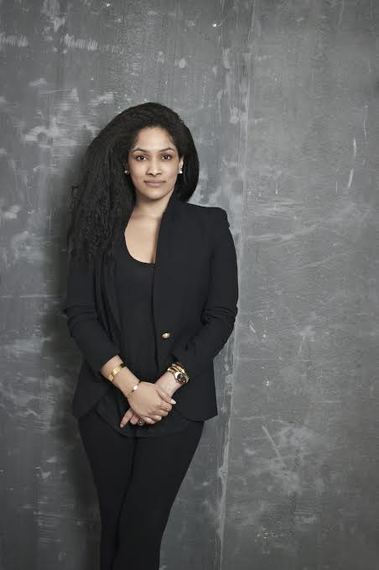 Recently I interviewed her to know more about her childhood, success story and entrepreneurship journey to share with the world.
When I asked her that as a celebrity kid, being the daughter of Indian National Film award winning actress, Neena Gupta and West Indies Cricket legend Sir Viv Richards, how much pressure was on her to make it big and be famous like her parents? She said, "there was no internal pressure as such and therefore she never took it seriously. What my parents did was entirely different than what I am doing... and how they managed their success in that time was entirely different!"
Masaba grew up in Mumbai, India. As a child, she played tennis and was a good swimmer. She learned to dance and was more into creative stuff since an early age. She went to London and studied music because she wanted to be a singer. But after coming back to India, her interest in singing faded away. She was looking for a course in college. She said, "...I didn't want to get into singing anymore and the only course open at that time was Fashion. So I literally enrolled because I had nothing to do!"
Masaba studied Fashion from SNDT University, Mumbai, India. When she was in the second year of her college, she showed her line of clothing in the college's graduation show. During this time her mentor was Wendell Rodricks. That was the turning point in her life. Wendell inspired her to take the next step and encouraged her to apply for the Lakme Fashion week which was to be held in Mumbai. She said, "...auditions for Lakme Fashion week were open and I had a feeling that I should apply. I applied the same collection which I showed at my graduation show. The name of my collection was 'Kattran' which means scraps of fabrics. So I collected all the scraps of different fabrics to cover the cost of unused fabrics and wanted to make my line cheaper."
That was the beginning of her entrepreneurial journey. From a young graduate to becoming an entrepreneur, Masaba says about the transition, "It was a very natural progression. I don't think I have ever given a thought because the way my line was displayed at the Lakme fashion week and looking at the number of people and buyers having interest in it, I think that it was something very expected of someone who likes to do things when they are red hot. I like to do things at the right time, when they work most. So I started my label at home. I didn't have set-up then and that's how it all started!"
Inspiration for Masaba's designs comes from an urge to come up with a clothing line that caters masses as well as classes, providing affordable designer clothes that range between Rs. 5,000 - Rs. 30,000 (approx. 75 USD - 450 USD), fitting all budgets. Her dream is that one day she can design clothes that anyone can afford. Her customers range from top Bollywood celebrities to teenage girls with tight pockets.
Few of her favorite projects are the line of shower gels for Fiama Di Wills, which was her first time in Product designing. And she started a clothing line for kids wear which is something very close to her heart.
When talking about benchmarking Indian fashion industry globally, she very candidly responded, "I don't think that the world has realized the potential of India yet as a fashion destination. But we would emerge among the top five players in terms of buying power in the upcoming years. Whatever the impression of India about fashion in the world was, it has moved far ahead. Thanks to the internet, it is prudent to know what is happening globally in fashion industry and world leaders in fashion need to understand the importance of India, not just as a manufacturing market but also as a buying market. If you want value for money, India is the place."
Masaba is an inspiration to millions of young boys and girls to aim high and touch the sky and believes that there is no trial and tested formula for success. She said, "...Some people work so hard but they lack talent and some people who have talent but don't work so hard. It is important to be fresh and have a signature style and then do the rest."
REAL LIFE. REAL NEWS. REAL VOICES.
Help us tell more of the stories that matter from voices that too often remain unheard.