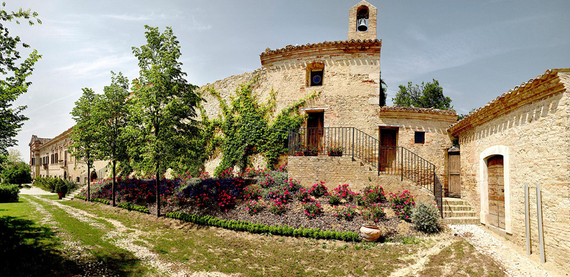 One of my fondest memories from my salad days is of lounging under a wild oak tree with my wife in the National Park of Italy's Apennine region of Abruzzo, eating country bread and smoky scamorza cheese with a full liter of montepulciano d'abruzzo wine.
After a well deserved nap, we woke up, pointed to each other and said in unison, "Your teeth are purple!"
That was pretty much the way it was with montepulciano d'abruzzo back then, when this workhorse grape (which is not the same varietal as the Tuscan vino nobile de montepulciano) had little or no reputation for quality beyond its ability to quench thirst and induce sleep.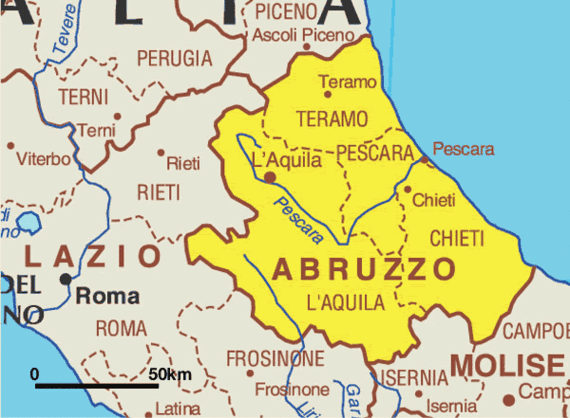 Indeed, for most of the past two decades the only montepulciano d'abruzzo you could find in wide distribution in the U.S. was the deservedly cheap Casal Thaulero, available in big screwtop bottles. The most you could say about about it was that it was an inexpensive, sturdy red wine that was okay for a casual meal.
Since then, with the amazing rise in quality throughout Italy of its regional wines, montepulciano d'abruzzo and its white wine sister, trebbiano d'abruzzo, have improved dramatically among a handful of producers who make wines of complexity, distinctive character and a certain refinement.
Abruzzo is a very diverse region east of Rome and extending to the Adriatic. It has impressive mountains, a great plain, a tourist-rich coastline, and a history of fine cooks.
Twenty years ago the only Abruzzese vintner of note was the legendary late Edoardo Valentini, whose long-lived trebbiano d'abruzzo is considered one of the great white wines of Italy and his montepulciano d'abruzzo every bit as good. But his wines are not easy to find, and, if you can find them, they cost a small fortune--with some vintages going for $700 and more.
Next to Valentini, the most respected Abruzzese vintner right now is Masciarelli Tenute Agricole (above), founded in 1978 by the late Gianni Masciarelli and now headed by Belgrade-born Marina Cvetic Masciarelli (below), who married him in 1989.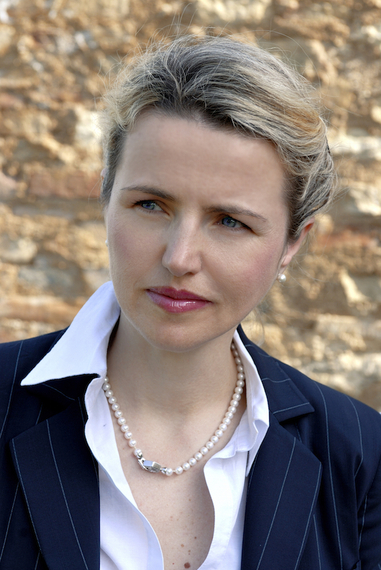 I met Ms. Masciarelli --whom I soon was calling Marina--for dinner in New York and found her ebullience (and impeccable English) is not just part of her charm but of her intent to make montepulciano d'abruzzo as famous as Italy's finest, including the so-called Super Tuscans and the Piedmontese wines of Angelo Gaja. She is convinced this once workhorse grape of Abruzzo can rival the illustrious sangioveses and nebbiolos of those regions.
Marina grew up in the wine estate of her grandfather, who produced wines in Croatia. After marrying Gianni Masciarelli, she became involved in every aspect of the business, including production and marketing, and she has helped to expand the company's holdings to 350 hectares of vineyards in all four provinces of Abruzzo--Chieti, Teramo, Pescara and L'Aquila. The company's headquarters are in San Martino.
Marina knew immediately upon taking full control in 2008 after her husband's death that modernization of the estate, vineyards and winery was needed to extract the best from the grapes. She also has been a big promoter of wine tourism in Abruzzo, inviting visitors to stay at the estate's baronial but rustic Castle of Semivicoli (above). Her motto is "Land, sky and vineyards are a life therapy."
Over a dinner that ranged from pizza to sausages and roast chicken, I sampled several of Masciarelli's current releases, including a very impressive Villa Gemma Bianco Colline Teatine 2013 ($15), a blend of trebbiano d'abruzzo, cococciola and chardonnay that, despite its youth, had remarkable richness, intense bouquet, and a creaminess not too distant from Angelo Gaja's much-praised chardonnays.
Masciarelli also makes its standard-bearer 100% trebbiano d'abruzzo 2011 ($43), fermented in new oak. The alcohol in this bottling reaches an amazing 14.5%--not a level I find appealing in most white wines--but I could tell this had tremendous potential for aging, and with its acidity and honeyed fruit, it's a wine I want to taste again in five years.
I also sipped a delightfully rosy Villa Gemma Cerasuolo d'Abruzzo 2013 ($15), an easy-drinking deep rosato with plenty of cherry flavor and color; it is ideal as a summer aperitif as well as with grilled poultry, pizza and salmon.
Turning to the montepulcianos, I found the Marina Cvetic San Martino 2010 ($28) an excellent way to introduce wine lovers to the varietal and the brand. It's not likely you'll mistake this for a chianti or vino nobile di montepulciano, for the intensity of bouquet and big fruit and spice is forceful right at the first sip, expressive of the Abruzzese terroir. This wine has been made for many years at the estates and is its most available, with 400,000 bottles produced annually.
If that wine converts you to the varietal, you may pay your deepest respects to Villa Gemma Montepulciano d'Abruzzo 2006 ($86) now in the market, which is made from grapes from 30-year-old vines that have been stressed to find water deep in the soil, resulting in smaller grapes richer in sugar, which explains its 14.5% alcohol. It is a massive wine, best for continued aging, and I would certainly rank it with Valentini examples at five times the price. Masciarelli makes about 19,000 bottles each year.

And, since Masciarelli makes a certain number of magnums of Villa Gemma, that is certainly something I want to let age for at least a decade, when it will prove the longevity of a varietal that once was famous for turning one's teeth purple. Ten years from now montepulciano d'abruzzo and trebbiano d'abruzzo should enter with dignity the pantheon of Italy's most respected wines.
"You have to accept what the gods give you in the vineyard," said Marina, "then you work hard to make the best wines you can."