Siavash Zohoori was out on his bicycle in Isla Vista, near the University of California Santa Barbara campus where he goes to school, when he saw people 20 feet from him go down. They had been shot during a drive-by perpetrated by Elliot Rodger, who, it was later revealed, had planned to target sorority members at UCSB to "punish" them for all the times he had been rejected by women. Six people died and 14 others were injured in Rodger's misogynistic attack.
Before Zohoori ran into a 7-Eleven gas station to hide the day of the shooting, he hadn't given much thought as to how standards of masculinity might negatively impact college students and play into campus violence.
"[Rodger] compensated for a lack of masculinity with a hyper-masculine display -- that being the shooting," Zohoori, a senior at UCSB,said in an interview.
Zohoori says pressures to conform to expectations of what it means to be masculine is a major problem, often ignored when discussing many of the ills facing college campuses today. He's fine with people pushing for better mental health services or new gun control measures, but he likens those solutions to walking a girl home from a party as a way to prevent sexual assault, another major problem on campuses. "It doesn't actually prevent rape -- teaching kids not to rape prevents rape," Zohoori said.
Using that approach, Zohoori started conducting workshops on masculinity, speaking to male high school students and fraternity men on campus, about what it means to be masculine, and whether those standards push men toward committing violence.
Watch a sample of Siavash Zohoori's talk in the video above.
At a time when colleges nationwide are on notice about sexual assault, this is a golden opportunity to get every campus talking about masculinity, argues students like Zohoori, as well as longtime educators like Jackson Katz, who's led workshops about masculinity with high school and college students for over two decades with his program Mentors in Violence Prevention.
"It's a camel's nose under the tent kind of thing, that can be used as a wedge into talking about a whole range of issues," Katz explained. Narrowing in on what it means to be masculine, he and others argue, could start addressing a number of other problems like hazing, stress, depression and even mass school shootings.
"The Single Most Important Factor"
"Working on a college campus for 27 years, I know there are a lot of men who want to help but no one's asked them to help," Chris Kilmartin, a psychology professor at the University of Mary Washington, said. "We cannot expect people to contribute to a culture of respect and inclusion if we don't teach them how to do it."
The fact that nearly all mass shootings are committed by men, save for a handful of incidents involving fewer people, reinforces his argument for the need to talk about masculinity, Katz said. That some deceased shooters left behind manifestos, which complain of not living up to society's expectation of being a man and rejections from women, only adds to it.
"We have to talk about gender, it's the single most important factor," Katz said. "If it wasn't, 50 percent [of mass shootings] would be done by women."
Colleges are conducting more prevention programming, in part because of a provision of the latest Violence Against Women Act reauthorization that requires them to do so.
The most popular approach colleges are taking in prevention programming is to implement bystander intervention. A strategy favored by the White House, with research proving its effectiveness, bystander intervention teaches students to spot problematic situations and do something to interrupt it. The approach has buy-in, advocates say, because it doesn't treat women as potential victims or men as possible predators.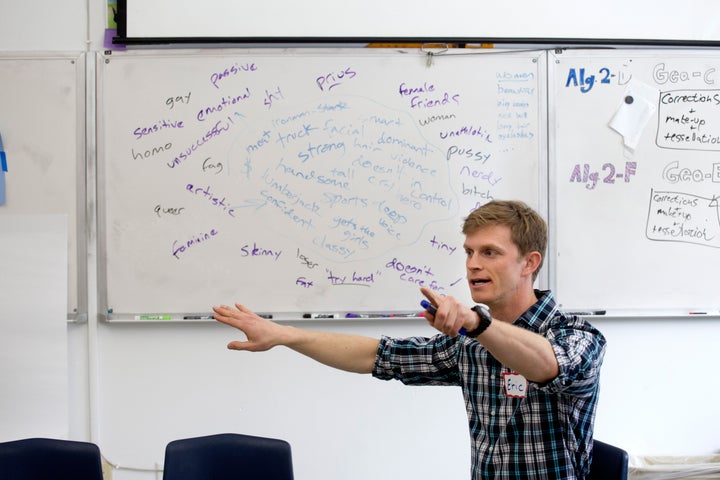 Are Current Programs Just "Glorified Bouncer" Approaches?
A number of programs like Green Dot and Bringing in the Bystander have conducted research, which shows their effectiveness at encouraging people to be proactive in real-life situations. Though Katz worries that those initiatives skip over talking about masculinity.
"There's more political momentum now, so whether they're enlightened or not, colleges have to do the prevention programming," Katz said. "But there's a disconnect. All of this stuff happening on college campuses, most of it is devoid of the insights. To me, the key to preventing sexual violence is talking about masculinity and male culture, and boys and men."
The directors of Green Dot and Bringing in the Bystander have pushed back, saying they don't know of any scientific evidence that shows bringing gender into the conversation would make programming more effective. If anything, they worry, talking about masculinity in a bystander intervention training session could be trying to do too much in a limited amount of time.
Yet, without talking about masculinity, Katz insists, bystander intervention programs are nothing more than a "glorified bouncer" approach. And he's not alone in thinking as much.
""I know there are a lot of men who want to help but no one's asked them to help.""
"What I worry about is all of this time and energy and money going into addressing these problems, and they are not getting at the root of the problem," said Elizabeth Sharp, a Texas Tech University professor.
Sharp is making progress getting students at Texas Tech to look at masculinity as part of their sexual assault prevention efforts. She was included in a recent task force on Greek life, formed after incidents like a fraternity displaying a banner reading "No Means Yes, Yes Means Anal." The final report released in the 2015 spring semester ordered mandatory bystander intervention education, and "Manhood and masculinity training" for all new fraternity members. Talking about masculinity will not only work to stop sexist jokes at frat houses, but will also tackle binge drinking, physical violence and hazing, Sharp said.
"This system of social rules on campus, it is about dominance and hierarchy," Sharp said. "With men in groups, the hazing is right in there -- in my opinion, this is all linked."
Two Decades Of Masculinity Workshops
Katz created the MVP program in 1993. At the time, he started by approaching male sports teams because they had a high social stature at their schools and could influence other students. Katz said there was too much emphasis on teaching boys and men not to engage in certain behaviors solely because they're criminal. That was ineffective since the guys didn't see themselves as possible perpetrators. If he could teach them how to spot a dangerous situation, and how to influence others not to be perpetrators, Katz believed that sexism, rape and homophobia could actually start to be addressed.
He adopted the bystander approach from Dr. Ron Slaby, who was pushing the idea as a way to address middle school bullying. Adding discussions about masculinity, Katz says, can create a different peer culture where sexism and abuse is considered unacceptable long before someone is close to committing an assault.
Maureen Hawkins, health and wellness director at the University of Central Florida, where the MVP national headquarters is currently located, explained they set up MVP workshops through residence life or student groups like fraternities and sororities. They also reach out to faculty, Hawkins said: "We ask them if there's a canceled class can we come in and do MVP."
In an MVP workshop, the facilitator will lay out scenarios and ask attendees how they feel about them, and whether they would say anything. Bystander intervention programs work the same way, helping students identify risky situations and how they could intervene. But MVP goes deeper, and asks about sexist jokes, anti-gay attitudes and other behaviors that perpetuate a culture where sexual violence is downplayed.
MVP got off the ground with a grant from the U.S. Department of Education. Within a few years it got college football players to participate in anti-gender violence PSAs, and the U.S. Marine Corps started adopting their programming. In the following decades, MVP continued to expand in college athletic programs, into professional sports, other branches of the U.S. military, and some international athletic teams.
Twenty-three years after starting MVP, Katz frequently travels to college campuses and conferences to deliver anti-sexism lectures. His message is cited as the inspiration behind students starting their own masculinity workshops, like Zohoori at UC Santa Barbara, and Eric Barthold, a 2012 Colby College graduate.
Taking Away Perpetrators' Social Influence
Eric Barthold started a program called Man Up and Open Up with a group of athletes he went to college with, after taking gender studies classes. His programming has a core exercise drawn from Katz' work, called "the man box" -- where people write words inside a box they consider to be attributes of a strong man, and outside place words that are associated with a non-masculine male.
"One of the things that to me is pretty clear," Barthold explained, "is the same pressures that keep boys limited to this impossible definition of masculinity -- those pressures result in behaviors like bullying, or the same things that cause bullying in middle school is causing sexual violence in college, or hazing or any of those types of behaviors."
"You'd be surprised at how many guys almost have the response of, "Finally we get to talk about this stuff!""
Man Up and Open Up is mostly tailored for high school students, but he's also presented in front of college groups.
"You'd be surprised at how many guys almost have the response of, 'Finally we get to talk about this stuff!'" Barthold said. "It is hard for some of them, it's uncomfortable, but many times it's definitely a sense of, 'Finally, I get to talk about all of these unwritten rules,' along with a sense of 'Oh man, I've never thought of that before.'"
The common argument put forward by advocates who are for addressing masculinity is that there is a silent majority of men who do condemn sexist behavior, that don't prioritize sexual conquests and are against hazing, but they fear social ramifications of speaking out.
Barthold's strategy, like Katz's, is to change that calculation.
"If we can amplify the healthy voices with the men in the middle who would normally shift toward the positive end," argued Barthold, "then we'll isolate the perpetrators of those bad behaviors on the negative end of the spectrum and create this whole new idea of what it means to be a man."
"And when we isolate those perpetrators," he continued, "they'll lose their social power."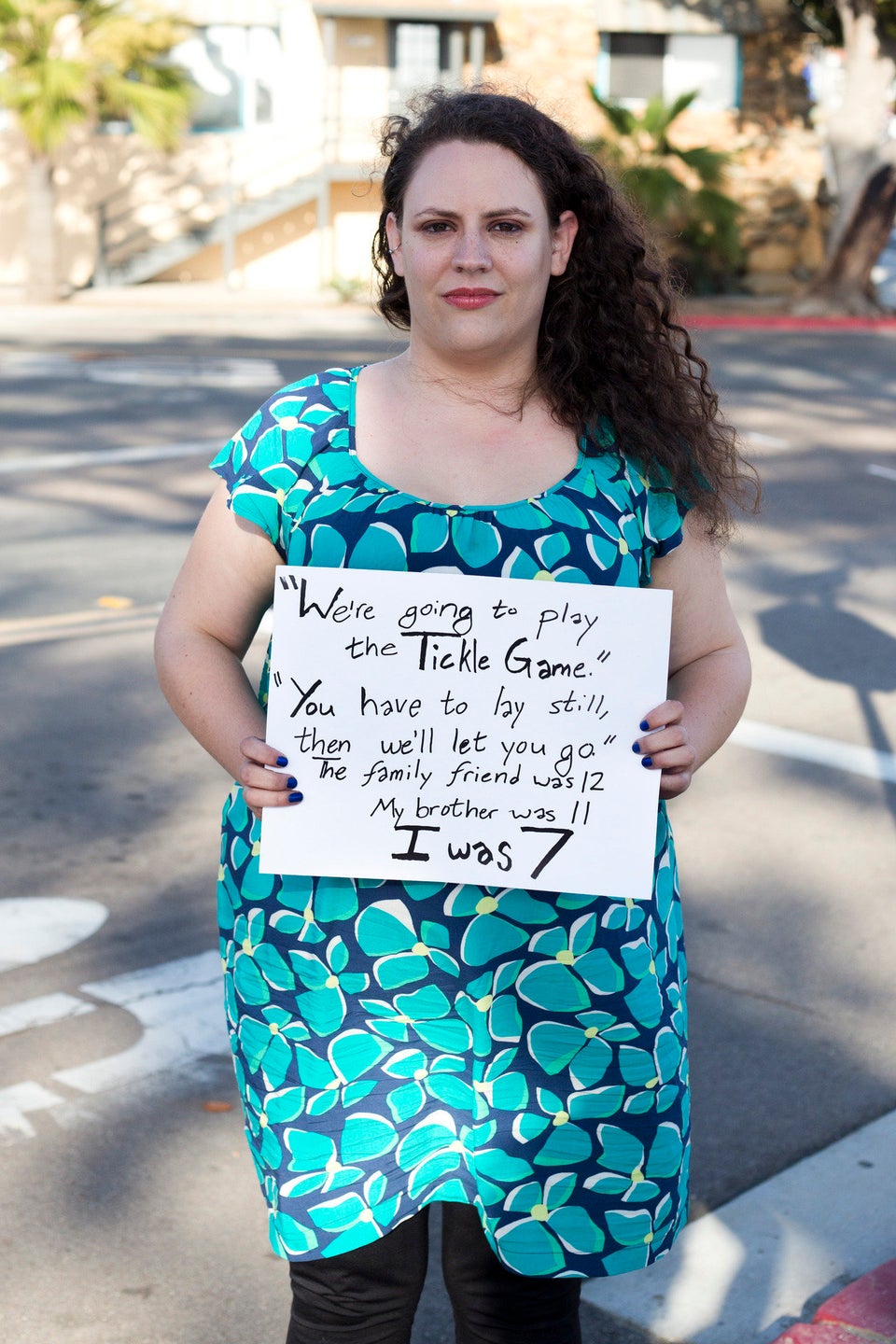 40 Powerful Images Of Surviving Sexual Assault
Support HuffPost
The Stakes Have Never Been Higher
Related
Popular in the Community