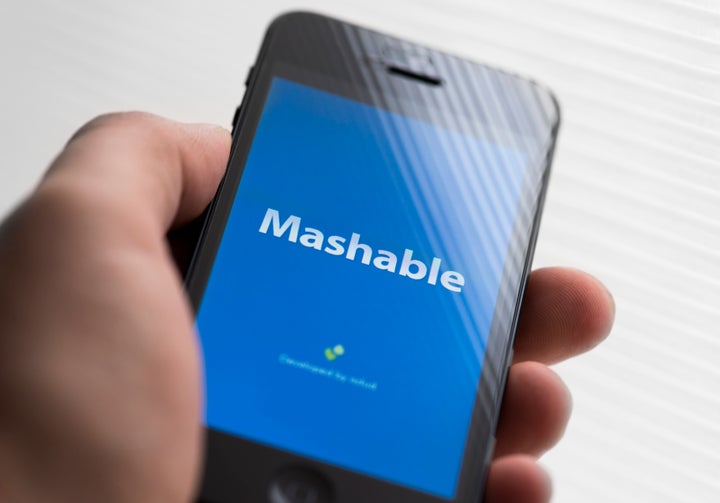 The journalists at Mashable and PCMag have joined the wave of digital news outlets aiming to become union shops.
Staffers at the tech and culture sites sent a delegation to management on Thursday morning asking that their owner, New York-based digital media company Ziff Davis, recognize their union with the NewsGuild of New York and begin bargaining toward a first contract.
More than 80 percent of workers in the would-be bargaining unit have signed union cards, according to the union. The union intends to represent around 40 Mashable employees and another 28 or so at PCMag, as well as a staffer apiece at two other sites, AskMen.com and Geek.com. Employees are calling their union the Ziff Davis Creators Guild.
Ziff Davis can voluntarily recognize the union or demand that a secret-ballot election be held through the National Labor Relations Board. Many employers take the latter route, then try to dissuade workers from voting in favor of the union.
Mike Finnerty, general manager of Ziff Davis Tech & Commerce, said in a statement that "our organization has a rich history of supporting editorial talent and maintaining high editorial standards. We look forward to learning more and having an open discussion that respects the rights of all employees involved."
A media company once known for its stable of print magazines, Ziff Davis has spent its recent years acquiring online sites like Mashable, which it bought in late 2017 for $50 million. Roughly 50 employees were promptly laid off.
PCMag has been in the Ziff Davis portfolio far longer, originally as the print publication that was phased out in 2009. Staffers at the various sites began collaborating on a union effort several months ago over mutual concerns, particularly understaffing due to layoffs and attrition, according to Heather Dockray, a reporter at Mashable.
A union struck many staffers as one way to force the company to hear their concerns, work on solutions and ultimately produce a better site, she said.
"Ziff Davis is an acquisitions company," Dockray said. "They laid a lot of people off, and a lot have left Mashable since then, and we're not seeing those positions being filled. So we're [all] operating sort of skeletal editorial crews … We want to see [Ziff Davis] invest in us."
Both the NewsGuild and the Writers Guild of America, East, have recently made tremendous headway organizing web-only publications, including Gizmodo Media Group (formerly Gawker), Vice, Law360, Vox and others, as well as previously non-union legacy publications like the Los Angeles Times and The New Yorker. (HuffPost staffers are represented by the WGAE.)
In a lot of cases, much of the organizing credit should go to the owners of the publications, as journalists seek out union protections in response to job cuts and other staffing turmoil or the mandate to do more with less. Most of the campaigns have shared the same basic aspirations: standardized raises and transparency in pay, protections in the event of layoffs, a codified firewall between the business side and the journalism side, etc.
For all the upheaval at Mashable, the campaign to unionize at Ziff Davis grew out of PCMag, as staffers there watched one website after another unionize, according to Max Eddy, a journalist at the site covering cybersecurity and other issues.
"A lot of this isn't based on grievances. It's based on a movement we see in our industry," said Eddy. "I think being a union shop and having those protections is going to attract more people to these positions ... This is a move for us to become a better-functioning company."
Grant Glickson, president of the NewsGuild of New York, called it "a brave and important step in building a democratic workplace," and said the employees "deserve a contract that acknowledges their value."
The road to unionization has been relatively smooth at many publications where journalists recently organized, thanks in large part to the progressive reputations a lot of them bear. Management at sites like ThinkProgress, Vice and HuffPost all voluntarily recognized the union when presented with a pile of signed cards from employees, rather than defy the wishes of the majority and risk a potentially messy fight.
The process has been much rockier at companies resistant to a union. After winning their union election, workers at Law360 recently voted to authorize a strike amid stalled contract negotiations. And although Slate is a famously liberal site, management there tried to persuade employees not to unionize ― a stance that brought scorn and mockery from progressive corners.
Ziff Davis has no liberal standing to worry about. But Marcus Gilmer, a news editor at Mashable, said he believes it's still in the company's best interest to acknowledge the union and sit down at the bargaining table. The vast majority of employees are already onboard, Gilmer argued, and a union contract would bring more stability and strong talent to the sites.
"It's been a tumultuous time in media," Gilmer said. "We want to see these publications continue to thrive. We want them to be places where you can build careers."
Related
Popular in the Community