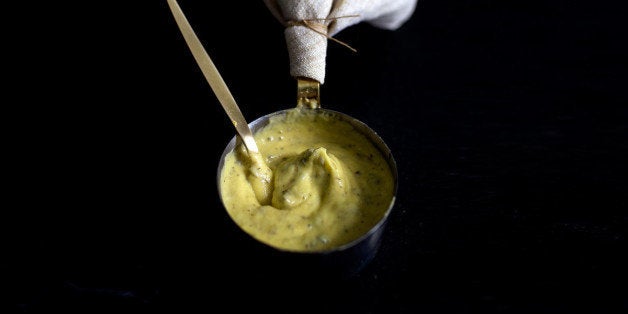 Sometimes there's nothing better than eating a spread not on a piece of bread or a cracker but straight out of the jar with a spoon. Nutella and peanut butter? Yes. But butter? No. Aioli? Nope, not that either. As much as we love butter and aioli, and we could eat them by the spoonful, we draw the spoon-fed line there. A recipe from food blog Lady And Pups may have just pushed the line back a bit, however. Behold Mashed Potato Butter Aioli.
The comfort food to end all comfort foods makes all our wintertime dreams of feasting with abandon come true. Food blogger Mandy Lee, the genius behind Lady And Pups, describes it as "a smooth and silky butter aioli infused with Dijon mustard and fried capers, but with finely mashed potato as its solemn foundation." (You had us a "mashed potato butter," but please go on.)

Making mashed potatoes the foundation of a condiment is brilliant. Lee suggests putting the condiment/side dish on top of meat, fish or vegetables, and warns that you'll find yourself tempted to put it on absolutely everything. Yep. Lee just turned mashed potatoes into a sauce that you can pour on anything, and she simultaneously made it acceptable to eat butter with a spoon. Bow down.
Find the recipe for Mashed Potato Butter Aioli on Lady And Pups.