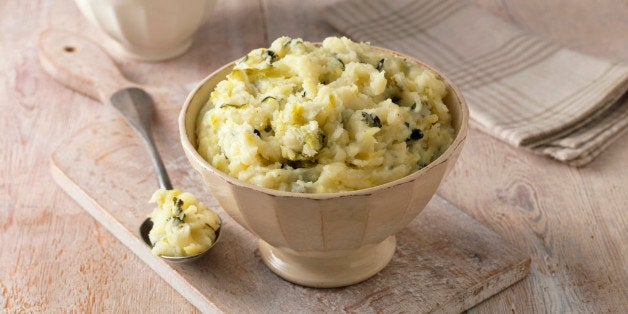 Put a new spin on the holiday staple with these inventive twists. Just follow the basic recipe, and then add the ingredients that suit your meal (or mood).
Master Recipe
(Serves 4)
Bring a big pot of water to boil, add 2 pounds of peeled Yukon Gold potatoes that you've cut into large chunks. Simmer until they are tender and a fork can easily pierce them, about 15 minutes. (You should almost be able to break them apart when you touch them, but not quite.) Drain the potatoes. Let them sit in a colander while you warm 2 tablespoons of butter and a cup of whole milk in the same pot you cooked the potatoes in. When the butter has melted, add the potatoes and mash with a potato masher. Season with salt and pepper to taste (go easy on the seasonings depending on what extras you're adding), and then stir in a mix-in...
Cheesy
Tangy: Stir in 4 ounces of crumbled goat cheese or feta.
Rich, slightly sweet: Stir in 4 ounces of cubed cream cheese or brie.
Sharp: Stir in 4 ounces of grated Swiss or cheddar.
Spicy
Mexican: Stir in 1 tablespoon of chopped chilies in adobo sauce and garnish with sliced scallions.
Spanish: Add 4 teaspoons of smoked paprika and top with chopped, fresh chives.
Indian: Use sweet potatoes instead of Yukon Gold; mix in 3/4 teaspoon garam masala and 1/2 teaspoon cumin.
Herby
Pesto: Stir in 3/4 cup of pesto and garnish with grated Parmesan.
Rosemary lemon: Mix in 1 teaspoon of finely chopped rosemary and the zest of 1 lemon.
Crunchy
Bacon: Fold in 4 slices of cooked bacon, crumbled.
Broccoli: Chop 1 head of broccoli into florets and add to potatoes when they are almost finished cooking. Scoop out, then drain potatoes and mash; stir florets back in with other ingredients.
Nuts: Use sweet potatoes instead of Yukon Gold; mix in 1/2 cup toasted pecans or walnuts.
Related
Before You Go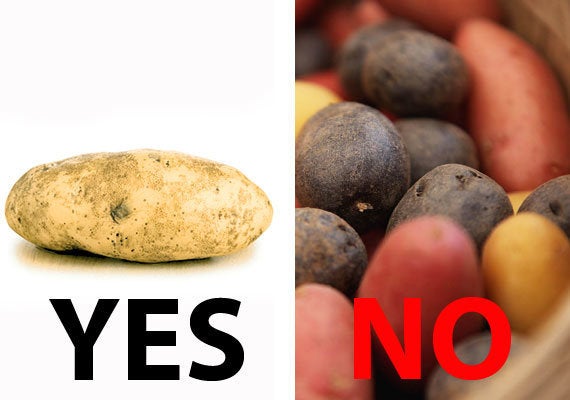 10 Mistakes You're Making With Mashed Potatoes
Popular in the Community