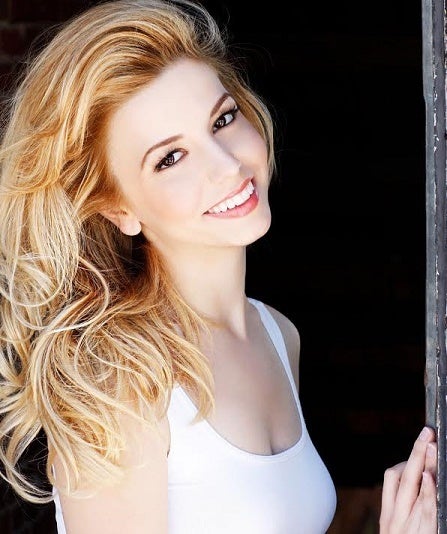 As I'm chewing Dubble Bubble gum and trying not to hear my stomach grumble from hunger, I hear a 'ding' on my phone, which could mean one of 22 things.
It turns out actress, humanitarian, author and cook, Masiela Lusha, has sent me the final touchups for our interview!
My head exploded during Masiela's interview. I love stories, and boy, does she have great stories for us.
You're best known for your role as Carmen Lopez in The George Lopez Show and more recently as Gemini in Sharknado 4. Now you have a new book titled The Living Air that is a collection of poems which touch on the topics of love, marriage, family and finding your true self. What sets your book apart from all of the other books in this category?
This is a particularly difficult question as I am a voracious reader; I often read two to three books simultaneously. What could possibly set my book apart from the works of art that have guided and inspired me over the years? I do not consider my work to be self-indulgent. I do not write for therapy, or personal closure, I write for the reader. My muse is healing; if my work can positively impact an individual for even a brief moment, if the reader can close read my poems into his or her own context of meaning and personal experience, then my job is complete. I would like to think that my work is authentic enough to offer a true representation of my inner world, and yet the words are tractable and open to reinterpretation for the reader for guidance and healing. Poetry offers this dual reality.
Why did your parents immigrate from Albania to the United States?
My mother nurtured the American dream her entire life. It was her wish to establish a home in the US, despite the circumstances surrounding her, the political turmoil, and the clear expectation for failure. She refused to inherent any other beliefs but her own, and did not wilt at the nay-sayers. She was unapologetically passionate. This was her journey, and no one could take away her right to dream. I was small enough to fit under her arm, and we shared one shadow across Europe. One year to the next, we did not know where we would settle. The stakes were high, but America's reward, and her golden welcome was higher.
My great uncle Dr. Joseph H. Alli was our sponsor and he welcomed us into his home in Michigan. He was the full embodiment of the American Dream for me – a hard-working immigrant, who defied adversity to become a doctor. My Great Uncle defined his later years as a colonel in the army during World War II, and as a loving husband for 45 years. He later volunteered his expertise and passion for the Rockefeller Foundation while working as Laboratory chief for the Department of Veterans Affairs in Des Moines, Iowa.
You do lots of humanitarian work. How did you get appointed Ambassador of Prince Harry's charity, Sentebale? Are you still involved with this organization? What other charity organizations are you involved with?
My childhood was carved out of a very turbulent and unpredictable time in the Balkans. As a child refugee, I did not quite understand this big world that dilated with more difficult journeys into more foreign lands with every passing year; I did not have the safety of consistency, routine, or familiar comprehension.
In fact, my earliest childhood memory is curled up on a bus, among other refugees, as we fled the political turmoil in Albania. We were 50 refugees on the bus, and we were terrified. In order to make a political example out of us, there was a lingering threat that we would be bombed en route to Hungary. I recall so vividly a blue eyed man sitting beside me, a smiling stranger by the window. He did not speak our language. I later learned we were protected by volunteers from the American Red Cross. Men and women risked their lives by seating themselves with us, against the windows, to ensure the progression of our own dreams. Fathers, sisters, wives, from the other end of the world, put their own lives on the line to protect a band of foreigners right there, inside the bus. To this day, I feel my identity, lifelong dreams and goals are defined by this single example yet profound example of selflessness. Whatever I pursue, the harder I strive to positively impact a family, it is never quite enough. After all, I owe my life to living angels. Despite my efforts over the years, I have yet to feel content in my humanitarian efforts. I believe that humanitarianism is by virtue a thirst that can never be quenched.
I was appointed Sentebale's first American ambassador in 2010, and assisted for two years. Sentebale defines its mission through grassroots efforts that directly impact the families on a tangible level that one can actually see and touch. This remains one of Sentebale's most meaningful features for me, and a personal requirement when I commit to a cause; I aim to be fully absorbed in a mission, ground zero, with the families.
I joined Sentebale while the organization was still concentrated in Lesotho, a landlocked kingdom in South Africa. It was a breathtaking land unfortunately ravaged with HIV and AIDS which devastated the institutions of the kingdom. Visiting the orphanages supported through Sentebale, playing and dancing with the children, learning songs and phrases from their own lips and history brought me home. Their laughter, their dancing, their kindness and effervescent curiosity is marked in my memory forever. What exceptional children that redefined what it means to be purely happy in this world. Their intrinsic joy is the very echo of Sentebale.
Since then, I feel fortunate to assist as the first goodwill ambassador for The World Assembly of Youth, an international organization which supports a vast spectrum of children's causes ranging from children's education to gender inequality. The World Assembly of Youth does not consider a single issue to be irrelevant or beneath the radar. Every facet of a child's life is examined and addressed, and a governmentally sponsored plan tailored to each individual country's strengths and weaknesses is drafted and implemented on behalf of the children across all continents.
As an advocate for UN Women, I feel honored to support their November campaign which symbolizes a promising future without violence against women. The campaign begins on November 25th, on the International Day to End Violence Against Women, and will continue until Human Rights Day on December 10th. One in three women globally has experienced physical or sexual violence in her lifetime, and this needs to change.
I feel UN Women has done a phenomenal job weaving social media, pertinent women's issues, and an international dialogue together into one very specific mission. I have been raised by a single mother, a powerful influence who defied societal expectations, and pre-assigned roles and rules, and I consider UN Women to be a vital and familiar life force in our society.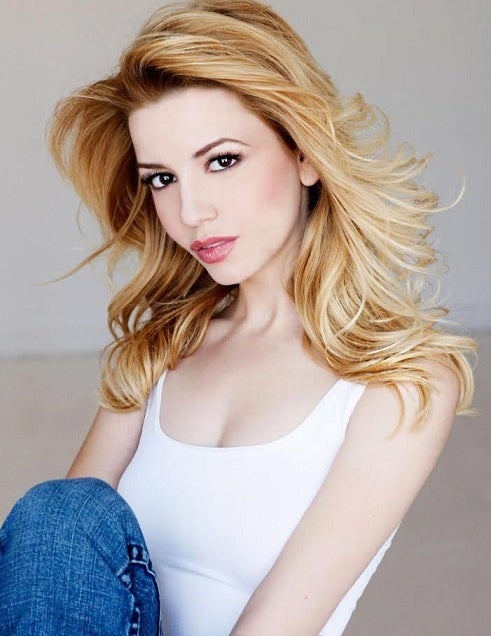 We have been noticing your amazing fashion choices on the carpets recently? Do you style yourself? Are you big into fashion? Who is your favorite designer?
Thank you! I adore forward-thinking designers like Mary Katrantzou and Roland Mouret. These designers showcase technologies that artistically enhanced seams, fit, and modern digital prints that feel like hyper reality. They are modern artists. It is my belief that fashion, like any form of art, ought to tell a story and impact a mood, and it needs to move forward to survive.
While at home I am often a blue jeans and basic white tee type of girl, I have a hybrid approach to fashion on the red carpet. I love working with designers directly, and imagining and highlighting their vision on the carpet, but I am also drawn by vintage pieces that focus on a very specific time and mood.
I've also worn pieces that I've designed and stitched myself. When I earned my degree from FIDM (Fashion Institute of Design and Merchandising), I learned to truly appreciate the stories textures and colors tell on any given day. For me, fashion is simply another form of art that I love to play with.
With the holidays coming up, what are some of your favorite recipes you are planning on cooking?
I have a massive sweet tooth, so I plan to prepare a side dish of sweet potatoes topped with melted marshmallows and berry crumble pie for good measure.
You've written four books of poetry, Inner Thoughts, Drinking the Moon, Amore Celeste, The Call, a novel The Besa, and two children's books. What software do you use to write your books?
I implement a very straightforward approach to writing my manuscripts. I use Microsoft Word, and take notes during the day through the iPhone notes app. Quite simple. I also have a pocket-sized sketchbook that I carry in my purse at all times. When I am in the throes of a new manuscript, I live in that prolific universe, fully absorbed in the characters who often seem to write themselves. Sometimes it feels as if I'm walking through a dream. It took me one month to write my first novel. I would begin writing at 6am, and forget to eat until 8pm, writing and writing until I was literally pried away from my laptop.
In any art form, we have a responsibility to infuse a little color, compassion, movement into our society. Art cannot live in a void. It must impact, animate a little tug and pull in our world to stay alive and relevant. I've written all my books with this philosophy in mind. If a poem or a novel does not serve a purpose when it is completed, if it does not heal or guide the reader in some way, however deliciously complex the plot, it will not exist in my work.
I heard you are married. Do you find it difficult to balance your home life with your acting life? What advice do you give to women who try to have it all: career and family?
I feel routine is the backbone of a good marriage. While that may sound counterintuitive as many of us can appreciate quite a bit of spontaneity in our life, I still find that understanding and appreciating how the hours will be spent together forms a bond that transcends the everyday nuances and distractions. I consider myself quite a traditionalist in this way, and would prefer an orderly family routine that we can rely on, and lean on when other parts of our life feel misaligned.
As I've only been married for three years, my humble advice to a young wife striving to have it all is be conscious that every facet of life is an investment. With hours as the currency, where one dedicates the most hours and attention is often the area in life that thrives, often to another priority's detriment. The conversations, even the choice of words, are also very specific investments in a relationship.
What are your food and exercise routines?
While as a family we are quite health conscious with low carb substitutes, I am at heart a burger and fries girl. No question. The path to my heart is a batch of chocolate chip cookies, with a glass of milk. However, when I'm traveling to various countries, I indulge in their specific tastes and dishes. I find nothing tastes as good as a dish from its original land.
For exercise, it remains ballet, more specifically pointe. I've danced since the age of seven, jazz, tap, ballet, lyrical, cheerleading, and was captain of our school's dance team at 12 years old. Dance inspires me the most.
You're committed to causes that help people. What are your thoughts when you see / hear about people in abusive relationships?
To speak up is perhaps the most difficult path one can take in recovery. For a victim to fully accept the trauma, and yet to not let it define him or her is positively heroic in my opinion. Also, I feel there is an underlying assumption in our society that any given individual has a sufficient pool of friends and support. And, while an acquaintance may sense abuse, it can feel easier to simply assume a closer friend or family member will offer guidance. Unfortunately, this is often a misconception; one of the first indications of abuse is alienation from one's most significant social circle. Two friends of mine wrote, directed, and starred in a chilling short called Speak, which outlines abusive relationships in raw detail. Laura Seay and Kyle McKeever did an excellent job defining the helplessness and effacement victims endure in abusive relationships.
So many amazing celebrity hot spots in LA. What's your favorite restaurants that you dine in?
The best Mexican food is in LA, and I absolutely love Mercado.
You have a new movie coming out in Lifetime. Please tell us more about it and your character.
I am very particular about the film roles I accept as I am not in this industry to perpetuate stereotypes, or depict vapid societal norms. If these were the only roles I am offered, then I would simply leave the industry. I aim for my projects to not only resonate with our society, but elevate with a higher meaning and perspective. Like any form of art, films need to exist within the folds of humanity, not merely pass as a sterile reflection of life without any input. In this way, my acting and writing philosophies completely overlap. I act and write if it provides a form of healing and growth.
I instantly fell in love with the script Forgotten Evil and with the character Renee because of the story's authenticity and her evolution as she refused to be a victim. Abused, effaced, and struggling to find the strength to redefine her value and purpose in the world, Renee projects the heartache and journey that we can all relate to, to some degree. I feel it is human nature to enter a phase in our life in which we question our intrinsic value in the world, and are forced to rebuild, redefine our happiness, and reorient our mission. Life moves forward to exist, and we must move with it, even if that means painfully evolving into a new chapter.
My co-stars Angie Dick and Kyle McKeever made the journey that much more worthwhile. I feel we've all been impacted by this story to some degree.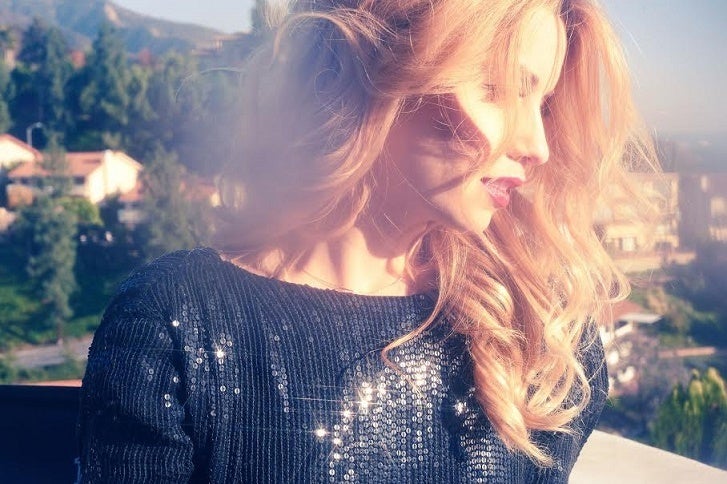 With Sharknado 4, can you tell us some of your favorite memorable moments while being on set?
What intrigued me about Gemini in Sharknado was her lack of definition as a character when I first stepped on set. I loved the prospect of building her from the page up, and the idea of collaborating with our director, Anthony C. Ferrante, to find her true place and value within the Sharknado universe. While Sharknado can be unapologetically fun, and is known to gleefully break the rules, it does this with a pure heart and with core human values that I am incredibly proud to portray. My most memorable moment was diving off the Stratosphere hotel in Las Vegas at 4am. Strapped in, I peered down at the blinking Vegas strip, the director yelled, "Jump! And don't scream!" and off I went. Anthony did a terrific job stitching the Sharknado plot with a lot of soul.
Speaking of Sharknado...Your fans want to know, will there be a Sharknado 5?
Yes, there very well could be a Sharknado 5. Absolutely.
Calling all HuffPost superfans!
Sign up for membership to become a founding member and help shape HuffPost's next chapter
This post was published on the now-closed HuffPost Contributor platform. Contributors control their own work and posted freely to our site. If you need to flag this entry as abusive,
send us an email
.