"Discrimination, racism, sexism is still very much alive in this world, and it's something I strongly disagree with," said singer FHB. "I really don't believe people should label anyone."
Being put in a box by either fans or the music industry is so appalling to FHB, a (literal) shroud of secrecy surrounds her identity. She goes to such extremes to avoid it, from promo materials to music videos, the mysterious musician wears a mask. In fact, until she debuted live at Chicago's LGBTQ Market Days this summer, it was even unclear (and still remains a bit iffy!) whether the emerging pop act behind radio-friendly hit "Regular" was a solo act or group.
"It's all for good reason," the singer promises with a giggle, "I really want to focus on the music and be free."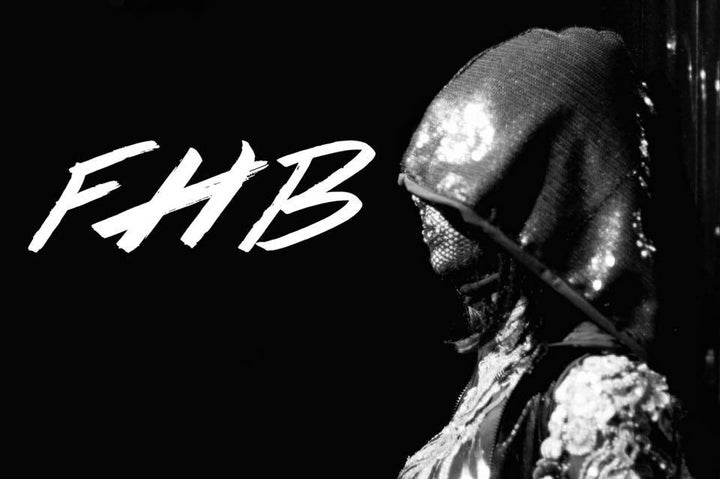 "By managing my identity, I'm able to get the raw reaction to the music -- and get people to appreciate the art for what it is," FHB said. "We are very secret – for right now – but we will reveal who I am in time. I want to be free and be able to do what I want to do. Right now, this is how I'm introducing myself."
Meanwhile, rather than promotional efforts based on appearance or public image, the clandestine diva is building a following through her music. It's "an incredible feeling," she admits, to attract in listeners who have no real knowledge of the person behind the track.
BELOW: A HuffPost Exclusive Video of FHB's Market Days Performance for the LGBTQ Community
"That's been especially so important to me, because they don't know anything about me," she shared. "There is no pre-history of who FHB is. [Fans] can't search anywhere online and see who the face under the mask is. They are just accepting me for me and the music; it means the world to me."
The queer community, FHB stated, has been especially welcoming. After releasing "Regular" on YouTube earlier this year, this summer she performed live for the first time at the Chicago Market Days Festival. Drawing over 180,000 people, the Midwest's largest annual street fair benefits an assortment of LGBTQ charities.
"The LGBT community was there at our very first performance, they embraced who I am and my creativity, and they have been following my journey since," said FHB. "I don't really get a lot of questions from the LGBT community. I don't want to be labeled; I just want to be free. We connect in that way -- and through fashion."
As FHB continues to enjoy the success of "Regular," which received both radio and club attention, promised follow-up single "BAGS" further teases a full-length album in 2017. Though presently "very urban-inspired, very rhythmic-based with a pop appeal," she sees "no limit" to either her look or music as her artistic evolution continues.
"It takes a lot of bravery to go against the grain," said FHB about her unusual approach to the recording industry. "My hope is to inspire others who want to go against who people want them to be to come out and be themselves. I'm really just being me, and I want to inspire other people to feel they can do anything."
According to FHB, blazing an unconventional path speaks to her vision as an artist – a vision she thinks many other musicians share.
"We just want to do what we love, and we love music," she stated. "I love fashion, and creating, and I want – especially coming out – for everyone to appreciate that for what it is.
"I want to strip down everything else, so it's just about the music and the art," FHB concluded, "Because that's what's most important."
Listen: FHB on "Party Foul Radio with Pollo & Pearl"
Calling all HuffPost superfans!
Sign up for membership to become a founding member and help shape HuffPost's next chapter