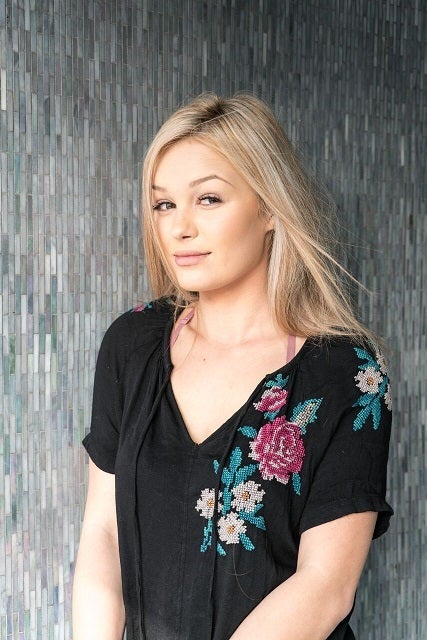 Teenager Mason Ashley puts pen to paper to masterfully craft lyrics that tell a timeless story, designs a melody that captures raw emotion, and then sings with an enchanting voice that lulls the listener to another time and place. She is at the start of a blossoming career with a maturity of sound and emotion well beyond her years.
Music has been in her blood since birth. Mason could hear a song on the radio, march her seven year old self into the house, sit down at the upright piano inherited from her great, great grandparents, and begin to play the song she had just heard. She had an ear for music and could play nearly anything she picked up. After piano, came the guitar. Her grandfather was throwing away an old Conn, she saw it in the trash, and was mortified at the injustice of throwing away a piece of art. After rescuing it, she began to play, but something else happened. That old throw-away guitar thrust her into a whole new world of songwriting at the tender age of nine.
Music is in your blood. At what point in your life did you decide to make it your career?
I started recording demos when I was 13 and that's when I think it got serious for me. I had always been passionate about music but it got real for me when I started recording in an actual studio. I knew it was what I wanted to do for the rest of my life.
Growing up, did you play out at open mics? Parties? I often hear musicians have a 'need' to get out and play, even if there's no money. Did you have that need?
I definitely did the play-for-experience-not-cash thing for years. I just wanted to play because I connect more with my own music when I play. I did a weekly gig at a Mexican restaurant just for tips and played opening gigs for years just to gain fans and experience. I'm glad that I did that for a while because I learned so much about performing and music before money was even part of it.
Tell us about your first guitar when you were 10 years old?
My grandpa owned the 50 year old Conn that he was throwing away and I rescued it from the dumpster (literally.) For my 10th birthday, my parents got me a Jasmine Takamine and I fell in love. I still have the guitar along with the Martin they got me for my 15th birthday.... I have a pretty great family.
What makes your music different than someone else's music?
Music is so powerful because every song is different. Two people can go through the same situation and write two completely different songs because it's all based on perspective. My music is just honest. I use it as my therapy and I pour my soul into every line. My songs are like my diary. My music is different than someone else's music because my story is different than theirs.
What are the details about the making of the Strangers music video.
My dad works in visual effects and he worked with someone on a project that was actually leaving the company to start his own production company. My dad (being a good dad/manager) mentioned my music to him and our relationship with him built from there. We did my first music video, Paper Planes, with his company and had an amazing experience, so we decided to work with them on the video for Strangers. They pitched the video concept to me through a Skype call and I was blown away. The choreographer captured my vision for the song so flawlessly that it made me emotional. We shot the video in two long days in West Virginia and they started editing right after that. The editing process didn't take long because I was honestly just so in love with the concept from the beginning and I truly could not be happier with how it turned out.
Having been into music your whole life, and more recently in your teen years taking it to the next level as a business, what more do you feel you have to learn about music and the music business in general?
Transitioning from writing and singing in my bedroom to people I've never met hearing my music has been so interesting and exciting for me. I feel like I've learned so much over the past few years but I still have so much to learn. I look back at videos from my first performances when I was twelve years old just to see how far I've come and how I never dreamed I'd be even doing this interview right now. The writing and creative part comes easy to me, while the technical and promotional part is definitely more difficult for me. I'm definitely still trying to get used to self-promotion and time management and the business side of things. This career really is so unpredictable and I honestly can't wait to see where else it takes me.
Tell us about your name "Mason".
My parents wanted a boy..... KIDDING. My mom liked the name Madison but she really wanted to give me and my brother unique names, so they shortened Madison and I became Mason.
What advice do you have for the under-18 crowd who are passionate about music?
If you love music, then put everything you have in it. It is definitely not the easiest career, but I think it's one of the most inspirational careers you can pursue. Music has the power to make absolute strangers connect with you...use that power. Write as much and as openly as you can. Sing as often and as passionately as you can. Be honest and real and work hard, but be open minded because you never know where the road will take you. Push yourself and test the limits because that's what music is about.
Mason Ashley's music video: Strangers
Related
Popular in the Community