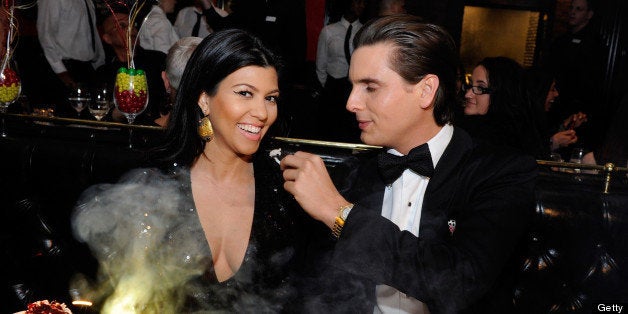 Face it. The Kardashians are simply inescapable.
Surprisingly, one Kardashian has yet to show us his full potential -- Mason Dash Disick. As one of Hollywood's cutest celebrity babies, Mason has the makings of a star. Here's why:
1. Mason keeps it real. The cardinal rule for reality TV gold is never be fake. Even as a youngster, Mason is aware of and can call bullsh*t when he sees it. He tells it like it is.
2. He realizes Kris Jenner is a momager first. No doubt grandma wants to sign him up for baby bib or binkie deals. Mason is not having that. He's no sellout.
3. He has no time for drama. Being a Kardashian means having drama in your blood. Mason knows ain't nobody got time for petty business. Onto the next one.
4. Partying, partying, YEAH! He has insanely fun relatives to party with and gets more attention than Kim. Who wouldn't want to get chocolate wasted with this kid?
5. Mason is a master of the selfie. You cannot be a Kardashian if you don't know your way around an Instagram account. Or a duck face.
6. He's not afraid to show his less glamorous side. It's inevitable the camera will capture some unflattering moments when filming 24/7. Fortunately, Mason is (literally) comfortable displaying vulnerability.
7. He is okay with tastefully showing off. He is one of the few Kardashians who supports partial nudity.
8. Mason is religiously grounded. Constantly being in the public eye can take a toll on one's character. Mason recognizes the importance of being grateful and the existence of a higher power.
9. He is always right. He inherited dad Scott Disick's stubbornness and that's fine. It's Mason's way or the highway. Penelope may be in for a rude awakening.
10. Diets don't scare him. Mason isn't consumed with body image. He eats what he wants and doesn't care. Viewers can easily relate to this. Good work.
11. He steps back to celebrate life's moments. Whether it be a birthday, first word or the birth of his little sister, Mason is always up for toasting l'chaim (with milk, obviously).
12. Mason flaunts it. He is aware of his chick magnet status. Watch out ladies, Mason is about to break a bunch of hearts on the playground.
13. He's a risk taker like Scott. See how unfazed he is on the race track? Just call him Mason Danger Disick.

14. He is unapologetic about boundaries. It's basic Kardashian code to poke at each other's parts. Mason is already showing promise; no boob is left behind!
15. Mason has a loving family. Sure they're a little nutty but the Kardashian-Disick brood is tight-knit. Their love knows no bounds. We all can appreciate and want to see that.
Calling all HuffPost superfans!
Sign up for membership to become a founding member and help shape HuffPost's next chapter
BEFORE YOU GO
PHOTO GALLERY
The Kardashians