So, how did it happen? Well, it's certainly due to changing popular attitudes about the drug as well as the hard work of many people at multiple marijuana reform groups across the nation -- including one person in particular who was at the forefront of Colorado's marijuana legalization effort for years: Mason Tvert, co-director of the Campaign to Regulate Marijuana Like Alcohol, the group behind Colorado's marijuana legalizing Amendment 64.
On Friday, Tvert dropped by "Real Time with Bill Maher" to discuss the big victory for marijuana.
"You had a big victory, how do you feel, did you get high?" Vocal marijuana reform supporter Bill Maher said to Tvert who responded with, "No, it feels good to know that 10,000 people in Colorado are not going to be arrested and made criminals next year just for using marijuana."
Maher, who shoots his show in Los Angeles, California -- a state which has legal marijuana for medical use -- asked Tvert how he got Amendment 64 to work in Colorado and how California can get something similar on the ballot.
"What we really did is we inspired a long discussion in Colorado over the last eight years about marijuana -- and about the fact that it is safer than alcohol which is really an important point that a lot of Americans still don't understand yet," Tvert said. "We looked at survey data, we see that almost a third of Americans think marijuana is more harmful than alcohol which is insane, obviously."
Tvert and Maher also spoke about the likelihood of California legalizing marijuana in the near future. "California, I think you guys are poised to do it," Tvert said to Maher. "I know you made a very generous contribution to Barack Obama and I think if you and twenty of your friends want to get together and make a similar contribution -- we'll have this done in a year or two."
"Will you move here and do it for us?" Maher responded. "I will do it just for you," said Tvert.
Later in the interview Maher invented a new definition for Colorado Governor John Hickenlooper's last name: "I think the word 'Hickenlooper' should become a word we use when you take too big of a bong hit."
Maher also brought up the governor's vocal opposition to Amendment 64 prior to the election and then his "don't break out the Cheetos and Goldfish" follow up response to A64's passage. Hickenlooper has said that he will respect the voters' will and did have a phone call with U.S. Attorney General Eric Holder on Friday to discuss Colorado's legalizing of marijuana and how the feds might respond, but the results of that call gave no clue as to whether or not the Department of Justice will sue to block the marijuana measures in Colorado and Washington, according to The Associated Press.
"What an insult to the majority of voters who did not follow your recommendation, governor. I wouldn't be surprised to see that comment bite him in the ass."
There is a sense that Hickenlooper is almost hoping the feds will put the kibosh on Amendment 64, and is purposefully not doing enough to support the will of the voters here.

But for Gov. Hickenlooper to more or less insult an electoral majority, while meekly awaiting the edict of federal law enforcement on Amendment 64, makes him appear feckless and contemptuous of the same Colorado voters who elected him--even more of whom, we are obliged to point out, voted to legalize marijuana than voted for John Hickenlooper in 2010.
So while Hickenlooper practices his stand-up comedy career wisecracking about the majority of Colorado voters who want marijuana legalized and expect their elected officials to respect their wishes, the state's three Democratic U.S. House members are actually doing something to achieve that end by drafting legislation aimed at easing tension between the new state law and the federal prohibition of marijuana.
More from Tvert on "Real Time" during the "Overtime" segment below the slideshow, Tvert speaks around 9:15 into the clip: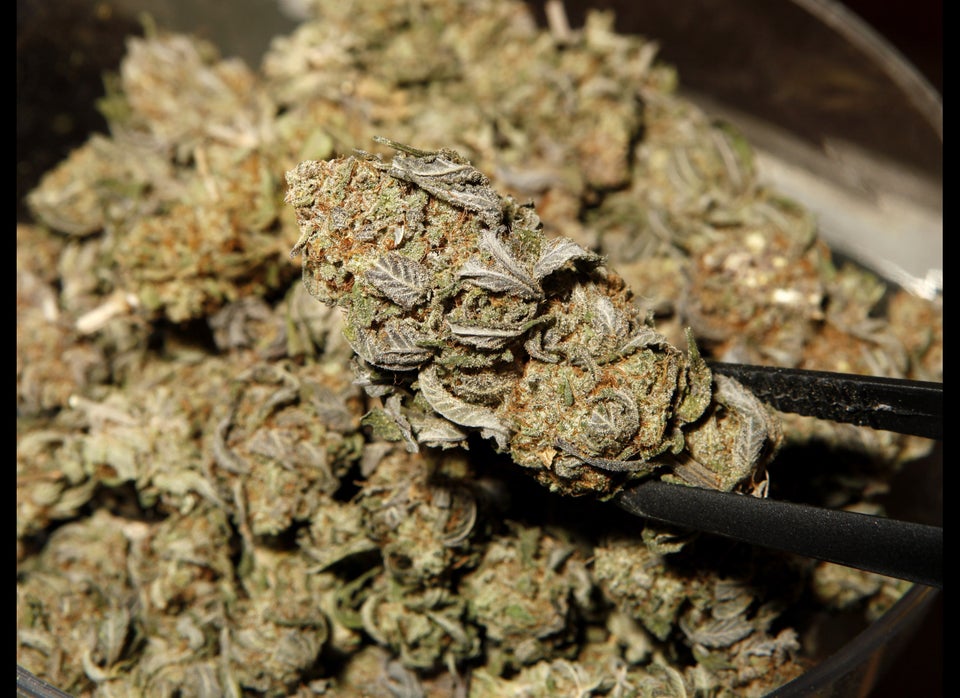 16 Facts About Marijuana And The U.S. Economy