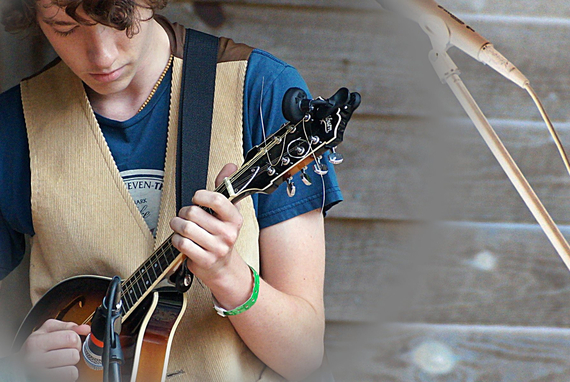 Mason Via is transcending musical genres with his unique brand of what has been described as Appalachian funky folk, soulful acoustic, rhythm and bluesgrass and groovy Americana. His debut album, "Up, Up, Up," is an eclectic mix of Appalachian string instrumentation, world percussion and soulful vocals mixed with powerful songwriting. But it's his country roots that come through the loudest and clearest when he hits the stage. No surprise really when you learn that the Danbury, North Carolina, native grew up in the shadow of Hanging Rock State Park in rural Stokes County on the banks of the Dan River. "Living in correspondence with nature is one of the main points of my music," Via, pronounced like "sky," explains on a new micro-documentary, "Back to the Rock," on his website. "It started out as a promotional video and turned into a micro-documentary," says Via, adding that friends "who live down the road" Dan and Arley Wolber produced the video through the Winston-Salem-based Camel City Dispatch. "You can't live without music," he says on the video. "Personally, everything is music. It's all around us. I think Appalachian folk music, bluegrass and old time, it corresponds with the natural environment. The woods. I love it. Call me a country boy. I couldn't live in a city for a long time." This apple doesn't fall far from the tree that is his father, David Via, an award-winning songwriter and bluegrass and blues musician, who has won MerleFest's Chris Austin Songwriting Contest three times. The younger Via's boyish good looks and infectious laugh give way to someone much more mature, however, when he is up on stage. "Songwriting was almost expected of me because my father is such a great songwriter," Mason Via says. "I grew up going to fiddlers festivals. The desire to create is almost inherent. Appalachian roots music is a spiritual homage." It's that spirituality that makes Via's tunes appear to come from someone who is much older than the tender age of 19. He also wants the world to know that he's not a one-trick pony. He starts working on his environmental studies degree at Warren Wilson College in August. "We're suffering an environmental crisis. Our Earth is screaming out for help. I want to be part of the fight to help that cause out."
Via is no stranger to area music festivals including Rooster Walk Music and Arts Festival, which is where he first caught my ear in the spring of 2015. In addition to Rooster Walk, this summer he's performed at the Summer Solstice Fest in Greensboro, Groverfest in Olin, the Strawberry Festival in Shelby and the Virginia Folklife Festival, among others.
Next week, however, marks a personal milestone when he will perform at FloydFest for the first time. As a finalist of the Ferrum College Workshop Porch Musician/Band Contest that landed Via a spot among FloydFest's On the Rise (OTR) bands, he will perform on the Ferrum Porch Workshop Stage twice and at VIP. He's in great company. The past two OTR band winners -- Look Homeward and Swampcandy -- were Ferrum College Workshop Porch finalists, who were voted by FloydFest fans as their favorite up-and-coming artists. "I'm really excited because I've been going since I was about 10 years old," Via says about playing FloydFest, which was named as one of Time magazine's best 240 things about America in the Fourth of July issue and Fox News named the music festival among the year's hottest. "FloydFest is a stepping stone for me that says, well, I've made it this far. I've always wanted to play FloydFest. I'm not touring for a living but this gives me some hope and motivation that I could do this if I wanted to for a living." Via is grateful to his mother, Cynthia Smith Mabe, who helped him put in his application for the contest. "I am very thankful for her for that," he says. "It's a big honor. They thought my music embodied Americana music." In addition to his father, this young singer-songwriter counts Michael Jackson, Marvin Gaye and Otis Redding among his greatest influences, not exactly role models one would associate with folk and bluegrass, but does explain why he most recently has been touring with a funk band. "It's fun getting up there on stage and getting a little wild," Via says."I think it's a super cool instrumentation. I have a full six-piece band (to play at FloydFest) and my dad makes seven. I'll be singing and playing guitar with Kasey Lucas on bass, Camry Harris on drums, Austin Janey on keys and synth and banjo, Eli Fribush on sax, E-J Trice will be on pedal steel and my dad, David Via, will be playing some mandolin."
Can't make it to FloydFest this year? Via's also scheduled to perform at the Blue Ridge Music Center on Saturday, Aug. 6, and, of course, the Galax Old Fiddlers Convention. "Galax to me is a spiritual pilgrimage," Via adds. "Maybe that will be me one day, going to a normal job and just going to fiddlers conventions and playing because it's fun."
After watching this budding musician on stage for a few sets, my bet is that he's wrong about that "normal" job. Check him out at FloydFest and let me know what you think.
Popular in the Community