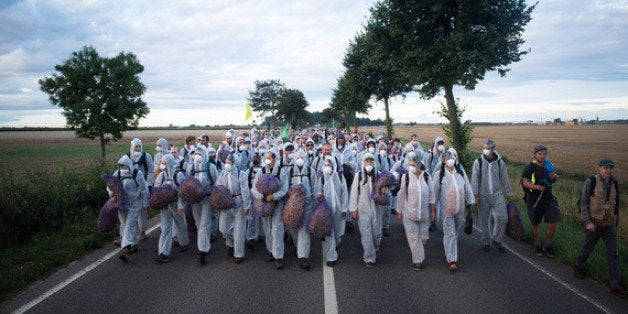 Last Saturday, 1,500 people confronted Europe's biggest carbon polluter in an unprecedented mass act of civil disobedience. Around 1,000 of the group managed to enter the vast open-pit lignite mine of Garzweiler in Germany's Rhineland, bringing the giant excavators to a standstill.
Lignite or brown coal is the most carbon-polluting fossil fuel. Utility company RWE that operates the vast lignite mines and power plants in the Rhineland is the single biggest emitter of CO2 in Europe.
The activists openly announced well in advance of the action that they are no longer prepared to watch politicians' failure to act on climate change and are prepared to peacefully enter the mine to stop the world's largest diggers and demand an end of coal. As a result, 1,000 police in addition to RWE's private security service were on site to prevent the activists from entering the mine. In places, the police reacted with extensive use of pepper spray and batons but the activists remained calm and committed to non-violence.
Around 1,000 activists managed to enter the mine and shut it down for hours. The true impact of the action however is the message it sends to governments and the fossil fuel industry and the power ordinary people are building. Many of those that joined have never taken direct action before and said the action left them feeling empowered to bring about change.
One of the participants from the UK writes that he hopes "we are entering a period which will be remembered as a time when normal people got together and did extraordinary things. Because when people begin to recognize the limitations of a system of individualism and self-interest and begin, collectively, to seek change, remarkable things can happen."
Calling all HuffPost superfans!
Sign up for membership to become a founding member and help shape HuffPost's next chapter