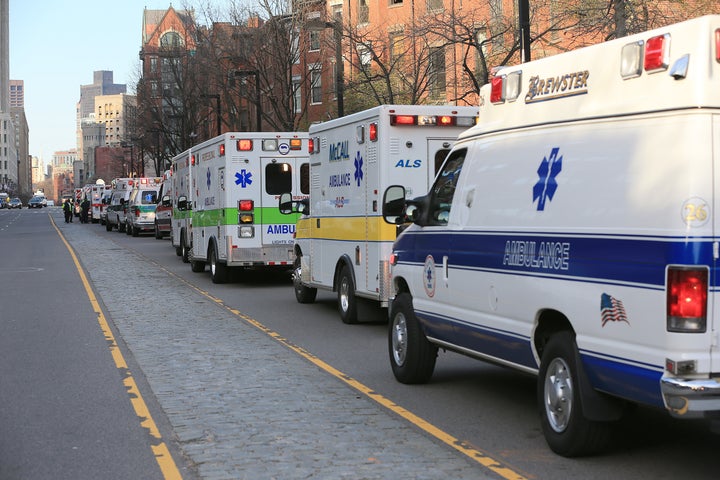 BOSTON -- Grieving family members of nearly 30 victims rushed to Massachusetts General Hospital after Monday's twin explosions near the finish line of the Boston Marathon were among those waiting for answers as the toll increased and rumors spread through the city.
Mass General received 29 patients, eight in critical condition, the hospital said. Injuries ranged from minor cuts to amputations. Some of the injuries were "very severe," said Dr Peter Fagenholz, a trauma surgeon at Mass General. The most common serious injury, he said, was in victims' legs.
Several victims will require additional surgeries, Fagenholz said. None of the victims were children.
At least three people were killed and more than 140 people were injured in Monday's blast, according to police and hospitals. Boston Children's Hospital treated 10 victims, including a 9-year-old girl and a 2-year-old boy with a head injury.
At Mass General, police and security forces maintained a blockade of the hospital, preventing some patients from entering. More than two dozen police officers kept guard at the hospital's entrance and in neighboring streets.
At one point, one of the hospital's parking garages was closed off as police SWAT teams searched discarded bags. Nothing was found.
Visitors wishing to see patients injured in the blasts had to navigate numerous police checkpoints set up near the hospital entrance. News media were blocked from the building.
Inside, hospital workers and patients hurriedly called friends and family to share what they had seen from Monday's carnage.
Some spoke of treating patients with shattered limbs while choking back tears. Visitors who were trying to see family members rushed through the hospital's doors, desperate to find out whether their loved ones were unharmed.
It was a traumatic scene, said Michael Berman, of Boston, who was visiting a friend hurt in an unrelated incident.
"These people just had this look of pain, anguish on their faces," Berman said. "Everyone was trying to help them, but they looked like they were in agony. What do you say to that person?"
Berman was among a group of hospital visitors with no connection to Monday's attack. Many of them said they wished they could have helped the victims, their families or hospital workers but they didn't know how. They simply watched the scene unfold before them, and tried their best to stay out of the way.
"All we can do is pray," said a 54-year-old woman, who declined to give her name but said she was visiting a relative. "My heart goes out to the families."
Popular in the Community