The United States incarcerates more people than any other nation in the world, and women are an important part of that equation. About a third of all female prisoners worldwide are locked up in the U.S., according to one frequently cited study, and more recent reports suggest those numbers may have risen over the past few years.
A new chart from the nonprofit Prison Policy Initiative compiles federal data to give us a closer look at where the nation's 219,000 incarcerated women are being held and for what. Although many of the trends are relatively consistent with the general incarcerated population ― which includes 2.3 million people behind bars in a sprawling network of prisons and jails ― some are amplified when looking exclusively at women.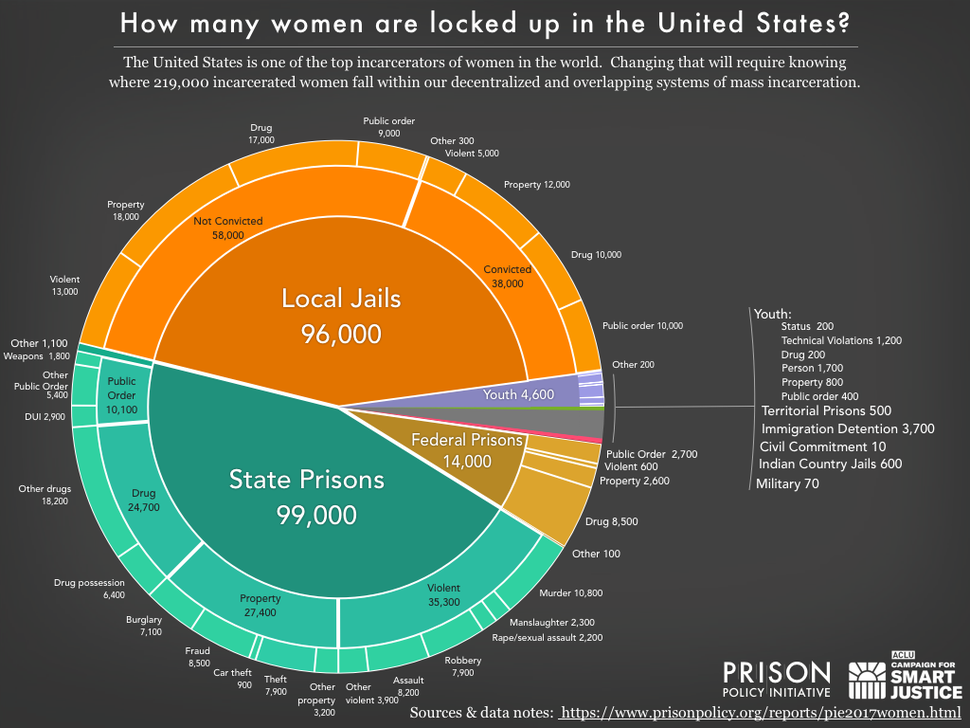 Women are more heavily concentrated in jails than the overall population. While state prisons nationwide house more than twice as many inmates as local jails, women are nearly evenly split between state prisons and jails. Previous studies have shown that women in jails are the fastest-growing segment of the incarcerated population.
Of the women currently being held in jails, more than 60 percent have not been convicted. Overall, these individuals make up more than one-quarter of all incarcerated women in the U.S.
Most of them are facing low-level charges, which suggests tens of thousands of women are in jail in the U.S. simply because they can't afford to pay their way out. They are victims of a much broader money bail system that often leaves poor people to languish behind bars, where they're often disconnected from family members and support systems, fired from jobs and stripped of access to public assistance. Sometimes they plead guilty to crimes they didn't commit simply to get out of jail. The smaller number of women facing more serious charges may have been denied bail while they await trial.
Women are also more likely than the overall population to be held in jails after conviction. About a quarter of all women serving time after conviction are locked up in local jails. Nationwide, only about 10 percent of all convicted inmates are housed in jails.
Women in jail are mostly black and Latino, overwhelmingly poor and low-income, according to a recent study. Nearly 80 percent of them are mothers, and many are primary caretakers of their children. Many are victims of sexual or domestic violence or suffer from mental illness.
Nationally, more than 70 percent of the U.S. jail population has not been convicted. These individuals make up about 20 percent of the incarcerated population.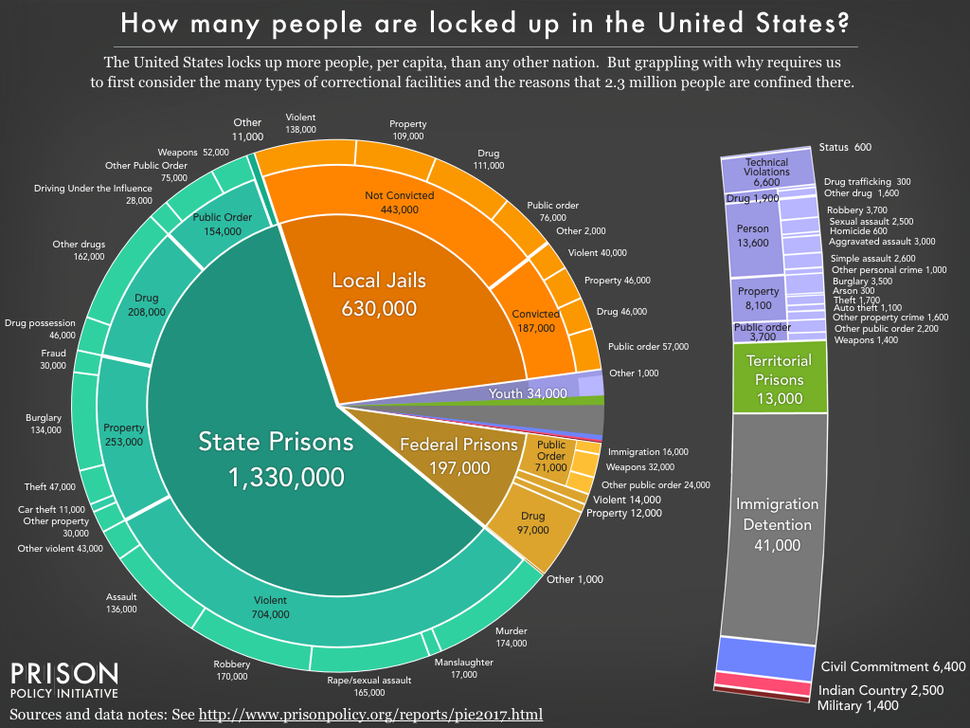 The two charts show that women are getting locked up for some of the same reasons as men. About 37 percent of all incarcerated women in the U.S. are behind bars for drug or public order offenses, a number that tracks closely with the overall incarcerated population.
But women are less likely than men to be locked up for violence. Just under one-quarter of all incarcerated women are behind bars for violent offenses. That's substantially lower than the total incarcerated population, of which nearly 40 percent are in jail or prison for acts of violence.
The Prison Policy Initiative touts the study, done in collaboration with the ACLU's Campaign for Smart Justice, as a "first-of-its-kind" look at incarcerated women in the U.S. Aleks Kajstura, the report's author and legal director of the Prison Policy Initiative, hopes her work will be used to spark "a national conversation" about how the criminal justice system specifically affects women.
"This new data on women underlines the need for reform discussions to focus not just on the easier choices but on choices that can lead to impactful policy changes," wrote Kajstura. "While more data is needed, the data in this report lends focus and perspective to the policy changes needed to end mass incarceration without leaving women behind."
Calling all HuffPost superfans!
Sign up for membership to become a founding member and help shape HuffPost's next chapter