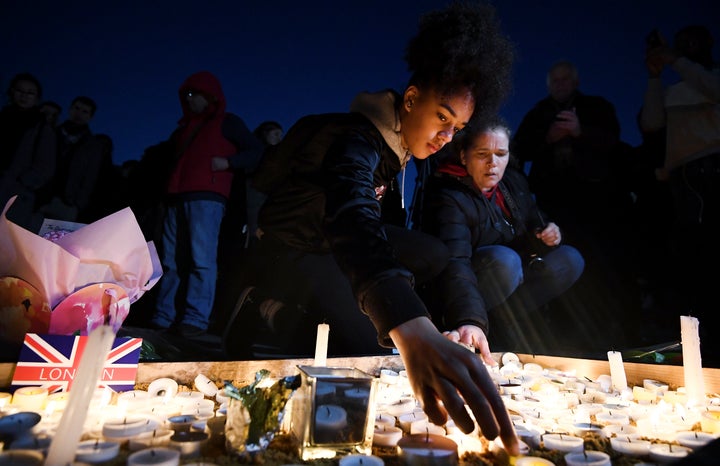 UPDATE: June 15 ― In the wake of Wednesday's attack on members of Congress at baseball practice in Northern Virginia, we've resurfaced this story. HuffPost has previously written about how men who attack the public often have a history of abusing those closest to them first. And in the U.S., most mass shootings are related to domestic violence. The suspect in Wednesday's shooting― James Hodgkinson ― appears to fit this tragic pattern. He was previously arrested for domestic battery after allegedly assaulting his teenage foster daughter, though the charge was later dropped.
The pattern has become dismally routine: A man, typically acting alone, commits an act of public violence stunning in its indifference to human life. In the days following the attack, reports emerge that before he carried out his murderous rampage, he practiced his brutality against his own family.
The recent terrorist attack near Britain's Parliament appears to be yet another example of this phenomenon. Last week, Khalid Masood drove a car through a crowd of pedestrians on Westminster Bridge in London, killing three and injuring 50, before stabbing a police officer. He was shot to death.
A relative of Masood's former wife, Farzana Isaq, spoke last week to the U.K.'s Daily Mirror, claiming that Masood was violent and controlling toward Isaq, and that the abuse was so severe, she was forced to flee the marriage after three months. To date, the Mirror is the only outlet to provide any details on this alleged aspect of Masood's life.
The claims suggest that Masood belonged to a terrifying club of men who directed their violence against their partners and families before perpetrating shocking acts of public carnage.
Mohamed Lahouaiej Bouhlel, who allegedly beat his wife, rammed his truck into a crowd in Nice, France, in July 2016. A month earlier, Omar Mateen opened fire in a nightclub in Orlando, Florida, committing the worst mass shooting in U.S. history. He also allegedly beat his ex-wife, and his widow, who now faces charges, claims he abused her too.
This list is nowhere near complete.
Domestic violence occurs far too frequently in the general population for it to serve as a useful predictor of terrorism or mass violence on its own, said J. Reid Meloy, a forensic psychologist who has studied lone-actor terrorists. But paired with other factors, he said, it could be valuable and deserves additional research.
It's not uncommon for people who commit acts of mass violence to have a history of hurting others, including their own families, he said.
That was true of Masood, who had a series of criminal convictions for assault and weapons possession dating from 1983 to 2003.
"Generally speaking, past violence does predict future violence," Meloy said. But what was most revealing, he said, was how terrorists struggled to maintain stable relationships. Eighty-four percent of the individuals in the study had historically failed to form lasting sexually intimate relationships.
"We know that having stable bonds with other people does mitigate risk of criminal violence," he said. "When there is instability or an absence of a close connection to another person, that is a risk factor for engaging in criminal behavior."
Paul Gill, a professor of security and crime science at University College London, said that when lone-actor terrorists become radicalized or decide to commit an act of violence, they are usually experiencing multiple stressors in their lives ― a breakdown in family relationships, loss of a job or social problems, for example.
In the case of Tamerlan Tsarnaev ― who planted bombs at the Boston Marathon in 2013, killing three people and injuring more than 260 others ― life was not going as planned. In the years leading up to the bombing, he was arrested on charges of domestic assault and battery for slapping a girlfriend. He dropped out of community college and gave up on his dream to be a boxer before turning toward religious extremism.
Instead of looking internally for an explanation about why their lives have gone off the rails, Gill said, most people will blame their situations on other people, or on society as a whole.
"In many cases, they're just guys with an intermittent violent history, but they are aggrieved against different people along the way," he said. "For some, it's their wives. For other people it might be against their schoolteacher, or against the British state, or the U.S. government."
People who commit violence against their family members ― people they are supposed to love and care for ― may become desensitized as a result, Gill said, which might make it easier for them to plan and carry out mass murder.
"They are further down the line than the average individual in terms of the psychological hurdles that people may need to overcome to inflict violence on others," he said.
Still, he noted that there's rarely a simple, silver-bullet explanation.
"Typically, someone is aggrieved about something, and they decide to lash out as a direct response," he said. "You see a mixture of ideological drivers and interpersonal drivers, coupled with a lack of protective factors that culminated and crystallized at a certain point in a person's life."
Melissa Jeltsen covers domestic violence and issues related to women's health, safety and security. Tips? Feedback? Send an email or follow her on Twitter.
Support HuffPost
The Stakes Have Never Been Higher
Related
Popular in the Community