Drive three hours north of New York City, and venture (barely) across state borders, and you might find yourself in a town called North Adams, Massachusetts. With a population of just under 14,000 residents, the city plays home to one of the art world's most beloved institutions -- the Massachusetts Museum of Contemporary Art, or MASS MoCA.
Despite the city's diminutive native numbers, North Adams' MASS MoCA will soon become the largest contemporary art museum in the country, thanks to an impressive expansion plan set to be completed in 2017-2018. The museum recently held a press conference, announcing plans to bring exhibition space square footage up to 250,000 square feet, and in the process, introduce a largely new model of exhibiting art. MASS MoCA's palatial grounds -- comprised of converted textile factory buildings -- will host 15-25 year long shows; not permanent exhibitions but something quite different than the typical months-long installation. Artists and their foundations will continue to own the work on view, but the museum will take a vested interest in making sure the work sees the light of day for years to come.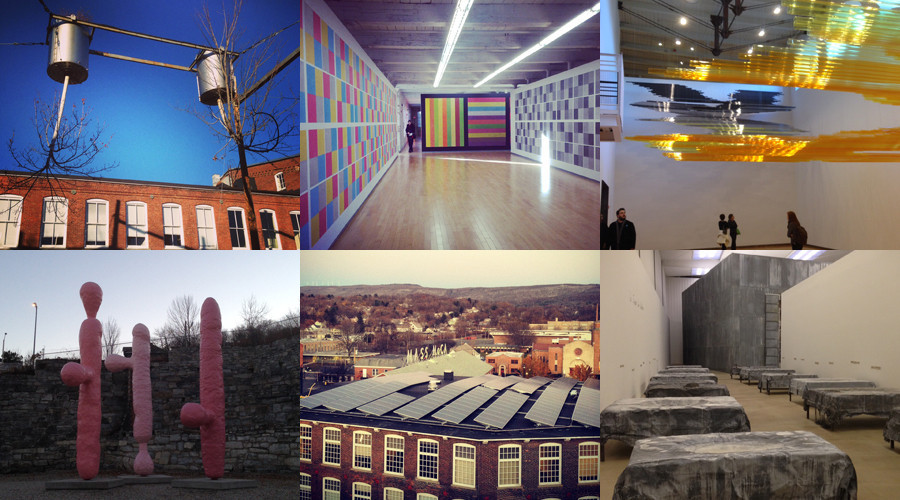 (Clockwise from top left: Natalie Jeremijenko's "Tree Logic," "Sol LeWitt: A Wall Drawing Retrospective," Teresita Fernández's "Black Sun," Anselm Kiefer's "The Women of the Revolution (Les Femmes de la Revolution)," a view of MASS MoCA from a campus building roof, and Franz West's "Les Pommes d'Adam." (Photos by Katherine Brooks)
MASS MoCA has an impressive roster of artists and foundations on board for upcoming projects: The Robert Rauschenberg Foundation, the Easton Foundation (Louise Bourgeois), James Turrell, Jenny Holzer and Laurie Anderson. Of course, the artists on view now are equally striking. There's the sprawling Sol LeWitt "Wall Drawing Retrospective," on view until 2033. Along with ongoing shows from Ann Hamilton, Lee Boroson, Darren Waterston, Anselm Kiefer, Franz West, Teresita Fernandez and Mark Dion. From painting to sculpture, performance to immersive installation, digital projects to retro film, the museum is a playground for the cultural curious.
The museum's expansion announcement, and its general track record of consistently celebrating the nether regions of contemporary art and music and film, is yet another reminder that there's much more to the art world than the confines of New York City. In honor of North Adams' bright future, we've compiled a list of the nine art destinations worth driving to from NYC (see map below):
1. MASS MoCA/Williams College of Art: From visual art to theater, dance, music and film, MASS MoCA quite literally has something for everyone. Since opening in 1999, the museum has focused on "large-scale and complex installations" that might not be possible in other, more conventional institutional settings. The three-part Sol LeWitt retrospective is enough to attract tourists to North Adams, but the 540,000 square feet of campus space at large is filled with treasures (currently including a precariously perched airstream, some bright pink and comically phallic Franz West sculptures, and dark corridors stuffed with digital and sound installations). Bonus, the Williams College Museum of Art is only a few miles away in neighboring Williamstown. Watch out for Louise Bourgeois' iconic eyeballs on the front lawn. (Approximately 170 miles/3.5 hours away from NYC by car)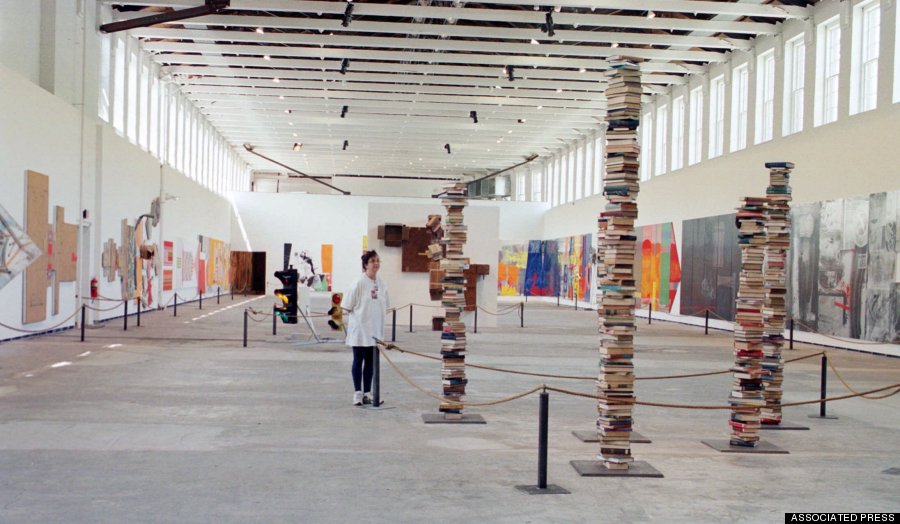 Massachusetts Museum of Contemporary Art employee Kathy Smigel looks at a portion of Robert Rauschenberg's "The 1/4 Mile or 2 Furlong Piece" which filled a gallery the length of a football field back in 1999 prior to the museum's official opening. (AP Photo/Neal Hamberg)
2. Storm King Art Center/Dia: Beacon: We've sung the praises of Storm King Art Center and Dia:Beacon before. To summarize, Storm King is a massive sculpture park stretching for 500 acres in New Windsor, NY, that has hosted works by artists like Alexander Calder, Nam June Paik, and Barbara Hepworth for the past 50 years. Dia:Beacon, part of the larger Dia Art Foundation family, currently holds the title for largest exhibition space (soon to be dethroned by MASS MoCA). It's housed in a former Nabisco box printing factory on the Hudson River in Beacon, NY, and each room within the structure was designed "specifically for the presentation of one artist's work." The two are close by, so a dual trip is easy. (Approximately 65 miles/1.5 hours away from NYC by car)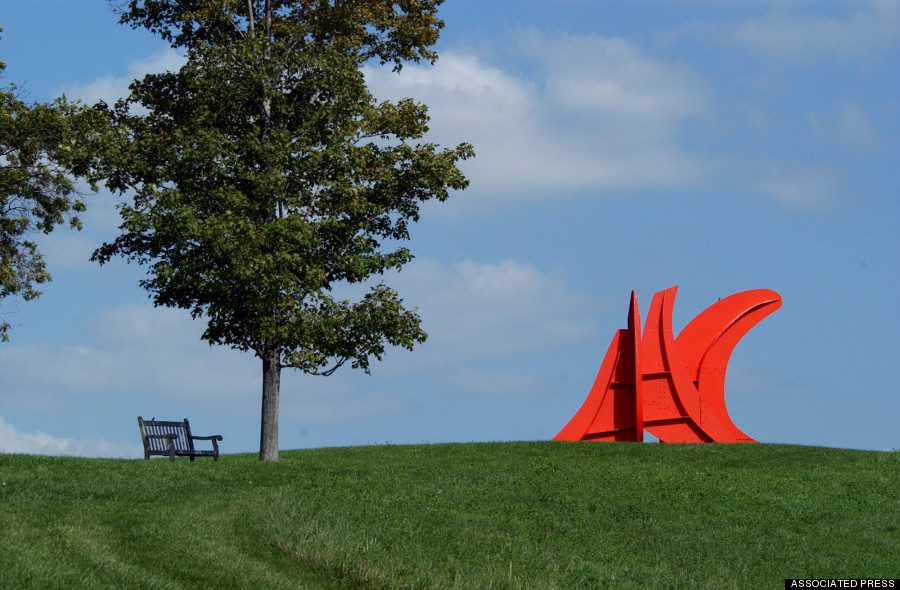 Alexander Calder's "Five Swords, 1976" sits on top of a hill with a bench on Monday, Sept. 30, 2002, at the Storm King Art Center in Mountainville, N.Y. (AP Photo/Jim McKnight)
3. Mana Contemporary: Mana Contemporary opened in 2011 in Jersey City, New Jersey, and has hopes of eventually expanding into a 1.8 million-square-foot institution. The museum recently showcased both a "Best Of" show for Judy Chicago and a Picasso etching bonanza, and is presently hosting one exhibition dedicated to Icelandic pop artist Erro and another to Ken Price's silkscreens about Harvey Mudd. It's so close to NYC, there's almost no excuse not to check out this Jersey gem. (Approximately 4.5 miles/20 minutes away from NYC by car)
4. Yale University Art Gallery: The Yale University Art Gallery in New Haven, Connecticut completed a major renovation two years ago, led by Ennead Architects, that made room for a rooftop sculpture gallery. The institution makes it a goal to include students in the curation and maintenance of the overall site, showcasing (currently) works from far-reaching media including experimental book art, Mexican poster and print work and "monumental" pieces from Indonesia and New Guinea. There are also 4,000 objects across the gallery's three buildings making up an ogle-worthy permanent collection. (Approximately 80 miles/1.5 hours away from NYC by car)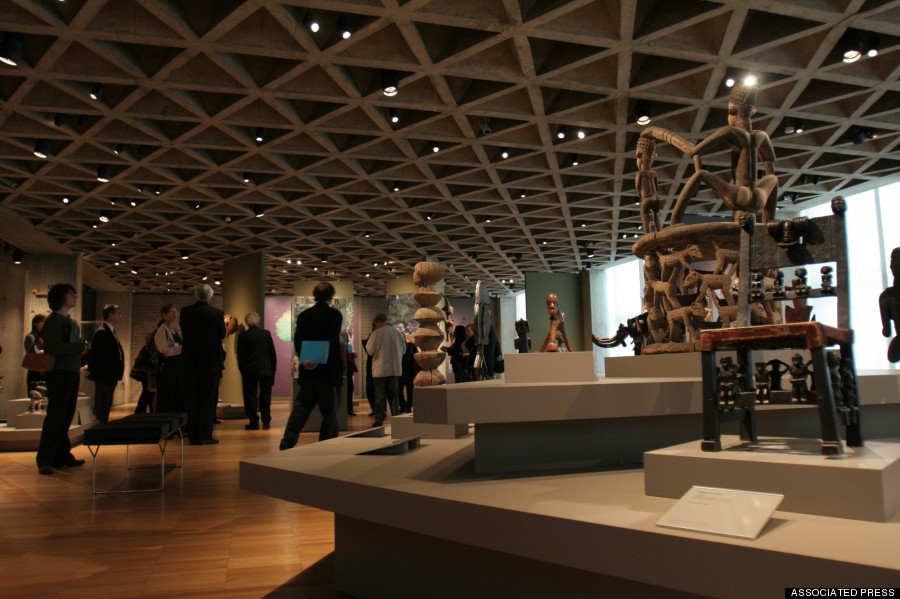 The Yale University Art Gallery housed in the Louis Kahn Building in New Haven, Conn. seen Thursday Nov. 30, 2006 has undergone a major renovation and is scheduled to re-open Dec. 10, 2006. (AP Photo/Michelle McLoughlin)
5. Philadelphia Institute of Contemporary Art/Barnes Foundation: Head to Philadelphia's ICA right now and you can see artist duo Ridykeulous, Nicole Eisenman, Moyra Davey and Alex Da Corte with Jayson Musson. As a non-collecting museum, ICA is also one of the only kunsthalles in America. It celebrates contemporary art without a price tag -- that's right, admission is free to all. The Barnes Foundation, on the other hand, specializes in fine arts and horticulture, meaning you can spend equal parts inside drooling over Modigliani and Renoir as you spend outside drooling over the Merion campus plant collection. Seeing both in one tour let's you see two sides of the art world coin. (Approximately 95 miles/1.75 hours away from NYC by car)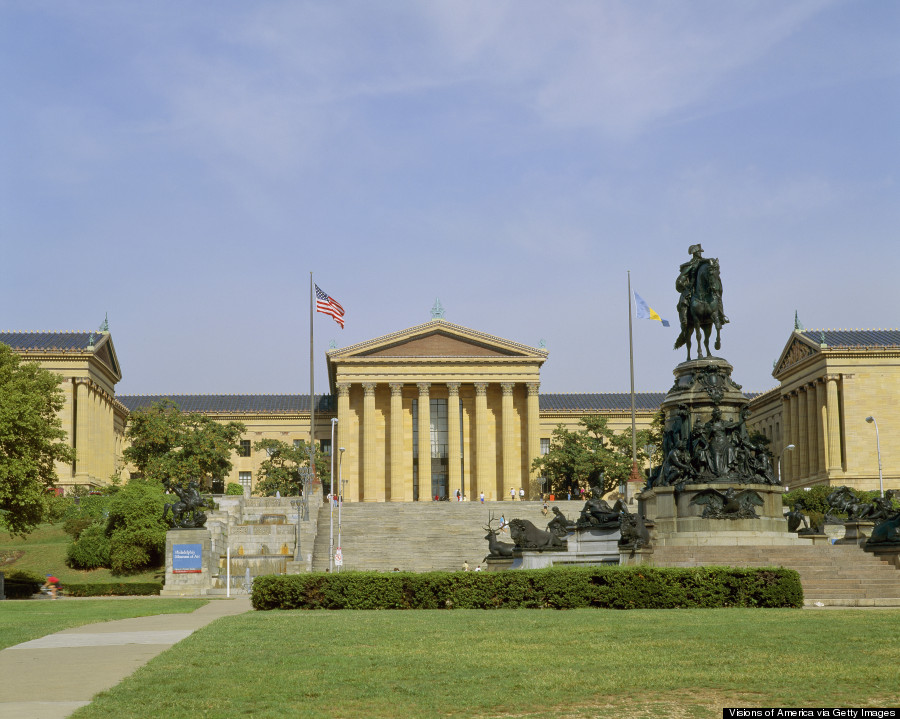 Philadelphia Museum of Art, Pennsylvania (Photo by Visions of America/UIG via Getty Images)
6. Philip Johnson Glass House/Aldrich Contemporary Art Museum: The Philip Johnson Glass House sits on 49 acres of pastoral lands in New Canaan, CT. Built between 1949 and 1995 by architect Philip Johnson, the site is an homage to both building design and art collecting (you just have to make it there between May and November to catch an official tour). The Aldrich Contemporary Art Museum is about 20 min away from the Glass House, but certainly worth a look while you're out in the countrysides of Connecticut. (Approximately 50-60 miles/1.25-1.5 hours away form NYC by car)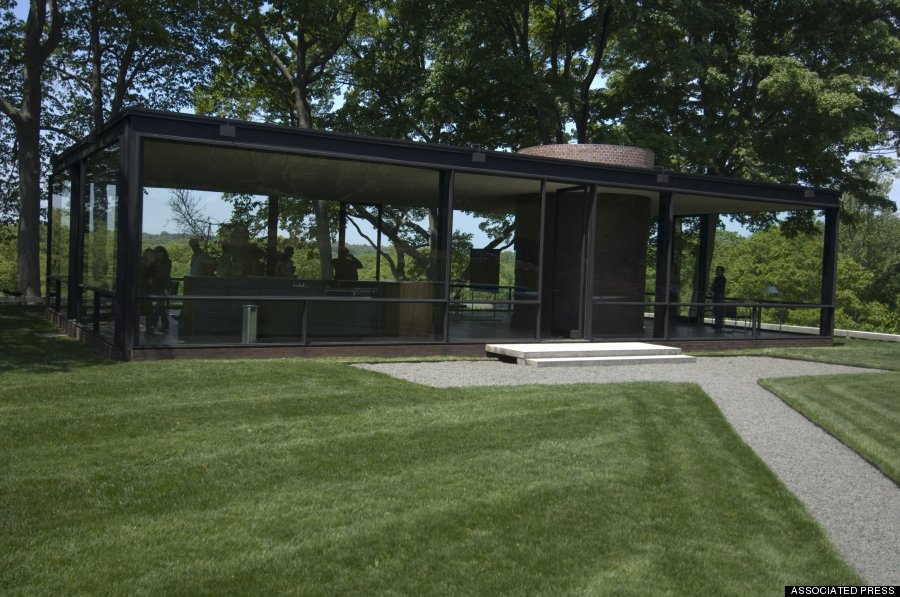 This is an exterior view of the Glass House designed by the late architect Philip Johnson. Johnson designed the house for himself and his partner in 1949, along with several other buildings at the site including a guest house, painting bunker and sculpture house. (AP Photo/Douglas Healey).
7. Grounds for Sculpture: Located in Hamilton, NJ on the former New Jersey State Fairgrounds, the Grounds for Sculpture takes up 42 acres with an evolving collection of outdoor works, as well as six indoor galleries filled with rotating shows. This is the ultimate family outing -- there are classes, performances, moonlight tours, and dining on site. Right now there's a Seward Johnson retrospective and a celebration of Michael Graves' design work. (Approximately 65 miles/1.25 hours away from NYC by car)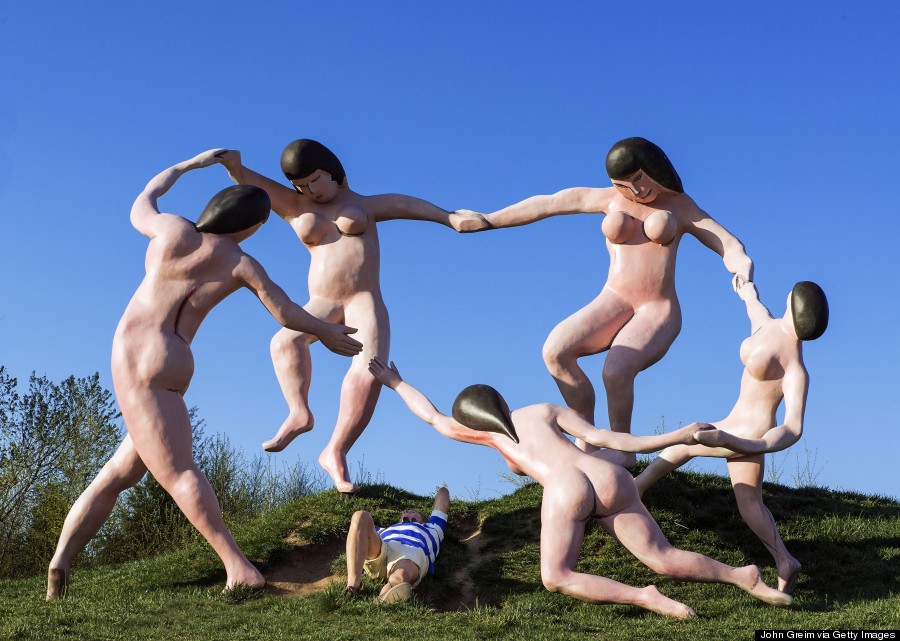 "Daydream" sculpture featured at Grounds for Sculpture. (Photo by John Greim/LightRocket via Getty Images)
8. CCS Bard Galleries and the Hessel Museum: The Center for Curatorial Studies at Bard College (CCS Bard) was founded in 1990 in Annandale-on-Hudson, NY as "an exhibition and research center for the study of late twentieth-century and contemporary art and culture" with a focus on "experimental approaches to the presentation of these topics and their impact on our world." The Hessel Museum of Art is a 17,000 square-foot building dedicated to the Marieluise Hessel Collection of over 1,700 contemporary works, run by the CCS. Both of these sites serves as perfect excuses to take an artsy detour up the Hudson. Plus, Olafur Eliasson's "The parliament of reality," a permanent outdoor installation created specifically for Bard College, sits just outside. (Approximately 110 miles/2.25 miles away from NYC by car)
*For mileage, we used NYC City Hall as our home base.
REAL LIFE. REAL NEWS. REAL VOICES.
Help us tell more of the stories that matter from voices that too often remain unheard.
BEFORE YOU GO
PHOTO GALLERY
Here Are The 12 Cities That Will Shake Up The Art World In The 21st Century