LINCOLN COUNTY, Miss. ― As he was waiting to be taken to jail, a local reporter asked Willie Cory Godbolt why he did it. Why did he kill all those people?
"Because I love my wife and I love my children," he replied matter-of-factly.
Of course, it wasn't about love at all. Cory had just been arrested for committing a massacre. He was accused of slaughtering eight people: his wife's mother, her older sister and her aunt, her cousin and her cousin's husband, her pastor's grandson and another young boy, as well as the officer who responded to the 911 call.
It was early morning on May 28 and Cory sat on the street in handcuffs outside his cousin-in-law's house in Brookhaven, Mississippi, a small town nicknamed "A Home Seekers Paradise." Police stood guard with guns drawn.
All night long they'd been on a manhunt for Cory after responding to reports that he had opened fire on his wife's family in the neighboring hamlet of Bogue Chitto. Eight people were dead by the time he was arrested, a little before 7 a.m.
But why did Cory say it was love that led him to kill so many? Only one person understood.
"He didn't want nobody else around us," Cory's wife, Sheena Godbolt, said sitting on her sister's couch one scorching hot afternoon in July, almost two months after the shooting.
"He wanted me there with him, with no friends or family members, nothing," she said. She shifted in her seat, drew a deep breath, shook her head. "That's not love."
There have been eight mass shootings in the United States this year. That night in Mississippi was the fifth. Everytown for Gun Safety defines a mass shooting as a single incident in which four or more people are fatally shot, not including the perpetrator. The most recent mass shooting occurred earlier this month in Las Vegas, when a gunman opened fire on concertgoers at a country music festival. With 58 fatalities, it earned the unenviable title of the deadliest mass shooting in modern U.S. history.
But what happened in Las Vegas is nothing like what most mass shootings look like in America. Most resemble what police say took place in Mississippi. This year, in five of the eight mass shootings, the perpetrators killed their girlfriends, wives, children and extended family members.
This year's pattern is not unusual. Between 2009 and 2016, the perpetrator shot a current or former intimate partner or family member in 54 percent of mass shootings. Everytown also found that in nearly half of these cases, the perpetrator exhibited warning signs before the killing, such as recent acts of violence, threats or violation of a protective order.
Mass shootings are rare, of course, and make up only a fraction of overall gun violence in America. But when they do occur, the primary victims are usually not strangers like the victims in Las Vegas; they are those closest to the perpetrator.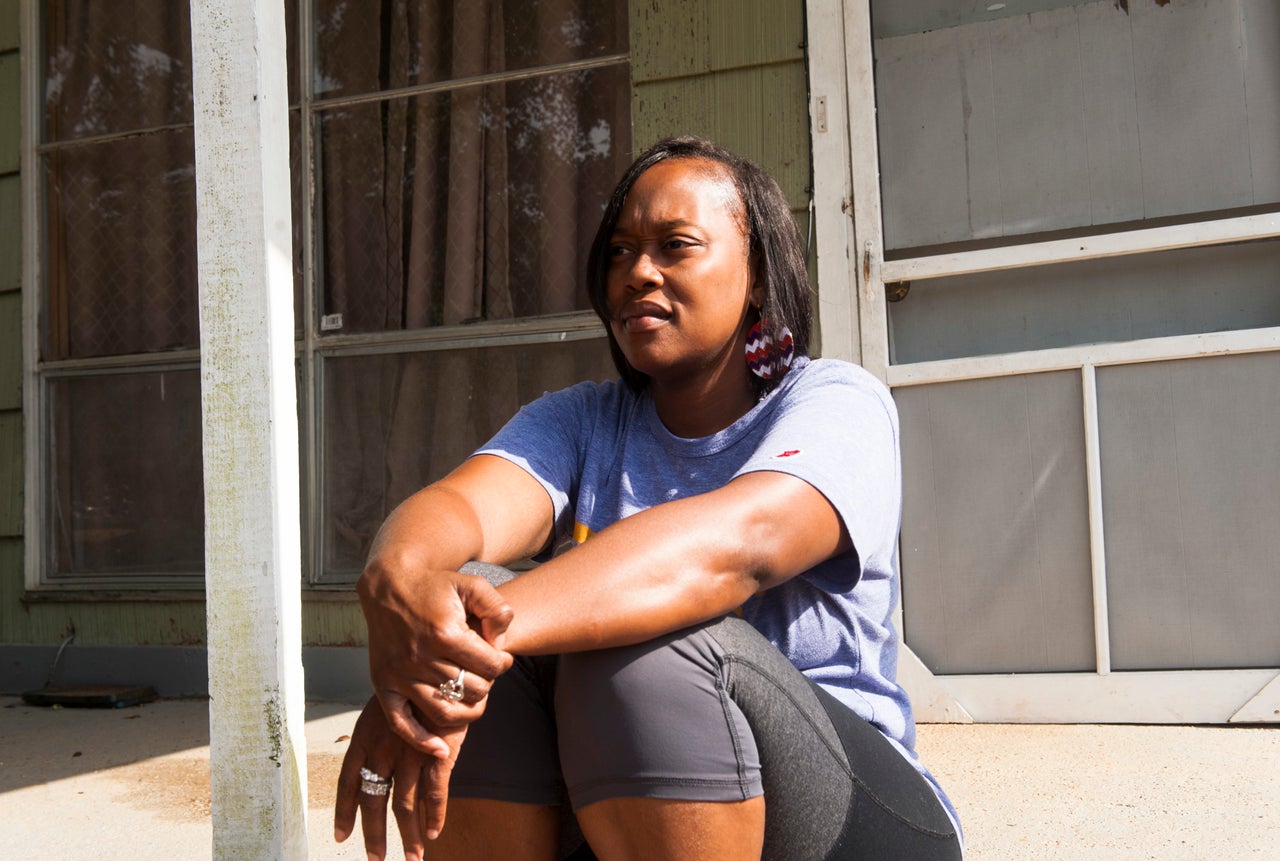 Cory was Sheena's first and only boyfriend. They started dating when they were teenagers. In the beginning, he was adoring and generous. "He bought me my first cell phone," Sheena recalled. "If I needed clothes, he took me to Walmart."
But over the years things began to change. They got married and had two children. He started to become more possessive. She had to ask his permission to go anywhere, she said. He was jealous of her friendships and her relationships with her family. As she describes it, her life shrank to fit the four walls of their mobile home.
Neighbors said they could hear Cory screaming at her sometimes. He'd yell at her to change her clothes if he could see the outline of her body. He'd snatch her phone out of her hand to check her texts, she said. And when he got really angry, he'd punch things: the walls of their trailer, and sometimes, she said, her too. She wore long sleeves to cover the marks he left behind – even through Mississippi summers. She learned to anticipate when he was likely to get violent. If she saw the telltale signs ― a narrowing of his eyes, a particular tone in his voice ― she'd take off in her car.
Over the course of their 17 years together, Sheena left Cory a half dozen times. (It's a typical pattern. On average, it takes victims of domestic violence seven attempts before leaving for good.) She would hop in the car and drive; it didn't matter where. Once she wound up in Louisiana, three hours away, before she calmed down. It was safest to stay in hotels or pass the time at a rest stop. If she and the kids bunked with friends or family, Cory might turn against them, she said.
The man held grudges. Sheena's relatives didn't like how Cory treated her, and he got in altercations with several of them through the years. Sheena usually sided with him out of loyalty. When her family tried to intervene, it just made everything harder.
Sheena's family pressed charges against him on a few occasions. In 2015, Cory confronted Myrtis May, one of Sheena's aunts, and "made threats to kill her," according to a court document. He was convicted of simple assault, attempting by physical menace to create fear, and fined $467.75.
Sheena rarely involved the police herself; she said Cory told her they couldn't protect her. But in 2016, Cory reached a new level of violence, she said. That year, she obtained a temporary protection-from-abuse order. She told police that Cory had punched her in the stomach and strangled her ― all because she would not give him the security code to her cell phone. "She states he also put his hand down her mouth where she couldn't scream for help," a court document states.
"He tortured me that day," Sheena said.
He was charged with domestic violence, aggravated assault, but the charges were later dropped. Sheena forgave him for that incident, too.
"He was my husband and I loved him," she said. "I wanted our marriage to work."
Afterward, the violence got worse, she said, and eventually she came to the realization that she had to abandon the marriage to save herself.
A few weeks before the May 2017 rampage, she left again, this time for the last time. She sought refuge with her mother, Barbara Mitchell, who was recovering from open heart surgery. For three weeks, she stayed at her mother's home without incident.
And then they decided to throw a party.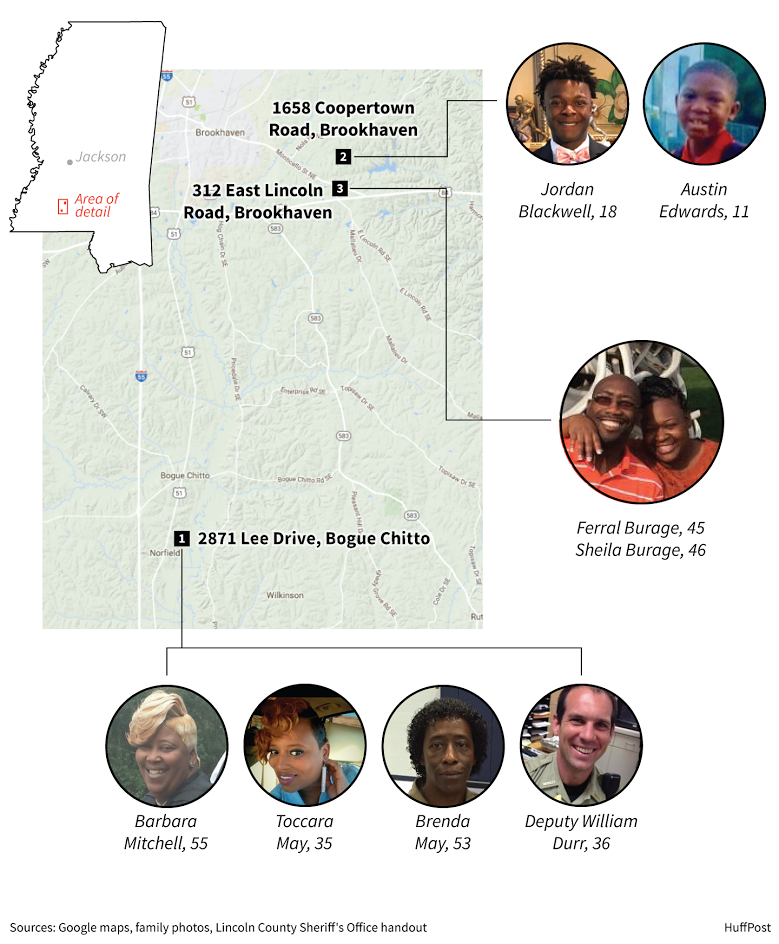 It was Memorial Day weekend in Bogue Chitto where Sheena was raised, around 60 miles south of Jackson, Mississippi. That Saturday, her mom held a barbecue in the yard. Friends and family came over, bringing food to grill. By 11:30 p.m., the festivities were winding down, and only around 10 people remained. Sheena's mother, Barbara Mitchell, was resting in the living room. Her sister, Toccara May, was chatting out in the yard with her aunt, Brenda May. Vincent Mitchell, Sheena's stepfather, was in the kitchen with his brother, who was visiting.
Sheena was putting her kids to bed in the guest room when Cory arrived at the door.
She recalled how he strode into the living room and demanded Sheena give him their kids. This was a classic tactic of his, she said. Whenever she'd leave him, he'd take the kids from her; if she wanted to see them, she had to come home. It used to work. But Sheena wasn't going back again; she wanted a divorce. So that night, when Cory showed up, she called the police. She knew her husband. She knew he wouldn't leave without a fight.
Around nine minutes after her call to 911, Deputy Sheriff William Durr of the Lincoln County Sheriff's Office pulled up and asked Cory to leave. Then, without warning, her husband pulled out a gun and shot Durr, Sheena said. Everyone scattered into various rooms, seeking cover. Sheena bolted toward her kids in the guest room, ripping them out of bed and pushing them out the window.
"As we were jumping the fence and running through the woods, I was hearing gunshots, gunshots, gunshots," Sheena recalled. "That was my last time seeing my family."
Later, authorities would confirm that Barbara Mitchell, Brenda May and Toccara May had been killed along with Deputy Durr. And that was just the beginning.
After Sheena and the children emerged from the woods and were huddling in the street in shock, neighbors, friends and relatives rushed to their side. Sheena had cut her wrist when she jumped out the window and was bleeding badly. For hours, they stood together, praying and crying. The house had been cordoned off by the police. They didn't yet know who had been slain, and they didn't know where Cory had gone.
Among those gathered to support Sheena was Tiffany Blackwell, a family friend whose father was the pastor of New Zion Union M.B. Church, which Sheena and Cory attended. Tiffany and her husband, Shon Blackwell, drove over as soon as they heard the news, leaving their children at home in Brookhaven overnight.
While many details are still unclear, it appears Cory drove to the Blackwells' home next. No one else knows why he went there, but when he arrived, he shot at the locked door until he was able to kick it in, according to Caleb Edwards, 15, one of Tiffany's nephews. Once inside, he shot Tiffany's son Jordan, 18, who in a heroic gesture used his body to shield Caleb and Caleb's 11-year-old brother, Austin. Caleb survived with a cut to his eye, but both Jordan and Austin were killed.
Cory was not finished. According to witnesses, he took another teen, a friend of the boys who was there that night, at gunpoint and forced him to drive them around for hours. About 6 a.m., Cory let the teen go at a gas station near his third and final stop: the home of Sheena's cousins Sheila and Ferral Burage.
Sheila, her husband and her sister Shonda May had been in Bogue Chitto all night with Sheena. Along with many other friends and family members, they had gone to offer their support. At dawn they went home, but soon after they heard a knock at the door. It was Cory. Ferral was armed and ready because he knew Cory was still on the run. He fired at Cory, Shonda said, but Cory shot back and killed Ferral. The sisters ran. Shonda hid in a closet while Sheila sought cover in the bathroom. While Shonda was not discovered, Sheila was, and Cory fatally shot her too, police say.
Cory was apprehended minutes later down the street from the Burages' home by members of multiple law enforcement agencies. He sat in the street, bleeding from the arm where Ferral had shot him and muttering about his family. He was later charged with one count of capital murder and seven counts of first-degree murder.
The high death toll made national headlines briefly and then faded out of the news cycle. Mississippi Gov. Phil Bryant (R) called it a "senseless tragedy" and asked his constituents to pray for those who had died. Maybe because of the people who were targeted ― the family of the killer's wife ― the shooting was, somehow, relegated to the realm of the domestic.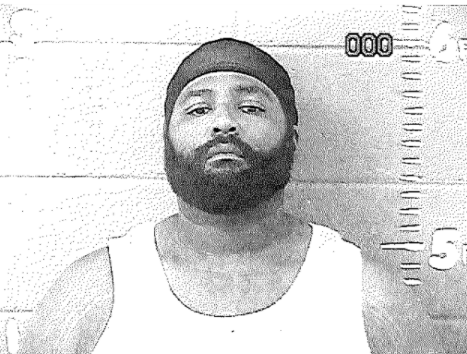 A Community Mourns
In Bogue Chitto, where Sheena and Cory lived, the community felt rattled to its core. They had all either grown up together or went to the same school or church. Losing eight people at once ― from children to a police officer ― left a gaping wound. On Highway 51, across from a gas station and tanning salon popular with locals, someone erected a memorial: eight blazing white crosses in a row.
When HuffPost visited in July, Cory was due in court for a preliminary hearing. At Lincoln County Circuit Court in Brookhaven, more than five dozen relatives of the slain filed into the courtroom and waited in tense silence.
Over the previous two months, they had buried the dead, mourned, held community prayer meetings and tried to make sense of what had happened. Now, for many of them, it was the first chance to lay eyes on the man charged with killing their loved ones.
Cory entered the room in shackles, wearing a yellow shirt and khaki pants. He scanned the room as though looking for someone. Shonda May shook uncontrollably. Tressie Durr, the widow of the slain deputy sheriff, silently wiped away tears. Vincent Mitchell stared at Cory with fury.
The hearing was brief. An officer from the Mississippi Bureau of Investigation recited the bare details of the shootings: the locations, the names of the deceased, the evidence indicating Cory to be the sole perpetrator. Boxes of tissues were passed down the aisles.
Afterward, many relatives gathered at the Burages' house in Brookhaven to eat ribs and fried catfish and to reminisce about those who had lived there before it became a crime scene. The house was the final stop on the killing spree. Months after the shooting, there was no trace of the tragedy.
Shonda stood outside on the lawn. She didn't want to go inside. She was there when Cory burst in. She had hidden in a closet as her sister Sheila and brother-in-law Ferral were killed. Seeing Cory in the courtroom had shaken her badly.
"I felt very nervous to where I felt like my heart jump out of my chest," she told HuffPost, as she stood in the shade of the front yard staring back at the house.
Inside, Shon Blackwell sat looking through photos of his late son on his phone. Jordan, who was killed that night in the Blackwells' home, was a rising football star at Brookhaven High School, and had recently received scholarship offers from a number of universities. He had dreamed of playing professional football or, if that didn't pan out, going into coaching, his father said.
Shon, an assistant pastor at New Zion Union M.B. Church, said he was leaning heavily on scripture in the aftermath of the shooting and finding solace in the church. Every day was getting a little bit easier, but not better.
"It has caused us to depend more on God and less on ourselves," he said.
Before the hearing that day, Shon posted a Facebook Live video online from his car. He said he arrived at the courthouse early so that he would have time to pray before seeing Cory face to face.
"People ask me how I feel. I don't know," he said in the video. "I don't even know how I'm supposed to feel. If anyone else knows how I am supposed to feel, ask them to please share with me."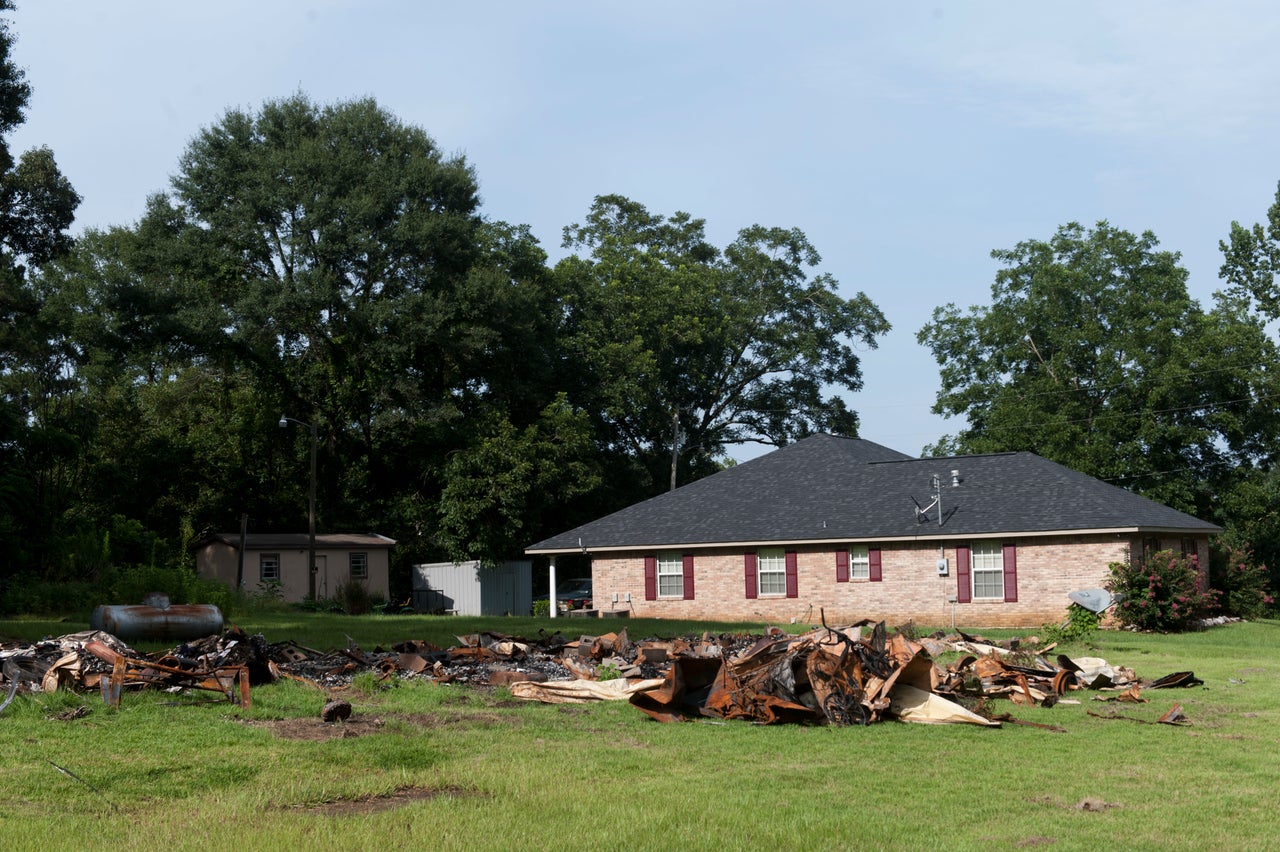 Officer Down
Behind the courthouse, the Lincoln County Sheriff's Office was selling car decals emblazoned with William Durr's name and patrol number and the words "A hero remembered lives forever."
Durr, who had responded to Sheena's call for help, was the first officer killed on duty in the history of the department, Sheriff Steve Rushing told HuffPost. Law enforcement from as far away as New York and Chicago attended his funeral, along with the governor of Mississippi.
"Honestly, it shook us," Rushing said. "You know in this line of work that it can happen, but you don't really realize until it does happen how it affects you."
Everyone at the sheriff's office was deeply distressed by Durr's death, he said. In the months since the shooting, his officers had stepped up to support Durr's wife and 10-year-old son, Nash.
In August, they would even chaperone Noah to his first day of sixth grade.
"We miss William everyday, but especially on days like today," Tressie Durr wrote on Facebook that day. "I am so thankful for our blue family."
The Lincoln County Sheriff's Office is a lean operation, with 21 deputies responsible for patrolling 500 square miles. Three deputies are on each night, and they travel in separate cars to cover more ground. Most calls involve accidents or general complaints, but there's also a fair amount of domestic violence. The majority of the domestic violence calls are fairly straightforward, Rushing said. But even so, it's standard procedure to send two officers to the scene, as domestic violence is known to be the most dangerous type of call for police.
The night of the massacre, two deputies were dispatched to the house of Barbara and Vincent Mitchell. Durr arrived first. A second officer pulled up about five minutes later, he said, but by that time Durr had been shot.
The department was familiar with Cory; deputies had responded to calls from Sheena before. Over the years, he was arrested a dozen times and accused of simple assault, disturbing the peace, domestic violence and robbery. Still, Rushing said, he didn't expect Cory to do this.
"A lot of us knew him," the sheriff said. "I personally had met him in the community several times. Some of my officers went to church with him."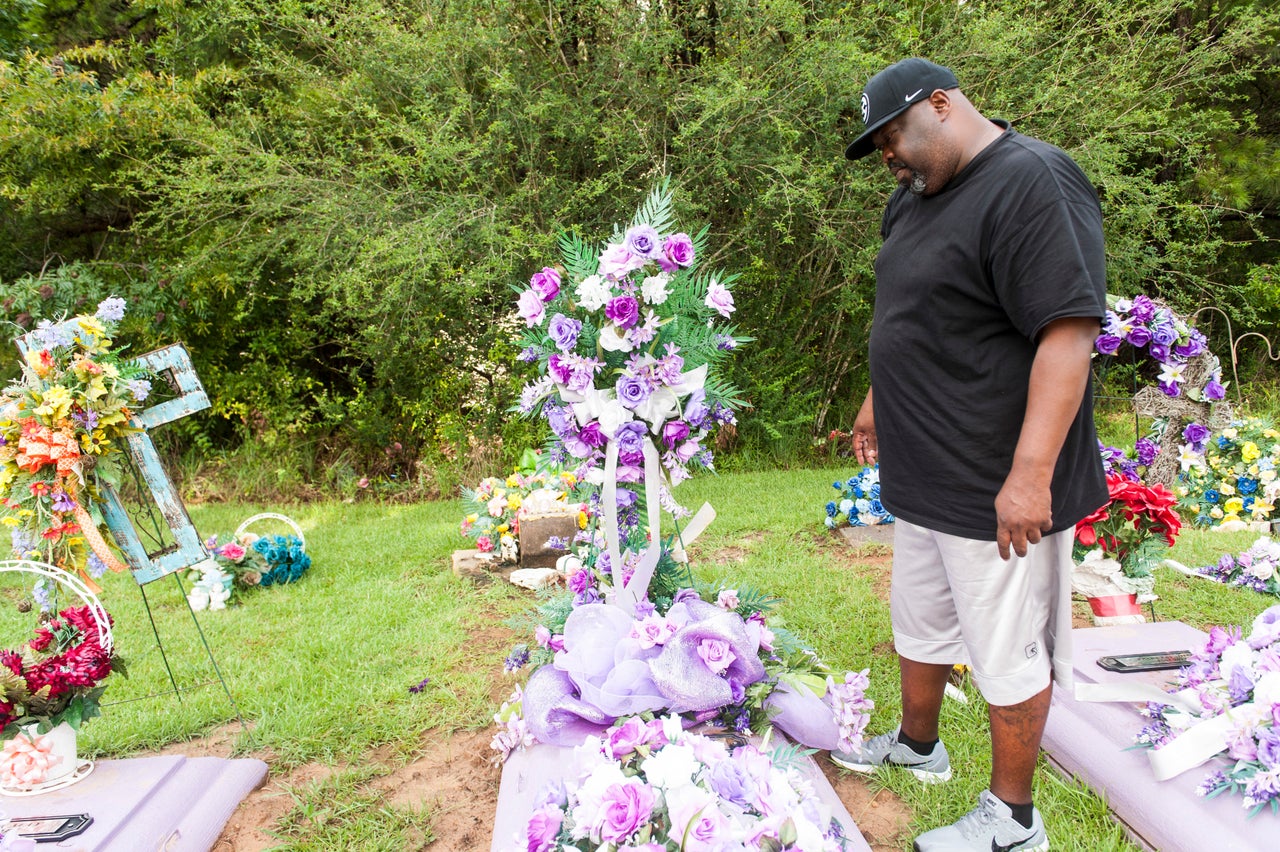 Left Behind
Everyone in Bogue Chitto dealt with the tragedy in their own way.
Some turned to the church for support. The police community took care of its own. But Sheena ― who had lost her mother, her sister, her aunt and, in a sense, her husband ― no longer felt like she belonged anywhere.
First of all, she was homeless. Two weeks after the shooting, her mobile home burned down. An investigation found it to be "undetermined in cause," but Sheena suspected arson. In a way, she understood. She was learning by that point what grief and rage did to a person. How it roiled inside of you, ugly and unknowable, and could spark fleeting thoughts of retaliation. Sheena preferred denial. Sometimes, for a moment, she allowed herself to imagine her family intact, her mother on the way home from the store.
Visiting her mother's grave made it real again. Seven of the victims are buried in the same place, and it is a stark vision: a gathering of fresh graves covered in bright flowers inside an old cemetery.
When HuffPost met with Sheena, she had just driven back from Jackson, where she had requested copies of her children's birth certificates. They'd been lost in the fire, along with all her belongings ― clothes, furniture and family photos. She was slowly working to replace those things. She had taken a leave of absence from her job at a local Walmart distribution center and was seeing a therapist. Some days, she said, she struggled to get out of bed.
"It feels like a ton of bricks on top of me," she said, sitting at her sister's house. "It won't let me up and live again."
The what ifs race through her mind all the time. What if she hadn't left? What if she'd gone to a hotel? What if she'd said yes when Cory asked for the kids? What if she'd never met him?
"It's been hard ever since that day, because I feel like it's my fault," she said. She knows, rationally, that she's not to blame. But she still can't stop feeling that way. And it doesn't help that others seem to think so too.
No one comes out and blames her directly, but she feels it, she said. People hold her accountable. Some of her friends don't call anymore. She can only guess why. She wonders if it's simply because they don't know what to say.
On a recent weekend, Sheena spoke to HuffPost by phone. She had heard about a mass shooting in Texas committed by an estranged husband and wanted to contact the mother of the woman who was killed. No one else really understood what she was going through, and she hoped the woman's family might.
Since HuffPost visited Sheena in July, she has moved to a different town and enrolled her son and daughter in a new school. The children, now in the third and fifth grades, are settling in. The move is good for the children, she said. It gives them anonymity. Other kids don't know them as the children of a mass murderer, she said.
She has also found a different church. She's back at work after almost four months off. She is an adult alone for the first time in her life. In a way, Cory has gotten exactly what he wanted. She's isolated from nearly everyone she knows and loves.
"What Cory did, that was on Cory," she said. "He left me and those babies here to suffer from his actions."
Sheena misses her own mother like a physical ache, she said. She used to call her daily on her lunch break. Now, she tries to take her break at a different time and make jokes with co-workers to occupy her mind.
"I just try to stay focused," she said. "Once I lose that focus, it seems like my whole world just turns upside down."
Even after all the deaths her family has experienced, there is one more that she and her children may have to live through. It's possible Cory will be executed for his crimes.
Every day, she said, is a struggle ― to go to work, to come home, to do the chores and tasks that keep the life of a family moving forward.
"I give up over 30 times a day, and this is the truth," Sheena said. "But once my kids walk in the house, that's my motivation. I have to be here, I have to go on. It's only me here to love and protect them."
Popular in the Community